Roberto Cavalli Paradiso Assoluto Eau De Parfum
"Fragrance and Love : These are two things that cant be hidden.."
True .. isn't it. Well, I have always been very fuzzy about fragrances as I am not a sweet-fruity fragrance lover, neither have I preferred all in all floral scents. I have loved a tinge of spiciness with warm woody notes and this new Robert Cavalli fragrance feels like made for me! Let's see all about this newly launched gorgeous scent by Robert Cavalli in the Paradiso range, Roberto Cavalli Paradiso Assoluto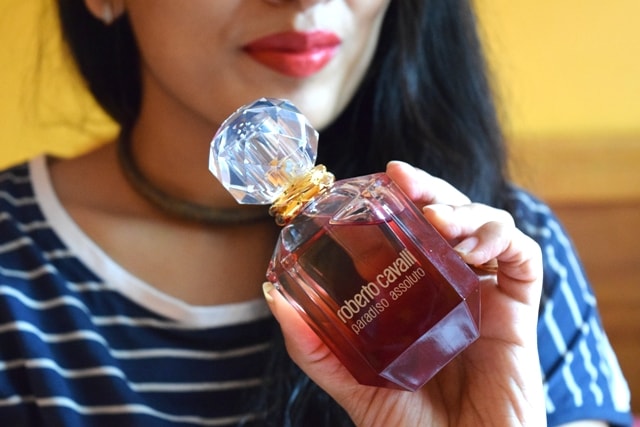 Price: Rs. 5400 for 50ml and 6800 for 75ml
Packaging: Roberto Cavalli Paradiso Assoluto Eau De Parfum comes in a luxuriously designed chiseled diamond shaped bottle which looks spectacular.Going with the warm sensual fragrance the red ombre depths on the packaging makes it even more striking. , the gradation from red to gold conveys an unmistakable sense of refinement and luxury. The facetted crystal-like cap captures the light, creating mesmerizing reflections. It is stamped with the Roberto Cavalli monogram, a token of style, refinement and extravagance. A ring of scaly metallic coils itself sensually around the neck of the bottle, reminiscent of the designer's fascination for animal skin patterns.
Roberto Cavalli Paradiso Assoluto Eau De Parfum:
When Mercury soars, temperature rises, and you yearn for a holiday…Let's get you half way there! Welcome, Roberto Cavalli's Paradiso Assoluto!
Paradiso Assoluto is the third fragrance of the Robert Cavalli Paradiso collection. The fragrance is inspired by a free-spirited woman, seeking solace in heavenly lush green gardens. She relentlessly pursues pleasure, freedom, and happiness and believe that paradise can and should be found here and now. The seeker of beauty finds the secret fragrance that unlocks the gates of paradise. This is how this Paradiso Assoluto Fragrance is described.
Top Notes: Pink Pepper, Wisteria
Heart Notes: Jasmine, Red Lily
Base Notes: Vanilla. Sandalwood, Patchouli
Roberto Cavalli Paradiso Assoluto is a complex floral scent which starts with spicy pepper notes beautifully translating to floral ones with Jasmine and Lily. Followed by the more calming, soothing and sensual warm woody notes with accords of patchouli, sandalwood, and vanilla.
The fragrance is strong but isn't overpowering which makes it perfect for women who like prefer sophisticated scents. I find the fragrance perfect for formal meetings to make an impact with your scent. At the same time its sizzling sensual notes make it an ideal pick for date night or day time wedding affair.
Like the original Paradiso EDP, the staying power of this Paradiso Assoluto version is also great and I smell it on even after 6-8 hours of wear.
Now, I am just waiting for a tropical vacation or a beach party invitation to flaunt this alluring and charming fragrance. Love it!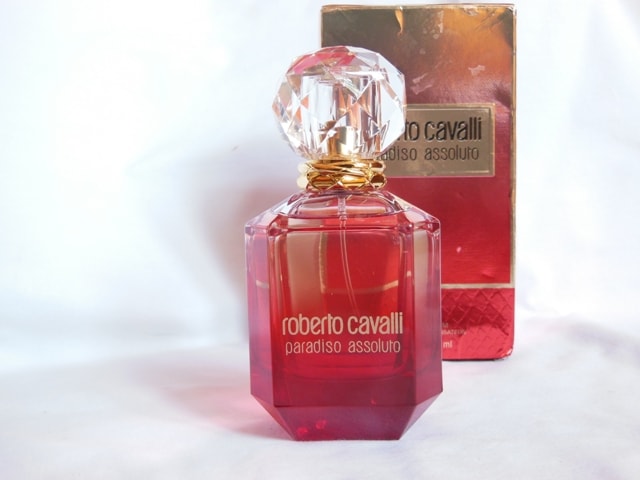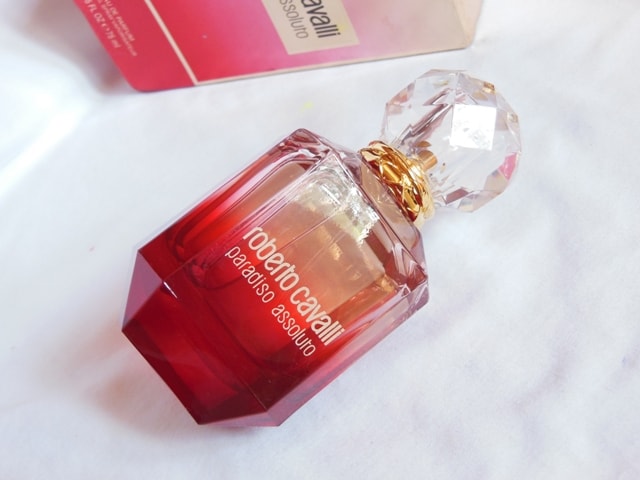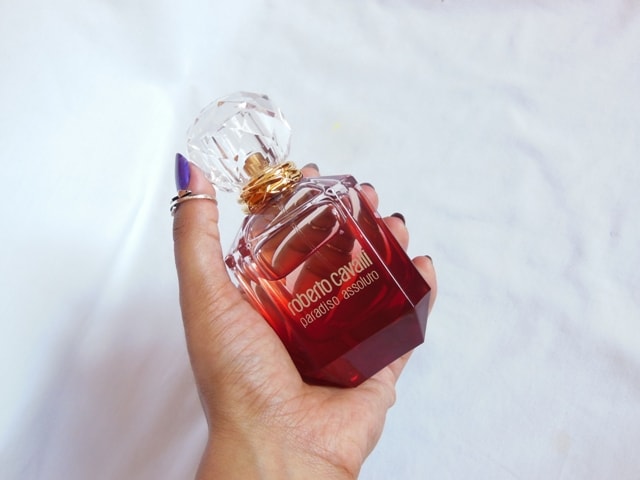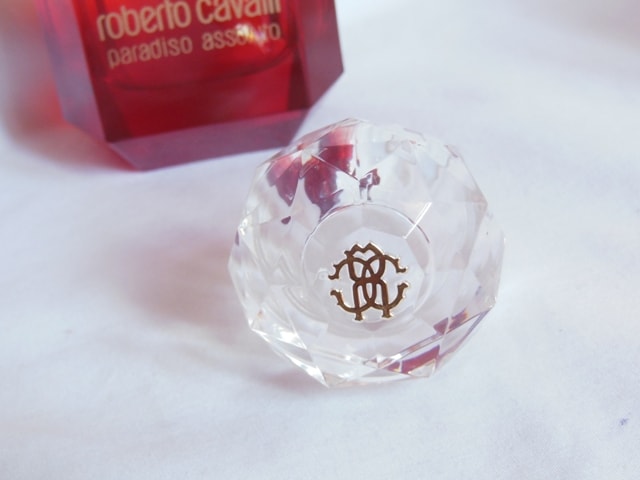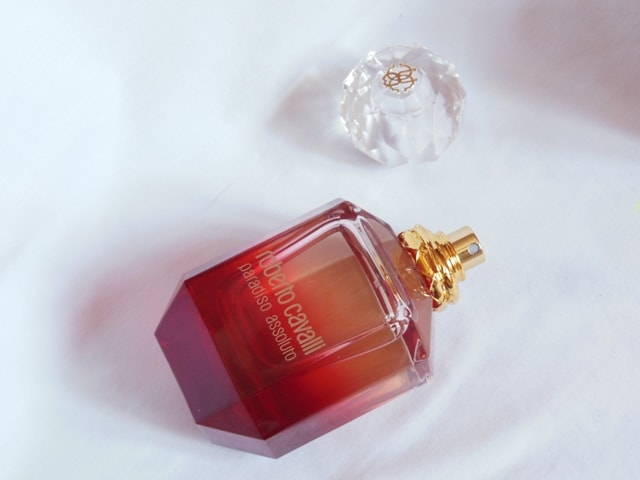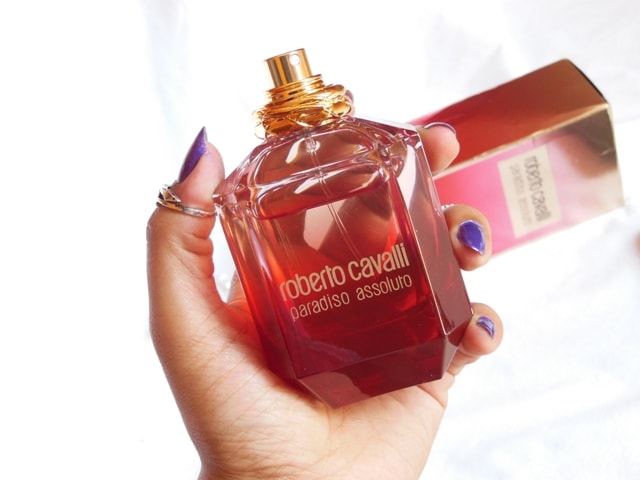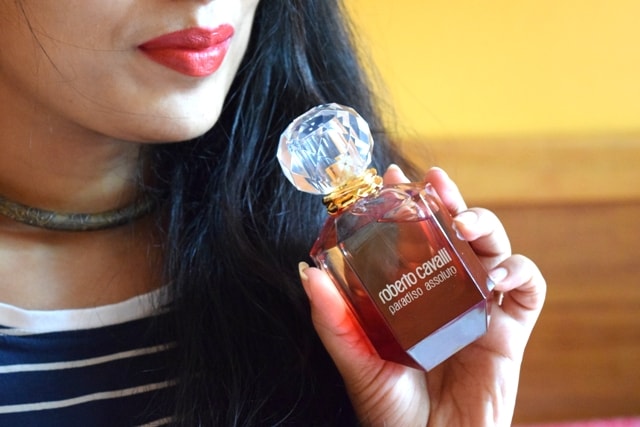 Have you tried Robert Cavalli Paradiso Assoluto EDP? Which is your favorite Summer Scent?
PS: Product sent by brand for consideration