Rise and Shine with Makeup Geek Eye Shadows– Lemon Drop and Ice Queen
Hello everyone,
Today, I will sharing two of my favorite shades from Makeup Geek Eye shadows which I usually use as highlighter but they can very well be used as lid color as well. the Makeup Geek Eye Shadows – Lemon Drop and Ice Queen.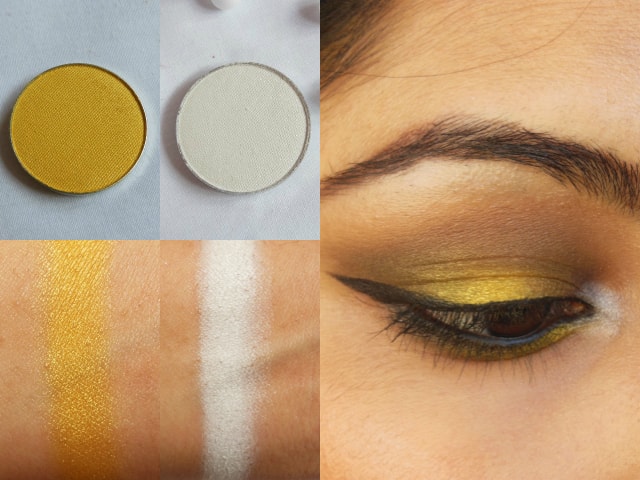 Product Claims:
These are all highly-pigmented – just check out the swatches!
Half the price of high end shadows without sacrificing quality
These pans can be placed in empty palettes such as Z-Palettes.
Eyeshadow pan weight is 1.8G / 0.064 oz
With a separate palette, you can build your own custom palettes
All our shadows are cruelty-free — we do not test our products on animals
These eyeshadows are Talc and Paraben-Free
See full ingredient listing.
We ship worldwide at affordable rates
Price: $6 for 0.064Oz
Packaging: Makeup Geek Eye Shadows comes in round refill pans which are housed in a pretty cardboard packaging carrying all the detail.
My experience with Makeup Geek Eye Shadows- Lemon Drop and Ice Queen:
Lemon Drop is described as "Shimmery Bright Lemon Yellow",  is a bright lemon yellow shade with a pearly metallic sheen. The shade almost gives a foiled eye shadow look on lids, I have paired it with Flame Thrower and it works like magic with that burnt orange shade.
Ice Queen is described as "frosty shimmery white", is a bright white shade with ultra fine silver shimmers giving a beautiful shine to the eye shadow. The texture is powdery soft so it does kick off a lot of product when picked with brush but that makes the blending of this eye shadow absolutely effortless. I love using this as brow bone highlight and it never looks stark, rather lifts up my brow bone area without being too shimmery or frosty. I never thought of using a white eye shadow as brow bone highlight but this one look so good.. I am not going back to anything else.
Formula: The eye shadows are buttery smooth and are super soft which makes them a little powdery and they kick a lot of product if dig hard with brush especially Ice queen but when it comes to blending they blend like magic. There is slight fall out with Ice Queen when I tried to pack it on the lids owing to its softer texture but otherwise they are so amazing to work with.. almost like crème color.
Pigmentation: The color payoff is not an issue with Makeup Geek Eye shadows and these are no exception. The eye shadows are packed with powerful pigments and give a rich, true to pan color in the slightest finger swirl on the pan. For Ice Queen, its best to use a white base to make the color pop on lids but Lemon drop shines with 2-3 swipes of the brush with no base underneath.
PS: Tap the brush after picking the color from pan to kick off excess from the bristles which will reduce fall out on application.
Recommendation: Makeup Geek Eye Shadows- Lemon Drop and Ice Queen are bright and beautiful eye shadow with formula as smooth as cream eye shadows. Lemon Drop is infused with finely milled yellow glitters that give it a gorgeous metallic sheen and Ice Queen is drenched in silver glitters which gives a soft shimmery finish, making it a lovely brow bone highlight. The eye shadows can also be packed on lids to give a rich color pay off with few swipes of a flat shading brush. I can't imagine living without these two shades in my eye shadow palette .. Highly Recommended!
Rating: 5/5
Have you tried Makeup Geek Eye Shadows- Lemon Drop and Ice Queen? Which is your favorite Eye Shadow from these two?
PS: Product sent by brand for consideration