Revlon Touch & Glow Moisturizing Powder-Gold Matte Review
I have dry skin and generally don't feel the need of using compacts but I feel Compact is one thing that we must have in our makeup items irrespective of our skin –types.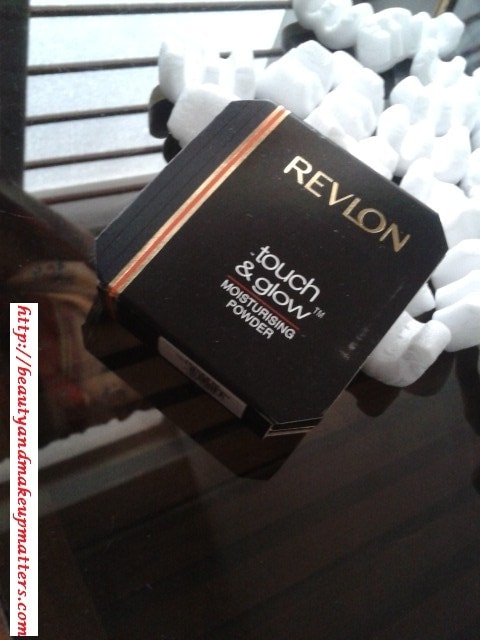 Product Claims:- A moisturizing face powder that smoothens, silkens, evens out your skintone. Use as a minimum makeup or touch up for a natural finish that lasts. Stays color-true, even on oily skin.
Shades available:
Ivory Matte
Rose Matte
Golden Matte
Natural Matte
Key Ingredients:- Talc, Fragrance, Titanium Dioxide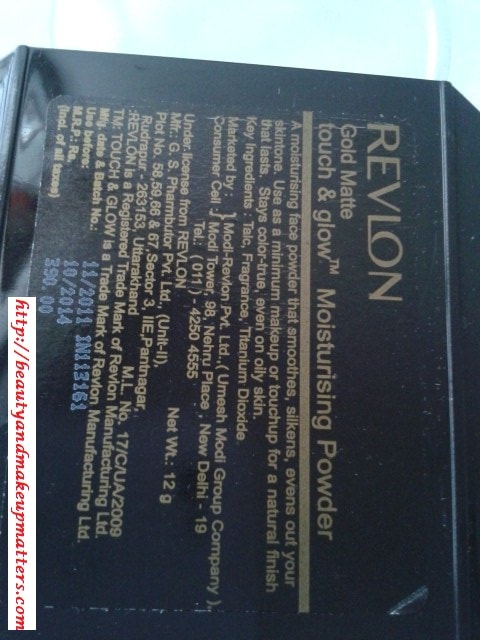 Price:- Rs.390 for 12 gm
Shelf Life:- 3  years from the Mfg date.
Packaging:- The compact comes in a classy black packaging with a designed cut card-box.  It comes with a small mirror and a puff. It is also provided plastic sheet between the puff and the powder to prevent the contact and protect the powder from contamination. The packaging is travel friendly as the lid locks tightly with the case and has a sturdy locking mechanism.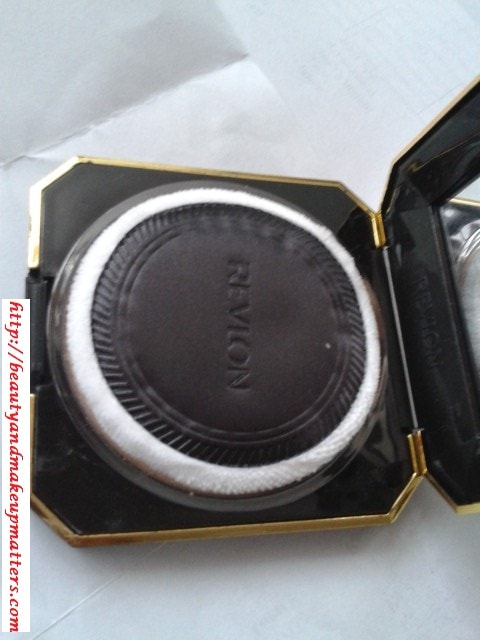 My experience with Revlon Touch & Glow Moisturizing Powder-Gold Matte:-
I really don't prefer wearing Foundation or Compacts all the time just to let my skin breathe. I like using tinted moisturizers or calamine lotion for daily use but sometimes I do feel the need of something else that can make my skin looks good. Those are the days when my face looks dull and lifeless just like that. This is when compact comes into picture and adds life to my otherwise dull looking face. I just pat this over my face and tada.. I am good to go.
Fragrance:- The first thing that I noticed in this compact apart from its decent packaging is it refreshing scent. I enjoy it to the core and sometimes unlock the case just to smell it. It has a beautiful fragrance which rejunavates my senses.
Finish:- The compact is good match for my skin and gives a nice matte finish without making my dry skin flake. It gives a fresh look to my face and takes away all the dullness. The compact gives an even application and never looks powdery or patchy.
Coverage :-The compact give a good coverage and hides minor scars and imperfection on its own. The coverage is buildable and if patted more it will hide marks and dark-circles to a great extent. The USP of this compact is it will never give cakey application and blends nicely with my skin. I use this to control oil form my lids and to hide light circles around my eyes. It gives a smooth and even finish to my skin and if used along with foundation it will give that flawless looking skin. It really lifts my face and hence my mood.
Performance:- It doesn't made my face go shiny even after hours and hence making its presence felt. The staying power of the compact is good. It easily stays for 4-5 hours on me indoors but while roaming around in the open you will need touchup after 2-3 hours.
The thing that makes this compact stand out from the normal compact is its moisturizing properties. Normal compacts just control oil from the skin and hence the dry skin girls like me end up with flaky looks with but this compact is an exception. It claims to be moisturizing powder and I completely agree with it. It doesn't made my skin look flaky or dry but added a subtle glow to my face.
Don't Miss to Checkout:
Pros of Revlon Touch & Glow Moisturizing Powder-Gold Matte:-
Gives a natural looking matte finish to the skin.
Mild pleasant fragrance that does not stay after application.
Light weight formula that blends nicely and doesn't look chalky.
Brighten up my face and prevents my face from getting shiny in summers.
Provides decent coverage to the skin and hide the minor imperfection and blemishes.
Stays for good 4-5 hours on my dry skin.
Travel friendly packaging. No need to carry a separate brush as it provided with a puff applicator and mirror. Can be carried easily in the handbag as the lid locks tightly with the case
The puff is super soft and applies just the right amount of the compact on face. Quality wise it is definitely superior to the ones that comes with Lakme compacts.
Gold Matte is one such shade that will go beautifully with Indian skin tones.
I have not faced any breakout or irritation while using it. It goes well with my skin and doesn't clog pores.
Perfect for daily use.
Cons of Revlon Touch & Glow Moisturizing Powder-Gold Matte:-
Bit expensive compared to regular compacts like Lakme and Maybelline but it's totally worth it.
Doesn't provide any SPF protection. So, you must wear your sunscreen beneath it.
Doesn't mention the complete ingredients list and contains Talc as a Key ingredient.
May need touchup after 2-3 hours on oily skin.
Limited Shade selection. Not many options are available as it has only 4 shades and you find it difficult to choose the perfect match for your skin.
Recommendation:-  I am in love with this moisturizing powder (compact). Its classy and sturdy packaging and the added benefits of quality powder puff and compact mirror with the case makes it travel friendly too. It is my most reached out compact and I always carry this in my handbag.  I love the natural no-makeup look and the smooth finish it gives to my face. This is my best-ever compact. Highly recommended!!
Rating:- 4.5/5
Have you tried Revlon Touch & Glow Compact? Which is your favorite compact?