Revlon Super Lustrous Lipstick – Love that Red 725 Review, Swatch LOTD
Hello Everyone, Today I am reviewing another red lipstick from my makeup bag, which belongs to Revlon Super Lustrous collection, the Revlon Super Lustrous Lipstick in Love that Red. Let's check, if I love this red or not. 😛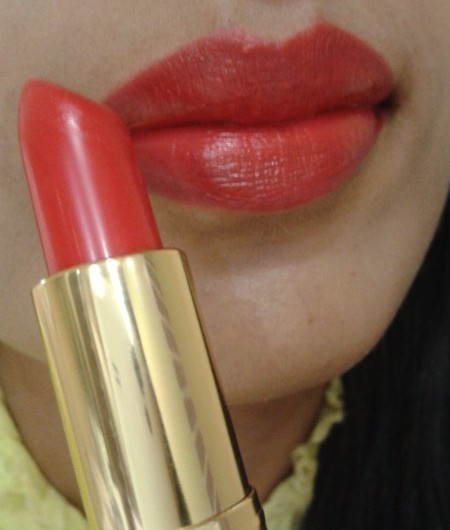 Product Claims: Ultra-creamy saturated lip colour that delivers beautiful, lightweight matte colour without any dryness, caking or fading.
Straight from the Runway shades !
Beautifully rich matte colour glides effortlessly across lips.
Suede-like, cushiony feel and with maximum colour impact.
Beautifully rich shades from nude to deepest berry.
Direction for Use:- EXPERT TIPS – To create the perfect pout, define lips by applying your choice of ColorStay® Lipliner to the natural line of your lips. To further increase the wear of your lipstick, fill in lips completely. Continue by applying your favourite Revlon® Matte Lipstick shade over the lined lips.
Price:- $4.99
Packaging :-The lipstick comes in a classic black tube packaging with a golden band in the centre which has REVLON engraved on it. On removing the cap you'll get to see that the golden band is a part of the golden case holding the bullet. The cap of the lipstick has a clear glass at the top which reveals the shade inside it.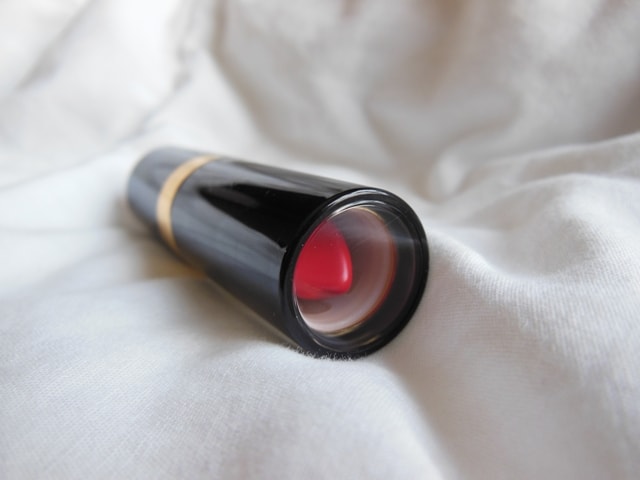 The shade details are mentioned at the bottom of the case too. There is nothing fancy about the packaging but an efficient, practical one with an elegant touch.
My experience with Revlon Super Lustrous Lipstick – Love that Red:-
Love That Red is a medium-bright red lipstick with slight cool undertones in crème finish. It is mostly red but has a hint of pink in the background which takes away its crown to be a true red lip color. The pink undertones and the brightness of the lipstick will galore on fair skin with cool/neutral undertones but it looks much warmer and deeper on my medium-fair warm skin tone. Revlon Matte Really Red is a smidgen darker with orangey undertones and matte finish, L'Oreal Color Riche Red Rhapshody is much darker and is on the warmer side,  Diana Of London lip Liner Cardinal Red is less bright and has matte finish, INGLOT Lipstick #27  and  Maybelline Jewels Rubylicious are blue based reds much darker in comparison.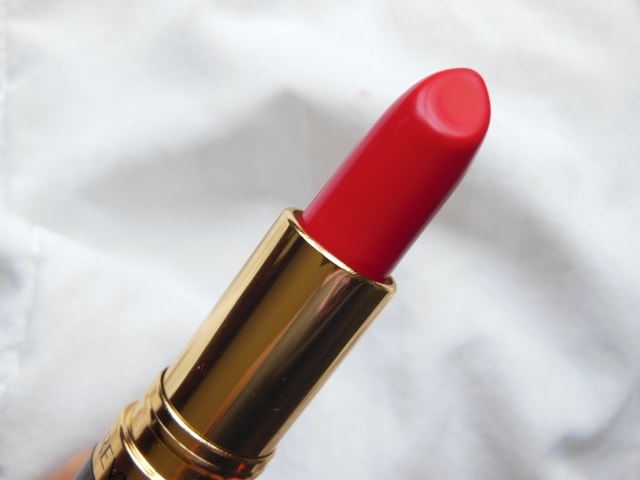 The formula is creamy enough to give smooth, even application but not so creamy to make the color slip around. The texture feels light on lips, which is comfortable to wear and never looks cakey. Lipsticks from Super lustrous range don't go opaque in a single swipe but the formula is such that the color builds up to give complete coverage with subsequent swipes. Similarly, Love That Red also goes sheer initially but the color intensifies with multiple swipes. It shows up well on my pigmented lips and gives opaque coverage with 2-3 swipes with a subtle creamy sheen.
The lipstick belongs to crème range but isn't very moisturizing and within few hours of application it goes matte and looses the sheen it initially had. The shade wore for 6-7 hours on me before it starts fading but it didn't experience any bleeding or feathering while I wore it. The color fades from the centre of the lips post meals but it has staining pigments which leaves behind a pinkish-red tint. So, you can go for touch-up for a fresh Red pout, or follow with a tinted lip balm like Maybelline Lip Balm in Cherry for glossy reddish lips, I prefer the latter.
Don't Miss to Checkout:
Swatch–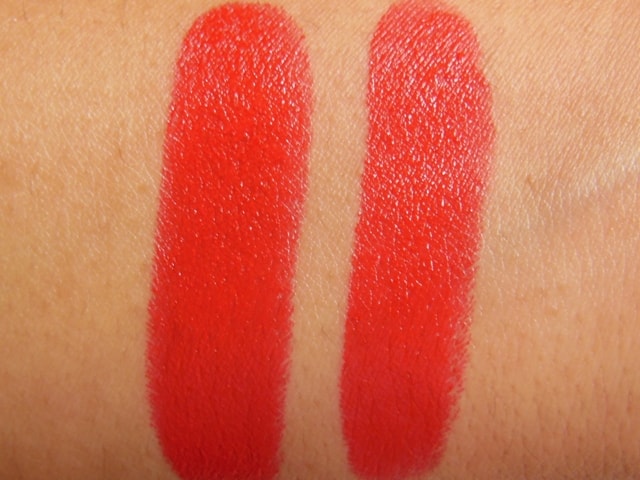 It can set to transfer –proof, matte finish by patting lips with a tissue and if you like the creamy sheen and want to make the color last longer on your lips, apply 3 coats of lipstick, kiss a tissue and then reapply 1-2 coats of this bright red lipstick.
LOTD- The red tones are washed out in white light..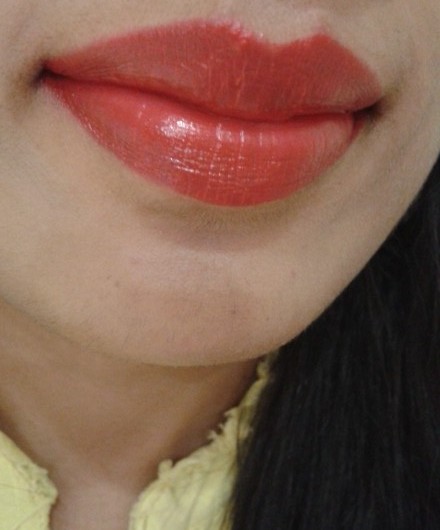 LOTD- In Natural Light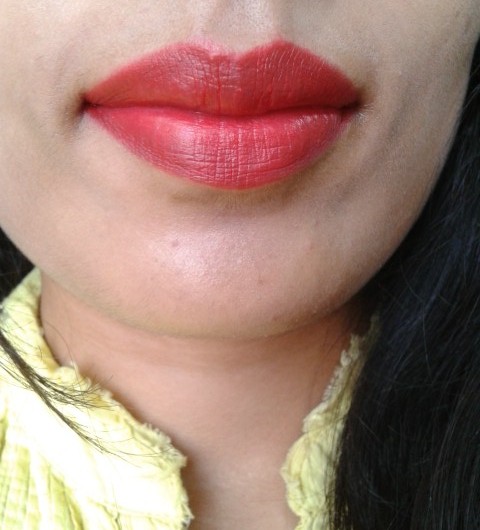 Worn as stain Here – by dabbing the excess color with tissue.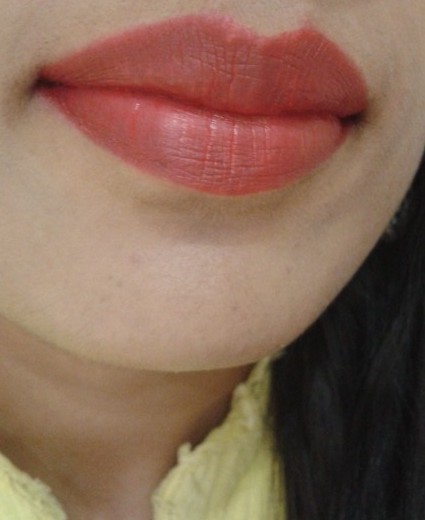 Pros of Revlon Super Lustrous Lipstick – Love that Red:-
Goes on smoothly
Light creamy texture
Rich in color with buildable coverage
Doesn't look cakey
Comfortable to wear
Formula isn't drying
Subtle creamy-glossy finish
Stays long and leaves a reddish stain behind
Elegant packaging
Suits cool/neutral tones more
Cons of Revlon Super Lustrous Lipstick – Love that Red:-
Bright red which may not be liked by everyone.
Looks dark against warm skin tones
Losses creamy sheen in 2-3 hours of application
Recommendation:- Revlon Super Lustrous Lipstick in Love that Red is a stunning bright red lipstick in crème finish with hint of pink. The formula provides smooth application and intense color in 2-3 swipes. It has buildable coverage but the texture feels light and never looks cakey. It stays put pretty long (6-7 hours easily) and fades only from the lips inner corners post meals. It wears well and doesn't feather or bleed though at the end of the day I could see some color filling between the lip lines.

Love That Red is much more Red than any blue based red lipstick but still I find it much brighter to fall under a wearable Red lipstick category. The color brightens up my complexion but it will look flattering on cooler/fair skin tones. I liked the shade but didn't enjoy it much on my warm skin tones. If you are looking for a wearable Red lipstick than it is definitely not for you as it lies on the brighter side and you might find it OTT but, if you are a die-hard Red lipstick lover (hoarder) and can carry bright Red lips with ease you couldn't stay away from it.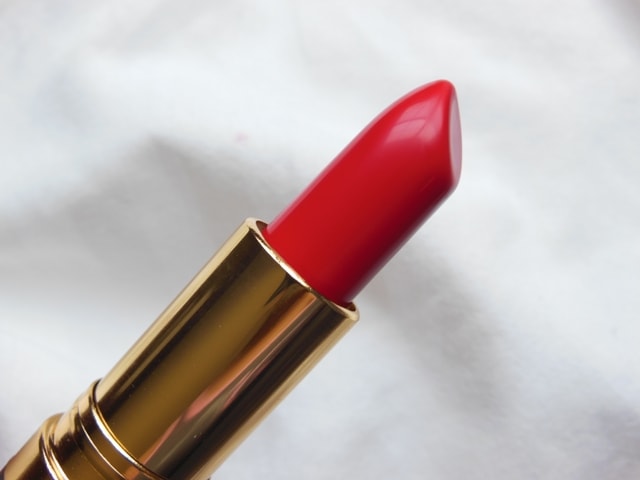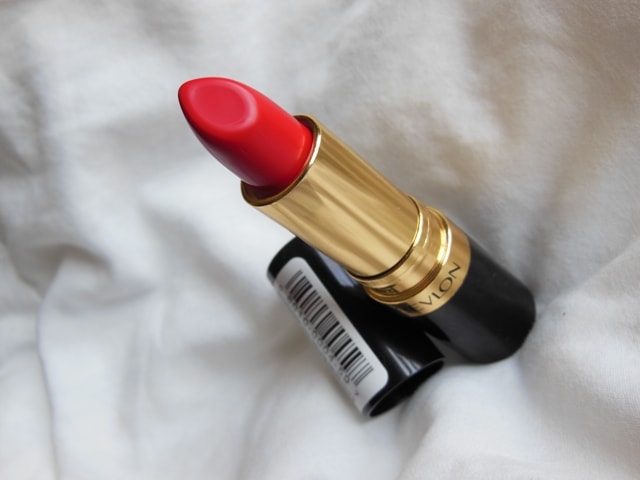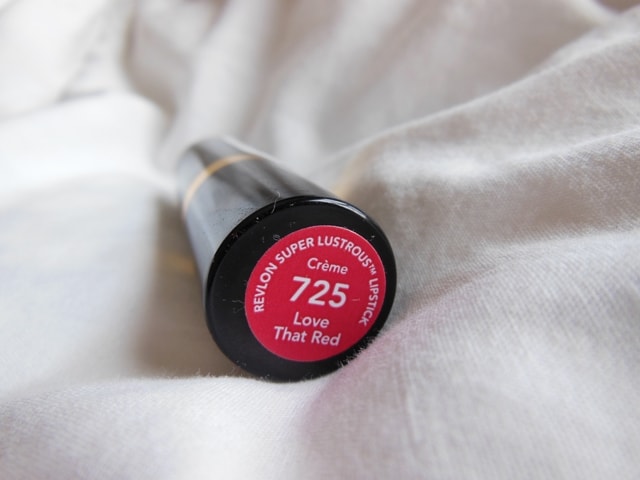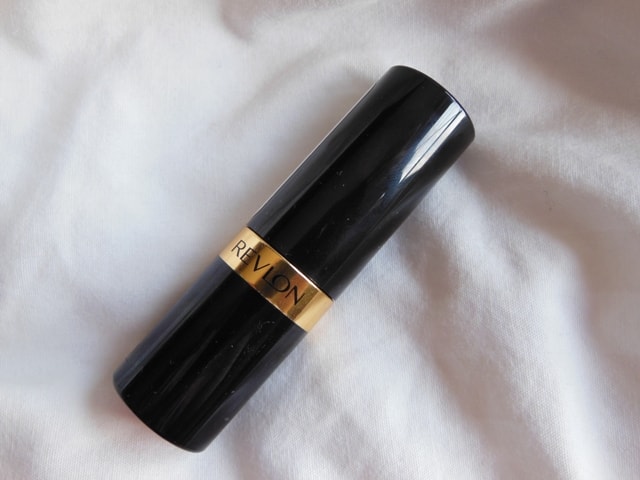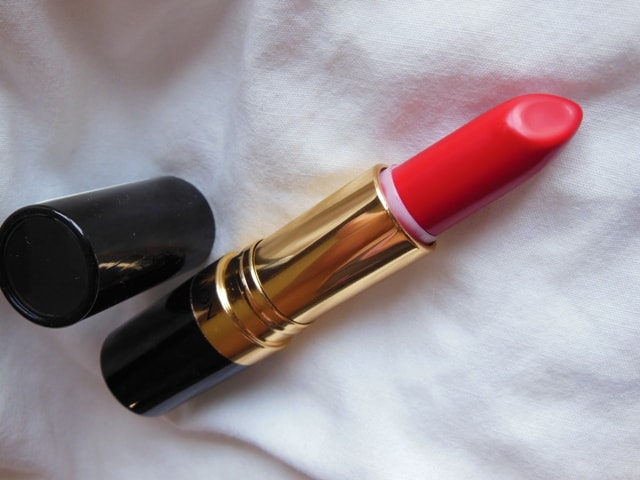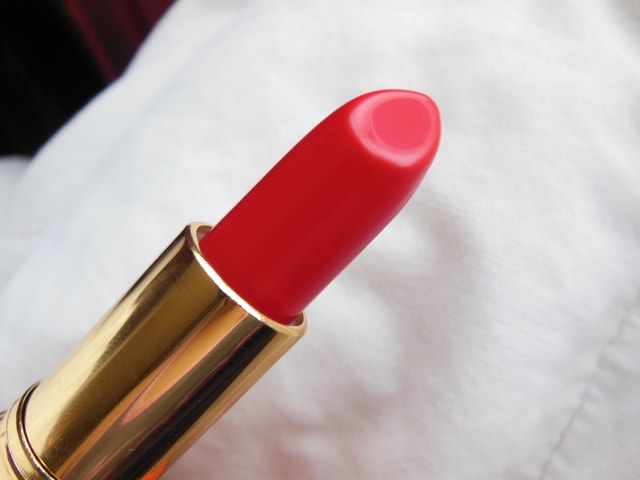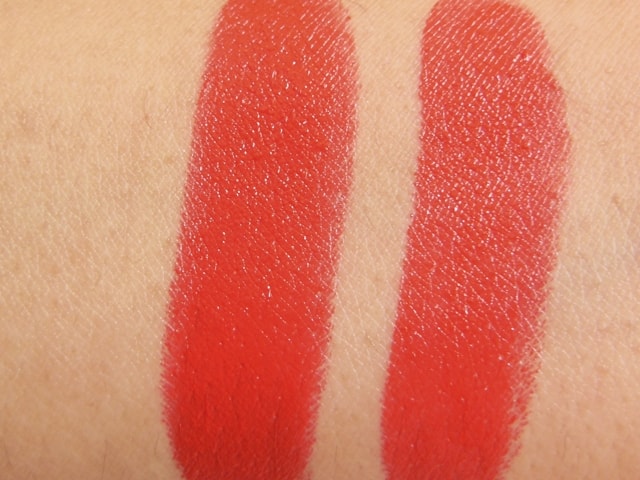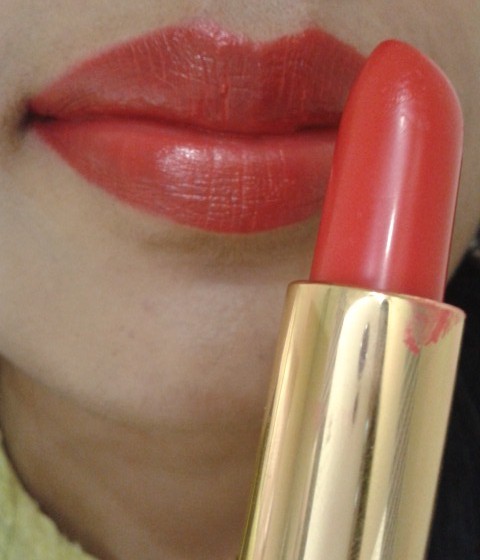 Here is how it looked on me..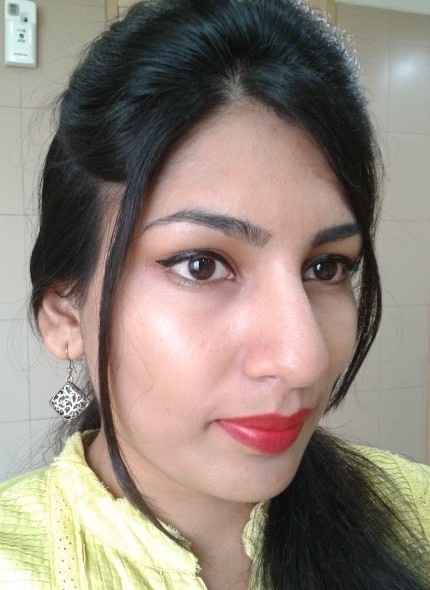 Rating:- 4.2/5
Have you tried Revlon Super Lustrous Lipstick in Love that Red? Which is your favorite Red lipstick?