Revlon Super Lustrous Crème Lipstick- Fire & Ice Review
Hello,
I am sure all of you must have fed up of my Red lipsticks look but I promise this is going to be the last one. 😉 . Not like forever but until I come across a shade that screams out red or till the time I get a chance to try the most raved about MAC lipstick Ruby Woo. I used to shy away from Red's but now I wear red lip round the year.
Lets get back to the topic and check out this amazing beautiful red from Revlon Super Lustrous Crème Lipstick range "Fire & Ice"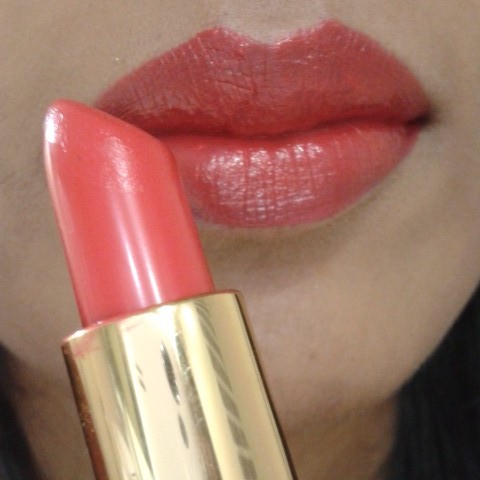 Product Claims: Ultra-creamy saturated lip colour that delivers beautiful, lightweight matte colour without any dryness, caking or fading.
Straight from the Runway shades !
Beautifully rich matte colour glides effortlessly across lips.
Suede-like, cushiony feel and with maximum colour impact.
Beautifully rich shades from nude to deepest berry.
Direction for Use:- EXPERT TIPS – To create the perfect pout, define lips by applying your choice of ColorStay® Lipliner to the natural line of your lips. To further increase the wear of your lipstick, fill in lips completely. Continue by applying your favourite Revlon® Matte Lipstick shade over the lined lips.
Price:- $4.99
Packaging :-The lipstick comes in a classic black tube packaging with a golden band in the centre which has REVLON engraved on it. On removing the cap you'll get to see that the golden band is a part of the golden case holding the bullet. The cap of the lipstick has a clear glass at the top which reveals the shade inside it.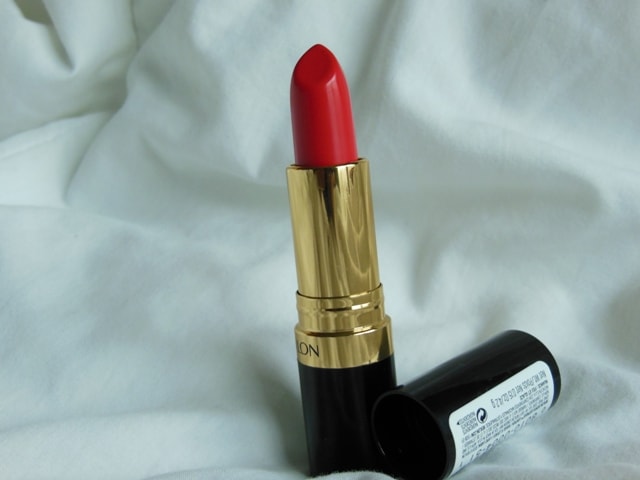 The shade details are mentioned at the bottom of the case too. There is nothing fancy about the packaging but an efficient, practical one with an elegant touch.
My experience with Revlon Super Lustrous Crème Lipstick- Fire & Ice:-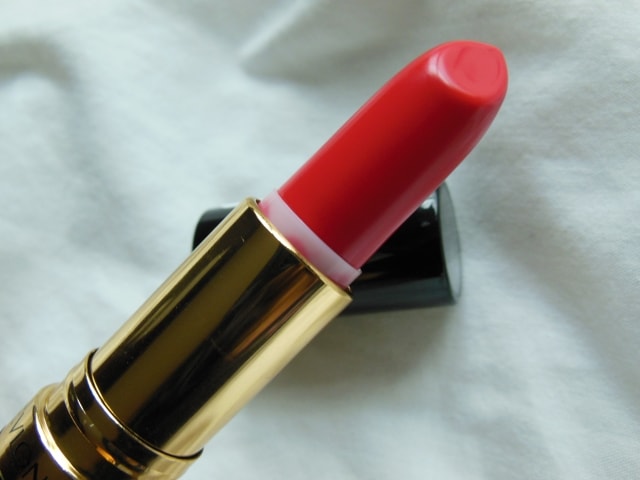 Fire & Ice is a cool toned brilliant red with strong coral pink undertones in flat crème finish free from shimmers or frost like other crème finish lipsticks. The shade is very much red and doesn't turn dark on pigmented lips but it is a loud shade and wouldn't fall into everyone's favorite basket. Revlon Love that Red is a bit redder and doesn't have those strong coral pink undertones.
It has a thin creamy texture which glides like silk on lips but isn't soft like Maybelline Moisture Extremes which starts looking cakey with multiple swipes. The formula is lightly hydrating and gives a soft nourished look to the lips. It has buildable color coverage and can be worn sheerly or built to opaque color coverage in 2-3 swipes. The pigmented formula makes it work for pigmented lips as well. It can be toned down by blotting it with a tissue for soft matte look otherwise it imparts a soft glossy shine which lasts hours on me. The color stays intact for 6-7 hours and doesn't move out around the lips and hence making the lip liner quite redundant. It stays well without any bleeding or smearing. It fades only after full-meals and that too from the inner lips give a faded red lip look.
Swatch–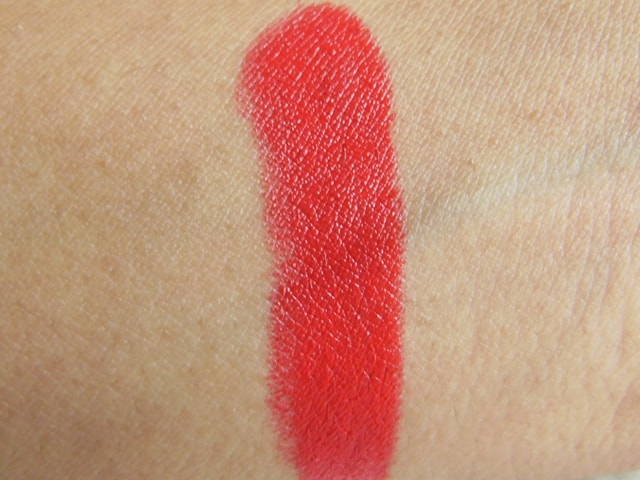 Overall, it's really a hot coral pinkish red lip color that instantly brightens up and adds a glamorous touch to the face. It is bright and bold shade of red which isn't everyone's cup of tea but I find it wearable than most of the blue-based reds. It looks gorgeous on my warm(yellow) skin tone and I am sure it is going to bold out the cool skin tones as well.
Don't Miss to Checkout:
LOTD–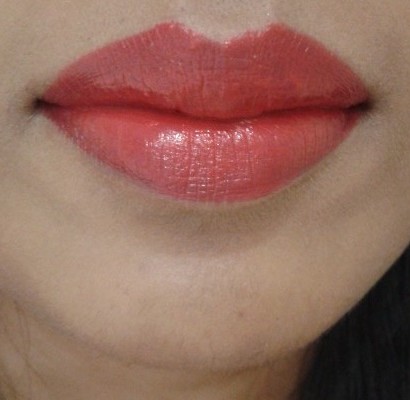 In Natural Light-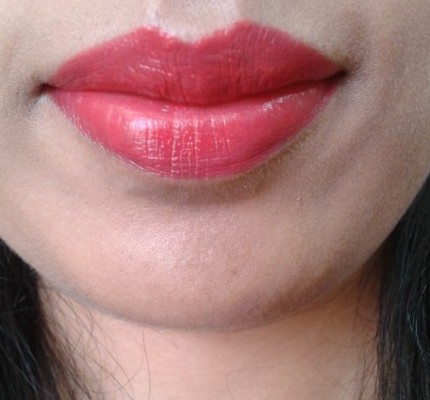 This is how it looked on me..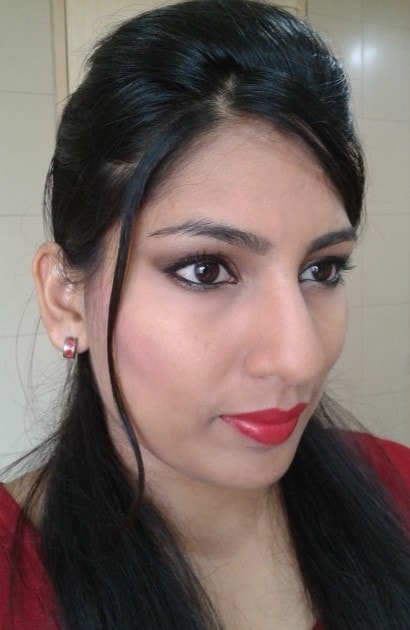 Pros of Revlon Super Lustrous Crème Lipstick- Fire & Ice:-
Smooth even application
Creamy texture
Thin formula which doesn't bleed or look cakey
Semi-glossy finish
Moderately hydrating
Buildable Pigmentation
No smearing or smudging
Long lasting formula
Doesn't flake or feel drying on lips
Can be applied sheer, as a stain or built to full intensity
Large array of shades in the range
Cons of Revlon Super Lustrous Crème Lipstick- Fire & Ice:-
Not everyone can pull off this bright red
Recommendation:- Revlon Super Lustrous Crème Lipstick- Fire & Ice is a bright fiery red shade in a soft semi-glossy shine which gets applied evenly and easily with its thin creamy texture. The formula is super smooth and not too slippery to make the color bleed but feels hydrating and doesn't make lips dry for long. It wears well without fading, smudging, flaking and also, I don't have to shell out a ton of money to own such gorgeous shades.

Definitely, its not daily wear shades but makes a great lipstick to pick for special occasions like anniversary's or birthday's and set the stage on fire with breathtakingly beautiful bright and bold red pouts. ;). Add "Spice to your Life" with this loud bright red lip color and dare to make a statement with all the attention on your lips.

I can't get enough of red lipsticks and have hoarded quite a lot of them. I have built my kit of Red lipsticks to a decent size but now I am on a self-imposed Red lipstick ban at least for few months if not more 😉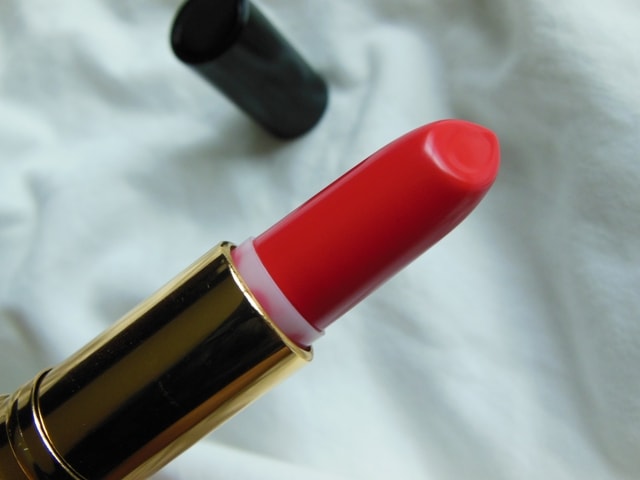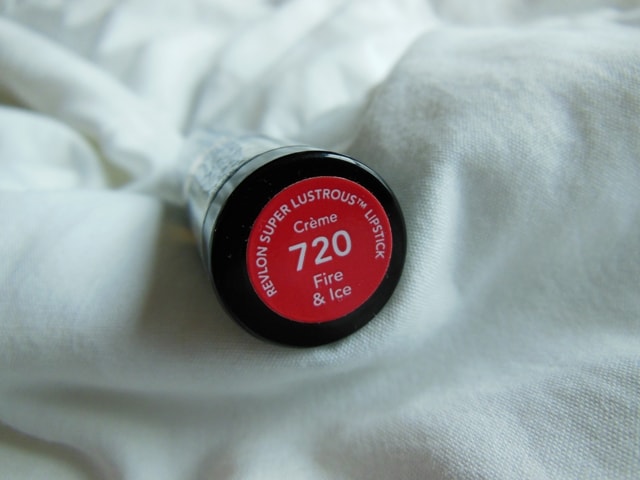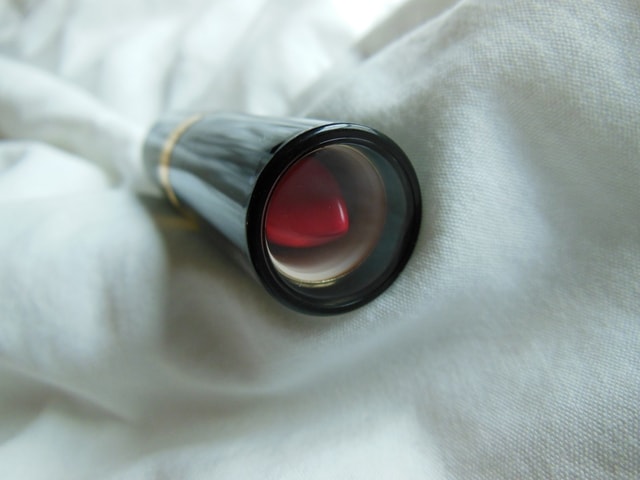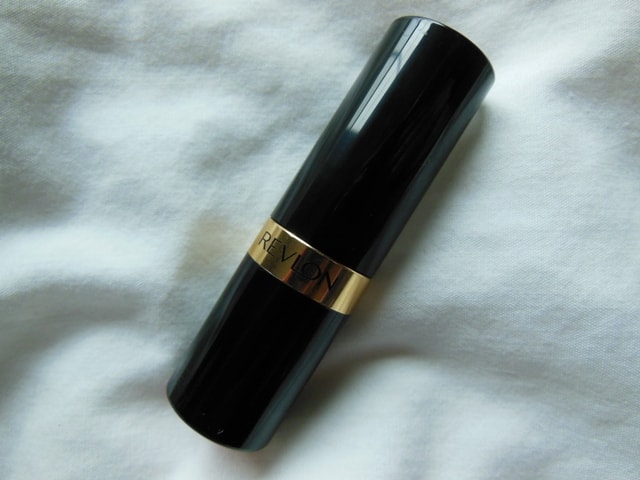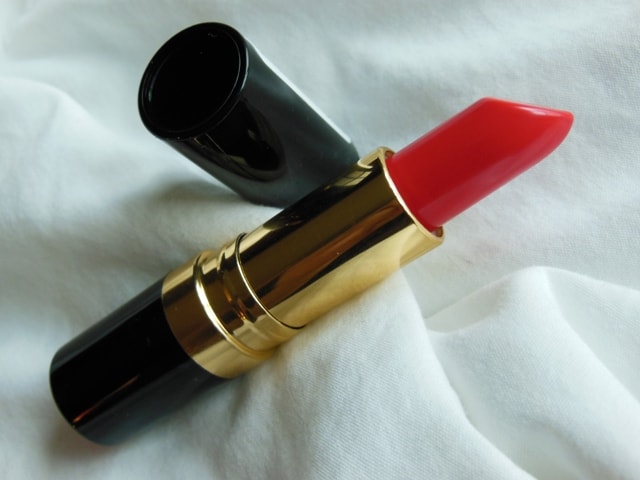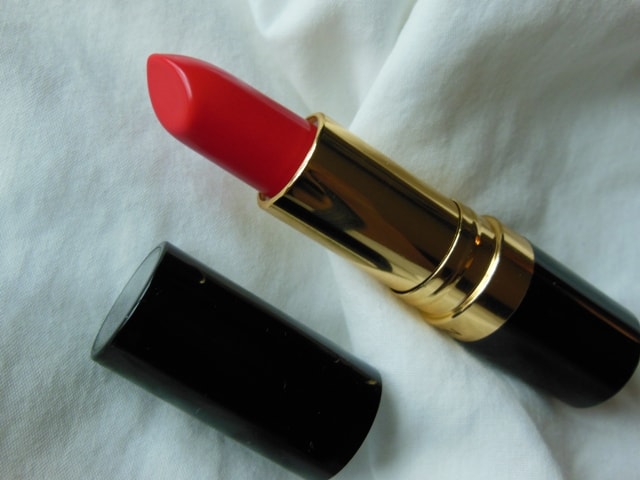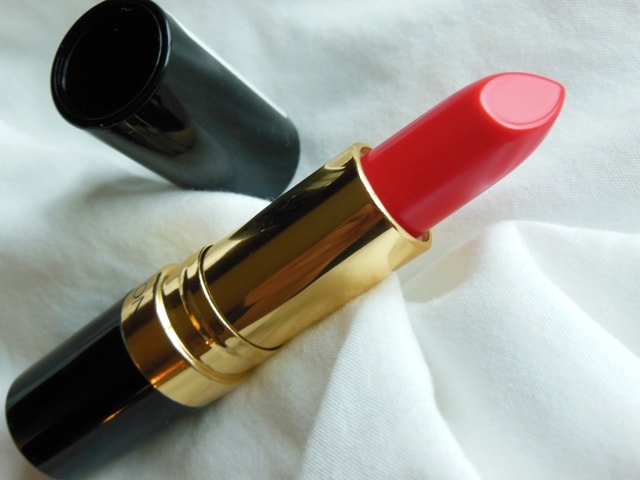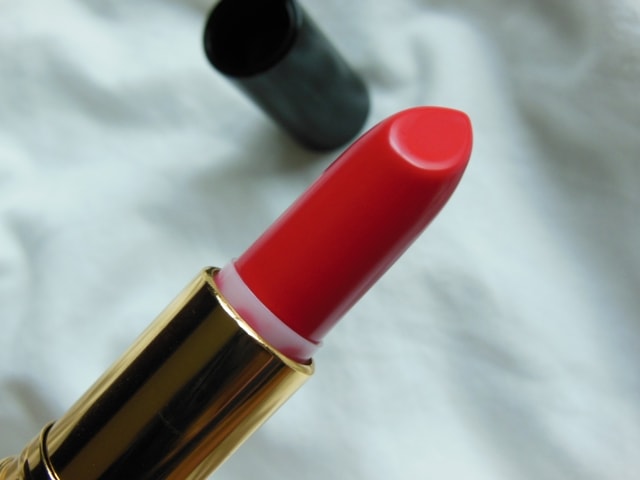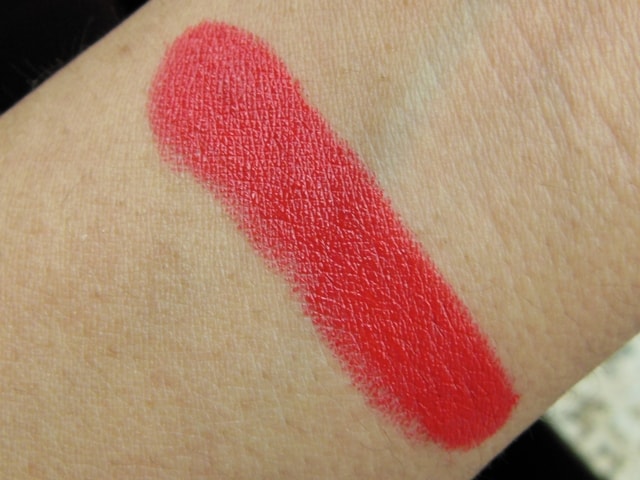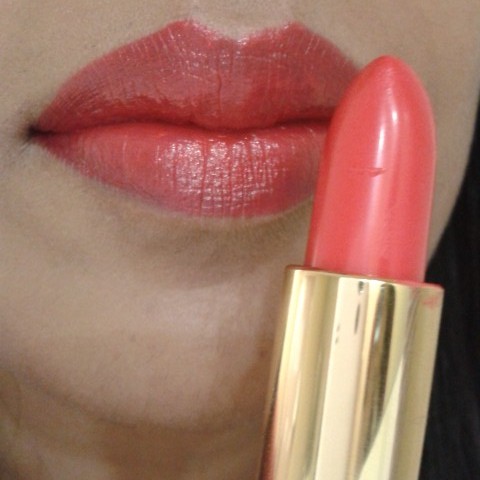 Rating:- 4.8/5
Have you tried Revlon Super Lustrous Crème Lipstick- Fire & Ice? Which is your favourite Red Lipstick?