Revlon Photoready Perfecting Primer Review, Swatch
Hello Everyone,
I have used a primer ages ago and when it broke me out, I was scared of using primers and stayed away from them. As most of the primers are meant for Oily skin, I had this notion that they are made for oily skin only but after years of seperation I wanted to give primers another shot. So, this time after much conviction, I opted for Revlon Photoready Perfecting Primer.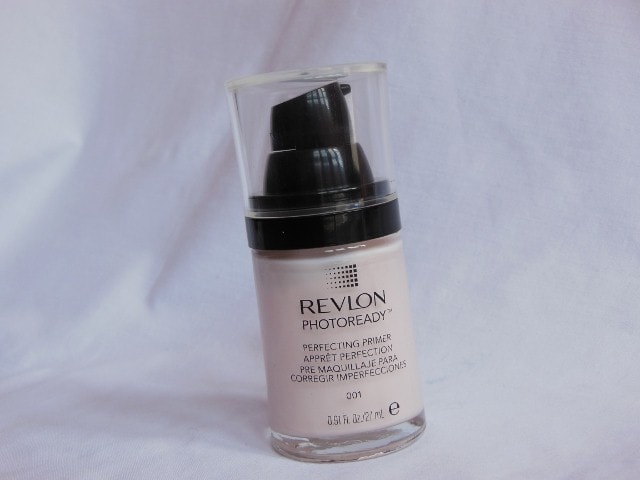 Product Claims:
Lightweight primer smoothes and softens skin to create the perfect canvas.
Reduces the appearance of pores and fine lines.
Wear alone or under foundation.
Award winning and oil free, talc free, fragrance free, paraben free primer.
Price:- Rs.1250 for 27ml
Shelf Life:- 2 years from the Mfg date.
Packaging:- Revlon Photoready Perfecting Primer comes in a round glass bottle packaging with a pump dispenser and a plastic cap to keep the opening germ free. I like the packaging as it makes it easy to control the amount and also I can see how much is left in the bottle. The glass bottle makes it prone to breakage in case dropped but otherwise it is easy to use and travel with.
My experience with Revlon Photoready Perfecting Primer:-
Texture: Revlon Photoready Perfecting Primer is a creamy-white colored primer with a medium consistency which is not runny or liquidy but has a soft gel like feeling which emulsifies a bit when spread and with few more strokes disappears completely into the skin.
Formula: The formula doesn't feel heavy on skin and it doesn't have that super silky, slippery finish like most of the Silicon primers do rather has a soft satiny finish which feels extremely comfortable.
Performance: Revlon Perfecting Primer reduces the appearance of pores and makes the foundation glide smoothly on the skin and blend easily into the skin. It has smoothens out lines and gives a soft even texture to the skin. It has a soft matte finish and not that drying matte that feels uncomfortable on dry skin. I need 2-3 pumps of this primer to cover my face and neck well.
Staying Power: It makes the foundation last really longer, my make up looks fresh and face stays shine free for good 7-8 hours, though I could notice slight shine on my nose after 4-5 hours.
Tip: Moisturize your skin with a light-weight primer before hand to ensure smooth and easy application and no dry patches on skin
 Don't Miss to Checkout:
Pros of Revlon Photoready Perfecting Primer:-
Applies effortlessly
Smooth blendable texture
Doesn't feel heavy on skin
Gives a soft satiny finish to the skin
Makes makeup last longer
Doesn't broke me out
Doesn't emphasize dry patches
Minimize pore appearance
Smoothens line and foundation glides easily
Oil free and Paraben Free formula
Suitable for Dry/combination/Oily skin
Hygienic and convenient to use packaging
Available in 2 variants, other one is Color Correcting
Cons of Revlon Photoready Perfecting Primer:-
Little pricey compared to other primers
Might not work for super oily skin
Recommendation:- Revlon Photoready Perfecting Primer is an amazing light weight primer with a smooth consistency that spreads easily. It doesn't clog pores and feels feathery light on skin. It keeps the makeup intact for good 7-8 hours but I could some oil on my nose after 3-4 hours. If you don't enjoy that super slippery silicon finish of the primers, try this .. I am sure you will love the satiny finish it imparts on the skin. Overall, I am impressed with the quality and performance of this primer. Recommended!
Rating:- 4.5/5
Have you tried Revlon Photoready Perfecting Primer? Which is your favorite Face primer?