Revlon Nail Enamel – Blue Lagoon Review, NOTD
Today, I am going to review my one and only Revlon nail enamel the Blue Lagoon.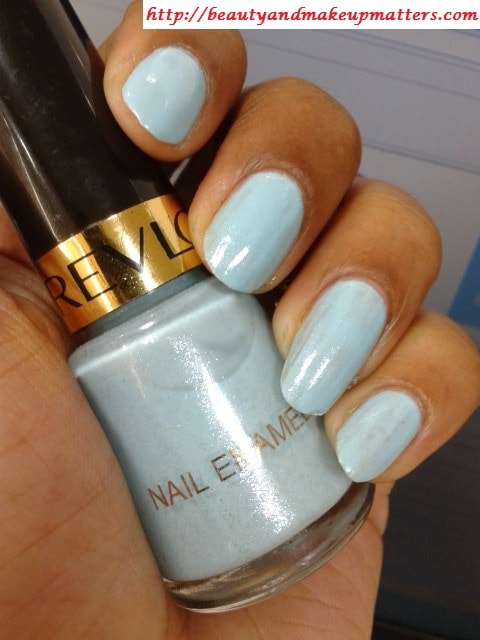 Product Claims: NEW SHADES! Revlon Nail Enamel delivers gorgeous smooth, chip-resistant color to nails. Available in 4 new limited edition summer shades: Surf, Sheer Seafoam, Red Bikini and Gold Coast
Revlon Nail Enamel gives up to 10 days of lasting color & shine*. Revlon's exclusive silk-protein shield works to instantly help even out the surface of the nail while rising above color to automatically smooth away bubbles, streaks and brush marks.
 Available in 72 shades
*when worn with Revlon Base and Top Coat. 
Direction for Use:-  EXPERT TIPS:
Apply favorite Revlon® Base Coat.
Apply two coats of Revlon® Nail Enamel and let dry.
Apply favorite Revlon® Top Coat.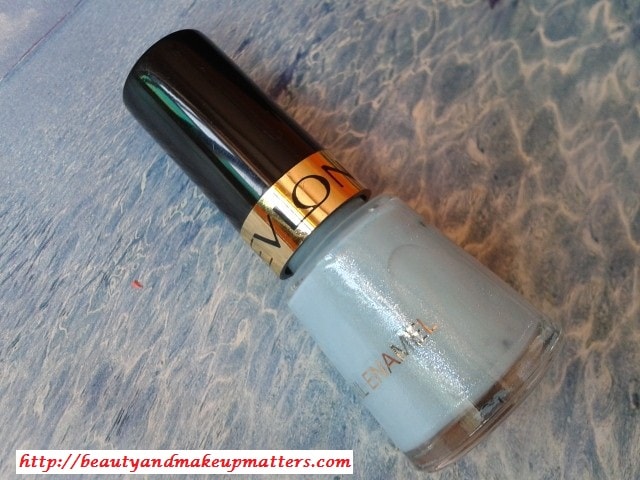 Price:- Rs.130 for 8ml
Shelf Life:-  3 years from the Mfg date.
Packaging:- The nail enamel comes in a classy round bottle type packaging. The large round base of the bottle going conical towards the top protects the bottle from falling or tumbling down. The medium length round black handle with a golden strip at the end carrying the brand name "REVLON" makes the bottle look pretty graceful.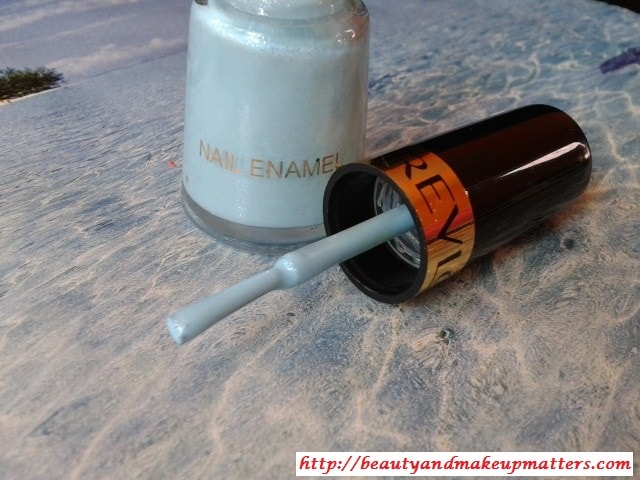 My experience with Revlon Nail Enamel – Blue Lagoon:-
Blue Lagoon is a light sky blue shade with micro shimmers. It is a very soft blue shade and can also be called as "Baby Blue" color. There are tiny silver shimmers in the nail enamel which makes it look almost frosty. I could also detect some pink, blue and light green and shimmers in the enamel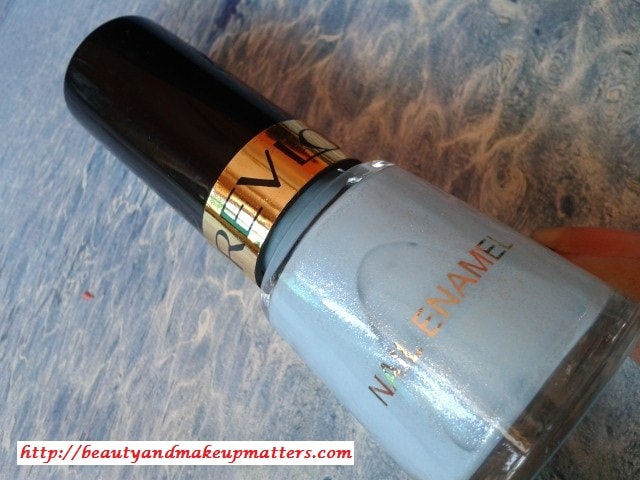 Although, I loved this tender blue shade but the formula of the nail enamel failed to impress me. The nail enamel has a nice flat brush applicator which is long and has decently packed bristles but even this quality brush couldn't do much to give a smooth application. The consistency of the nail enamel is thin but slightly sticky which goes thick and streaky. The formula refuses to get distributed evenly on the nails and results in uneven application.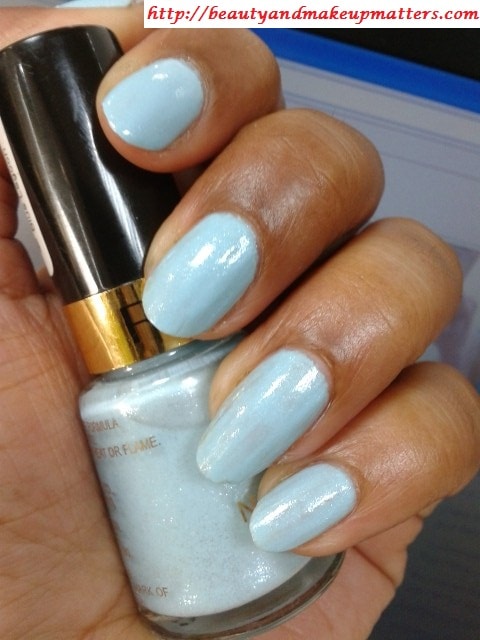 It goes sheer in the first coat and to get a better coverage I need at least 2-3 coats of this nail enamel. I had patiently waited for 7-8 minutes to let it dry but the nail enamel was still not set and gave me the patterned look. Based on my experienced I would suggest applying the second coat only after the first one completely dries up as it gives a better finish this way.
It is definitely not cream finish nail enamel but has beautiful sheen to it. The micro mini shimmer gives shiny finish to the nail enamel. However, it stays well on my nail and with a top coat it lasted 4 days with minimal fading from the tips.
Pros of Revlon Nail Enamel – Blue Lagoon:-
Pretty light sky blue shade, quite different form the regular ones.
Fine silver shimmers gives a lovely shine to the nail enamel.
Elegant and sturdy packaging
Comes with nice and wide brush
Formaldehyde and Toluene free
Stays well for 4 days without even a top coat and with all sorts of house hold work
Cons of Revlon Nail Enamel – Blue Lagoon:-
Disappointed with its sticky formula
Gives a streaky and uneven finish
Takes ages to dry so be patient.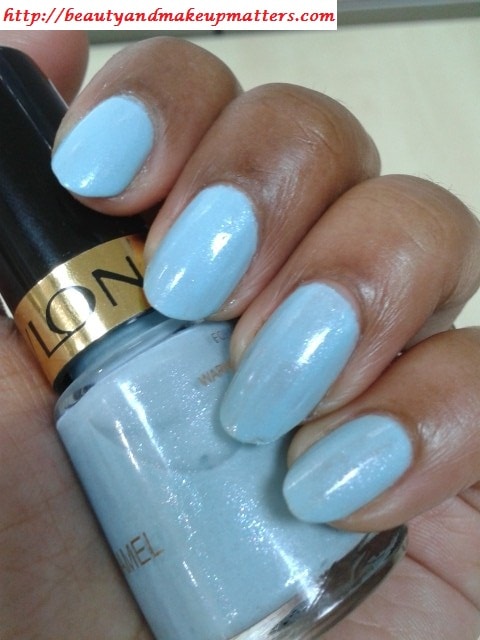 +
Recommendation:- Revlon Nail Enamel – Blue Lagoon is not any regular blue shade. It is a very soft sky blue color with tiny silver, pink, blue and green color specks which gives a beautiful sheen to the nail enamel. I really like the classy packaging of these nail enamels. The packaging, the brush and the color is amazing but I didn't like the formula of this nail enamel which goes streaky and gives an uneven coverage. Also, it takes hell lot of time to dry but stays pretty long. May be its just this color which has the consistency issue so I have to get more bottles from Revlon to find it out.

I would love recommend this for its outstanding shade but only of you agree to bear the formula.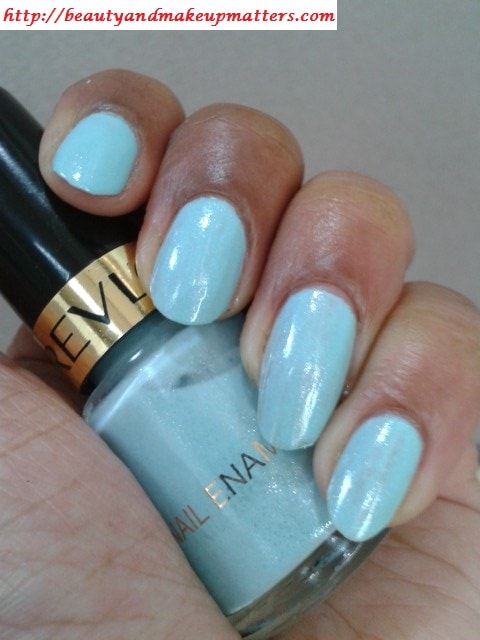 Rating:- 3.4/5
Have you tried Revlon Nail Enamel – Blue Lagoon? Do you prefer cream finish or pearly finish nail enamels?