Revlon Custom Eyes – Naturally Glamorous Eye Shadow Palette Review, Swatches, EOTD
Now, that I have started playing with eye makeup stuff, it wasn't possible for me to neglect the gorgeous Revlon Custom Eyes palettes any more. So, today I will be reviewing the Revlon Custom Eyes Naturally Glamorous palette.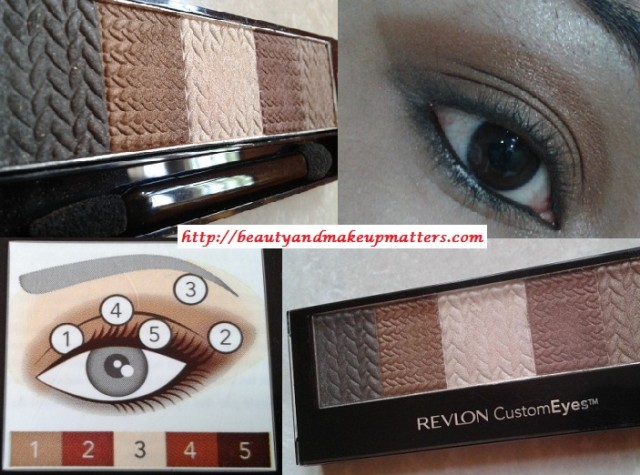 Product Claims: Revlon Custom Eyes Shadow & Liner allows you to easily create and customize the eye look you want with 4 shadows and 1 liner. For dramatic eye popping looks like never before! Available in a new summer shade Beach Beauty.
Direction for Use:-  EXPERT TIPS:-Use the wider side to cover the eye area in shadow and the pointed end to apply the liner shade.

• Sweet Innocence: For a special effect, dust shade 1 or 4 under the bottom of the eyes to create a soft halo effect.
• Party Pops: When wearing bright shadows, keep face and lips understated. Opt for soft, sheer shades that let your eyes take center stage.
• Naturally Glamorous: For a natural look in the evening just intensify your daytime look. Lips and cheeks can go darker and more shimmer can be added to the eyes.
• Metallic Chic: Mixing metals is a chic trend giving eyes a fashion forward look.
• Rich Temptations: Mixing purples and green on eyes creates a contrast that makes eyes pop.
• Smoky Sexy: Create a smoky rim around eyes with the pointed end of applicator, concentrating at the lash line for a perfect smoky eye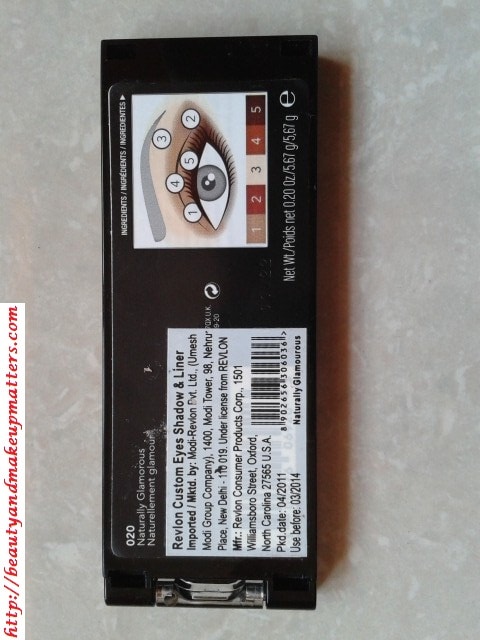 Price:- Rs.625 for 5.67gm
Shelf Life:- 3 years from the Mfg date.
Packaging:- The palette comes in a sleek and sturdy black casing with a see through glass lid to give a peek into the colors without the hassle of opening the palette. Unlike normal front-open casing, it has a stylish side opening lid which locks tightly with the base and wouldn't open automatically.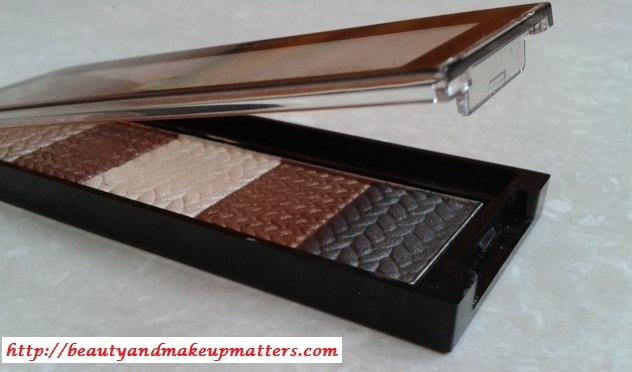 It is provided with a long dual tip applicator which has a broad and a narrow tip. The applicator can be used to pat eye shadow on the inner-corner of the eyes.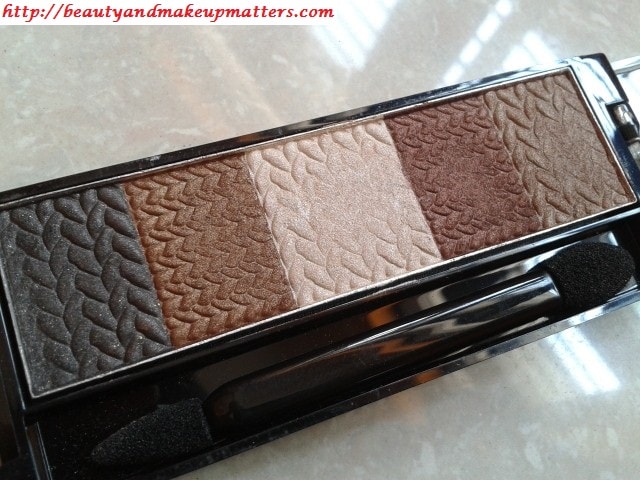 My experience with Revlon Custom Eyes – Naturally Glamorous:-
The custom palette has 5 shades with 4 eye shadows and 1 liner shade. Each eye shadow has a Knitted pattern over it which looks really adorable. The pattern has to go one day but still I don't like to swipe the brush hard against the eye shadows for the fear of losing the pattern. 😛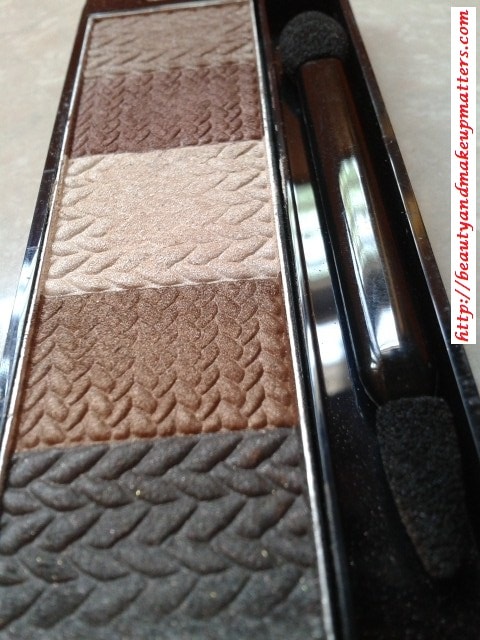 5 shades of the palette:-
Greyish Black:- It is a shimmery dark grey shade with fine specks of green, golden and copper shimmers. It is the darkest shade of the palette which is designed to be used as liner. It is recommended to be applied close to the lash line to give a hint of liner but can also be used as a base to give intensity to the smoky eye look.
Golden Bronze:- It is flattering deep golden shade with a bronzy finish. It has fine golden shimmers which gives a lovely pearly shine to the shade. It can be easily used as an all over lid shade.
Peachy Fawn:- It is a light beige shade with finely milled silver shimmers. Shimmers are smooth and give a lustrous sheen to the color. This is the lightest shade of the palette which is to be used as brow bone highlighter. It draws closer to creamy beige when applied which makes a pretty highlighter shade.
Rusty Copper:-It is a dark copperish brown shade with subtle bronze shimmers. The shade appears much darker than the 2nd Golden Bronze shade in the palette but looks quite similar when swatch on skin. The color looks quite close to Colorbar Spicy Brown Eye shadow. Spicy Brown has prominent golden shimmer and is more shiny and shimmery than this one.
Peachy Brown:- It is a light muddy brown shade with a hint of peach. It is the 2nd lightest shade which is to highlight the inner corners of eyes. On application, it looks more like a peachish cream shade and the fine shimmer gives pearly glow to the color.
Swatches:-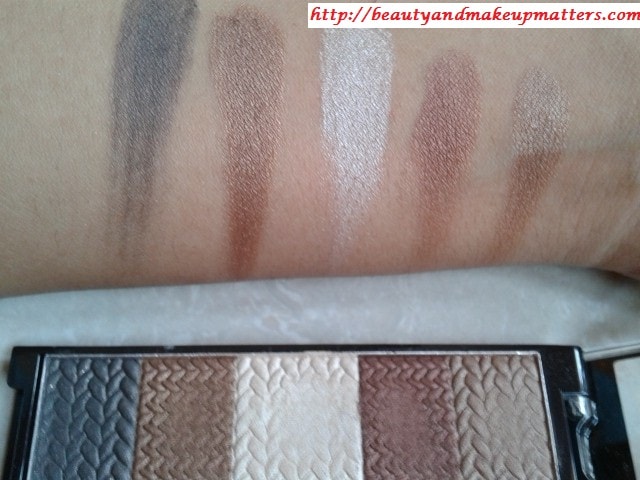 Shimmers are there in all the shades of palette have but they are pretty smooth and well blended with the color. Greyish Black and Peachy Brown are the only colors with multiple colored shimmers as the rest of the shades have similar color shimmers. Except Greyish Black shade which have a shimmery finish all other shades have a beautiful pearly finish.
Don't Miss to Checkout:
With Flash:-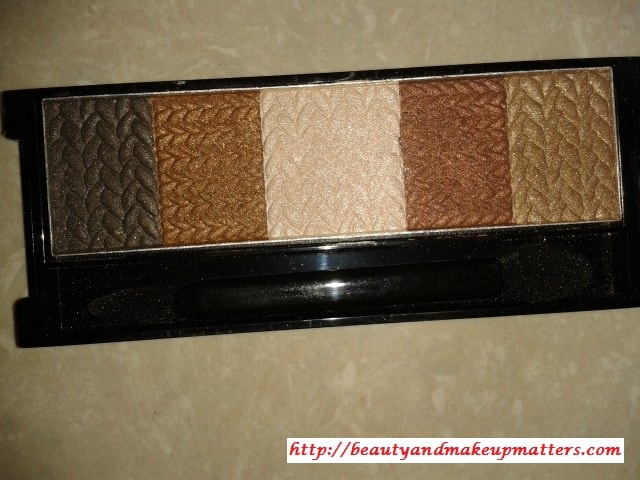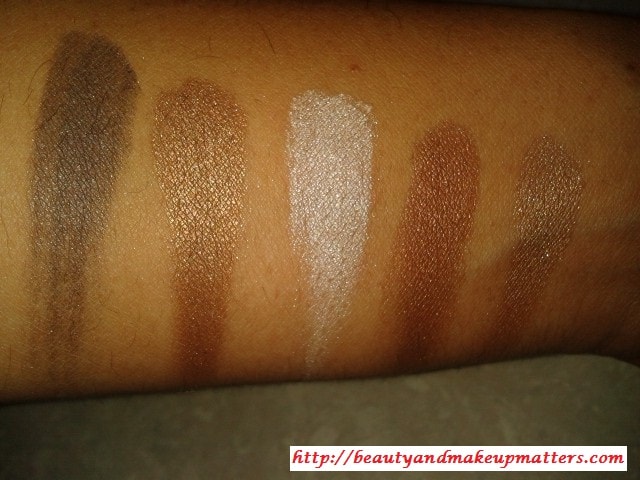 The eye shadows have smooth texture but if penetrated hard they get a bit powdery. They are made to be used with soft hands so just swipe the brush lightly over the palette. The eye shadows are decently pigmented and give a good color on hands. They get a bit lighter when applied on bare lids but the intensity builds up nicely when used over any eye shadow base.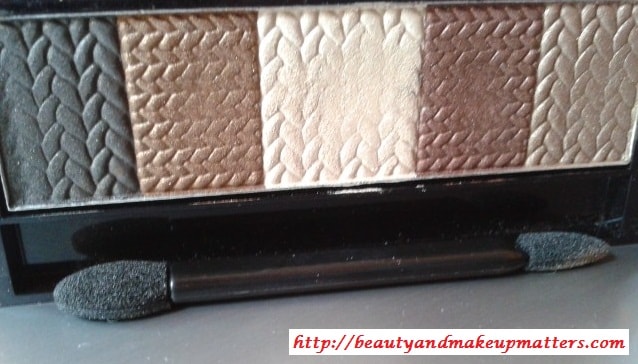 The eye shadows fall out a bit during application but once done they hardly shows any fallout. It stayed for almost 6-7 hours on my eyes without creasing and slight fading. It also gets removed easily with a creamy cleanser or makeup remover without leaving any shimmers on the skin.
Don't Miss to Checkout:
EOTD:-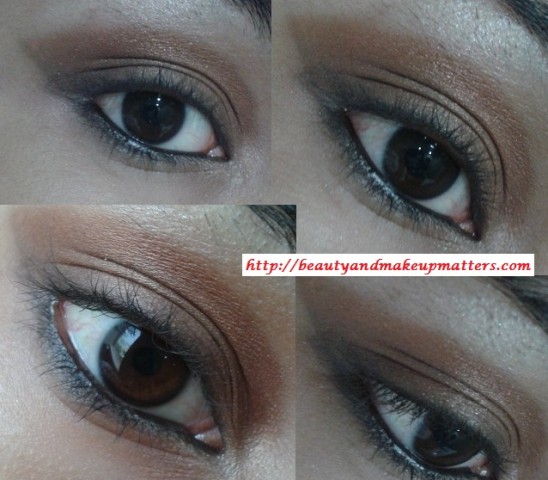 Pros of Revlon Custom Eyes – Naturally Glamorous:-
Shimmers are subdued and give nice sheen to the color.
Decent staying power.
Doesn't have any shimmery fallout.
Palette has all the good shades but I love the middle(3rd one) light creamy beige shade as brow bone highlighter
Perfect for natural smoky eyes.
Considering the fact of getting 5 eye shadows in a single palette the price is reasonable
Sleek and trendy packaging
Available in 6 attractive combinations
Cons of Revlon Custom Eyes – Naturally Glamorous:-
Shows up better with a base underneath
The 2nd and 4th color in the palette looks similar when swatched.
Slightly powdery texture which falls out during application.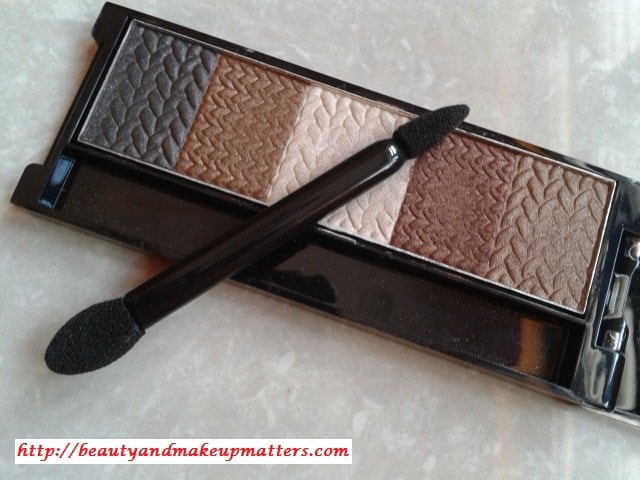 Recommendation:- Revlon Custom Eyes – Naturally Glamorous has been rightly named as it adds shine to regular brown smoky look without going loud or flashy. The palette is perfect for both natural eye makeup look and dramatic smoky look. It doesn't have any matte shade but the shimmers are fine and super-smooth which give a radiant shine to the colors and doesn't look gaudy. The colors have lustrous pearly finish but not OTT and can be worn easily both during day and night.

It is a warm eye shadow palette with all the earthy brown shades and subtle shimmers. The palette with cool packaging, good quality, decent pigmentation and wearable shade is complete on its own for neutral eye makeup Recommended!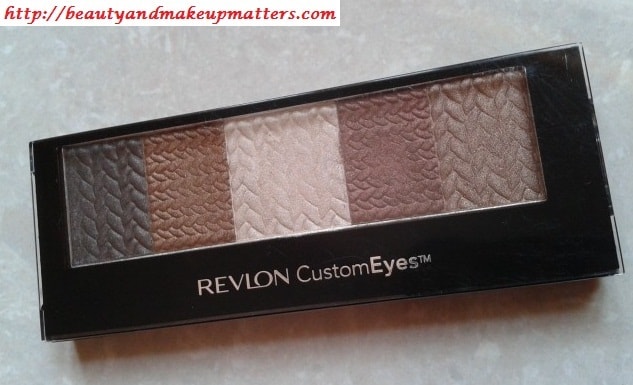 Rating:- 3.9/5
Have you tried Revlon Custom Eyes – Naturally Glamorous? Which is your favourite neutral smoky eye palette?