Revlon Colorburst Matte Balm Audacious Review
Since their launch in US I have been lusting after these and then finally this year they hit the Indian Markets and were an instant hit. They received raving reviews in the blogosphere but being on a ban I had to wait for my chance to get my hands on these. There are many interesting shades but the one that won my hearts was "unapologetic". I was all set to get that but then I saw this pretty orange "Audacious" Matte balm on a blog sale and thought why not try it first. So, let's checkout if Revlon Matte balms are worth the hype and if they could impress me, read on about my experience with Revlon Colorburst Matte Balm in Audacious.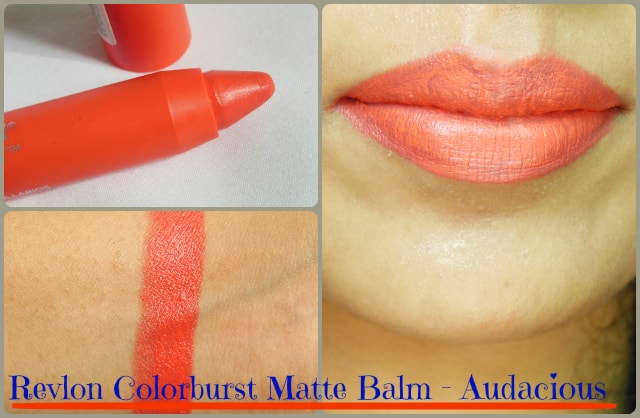 Product Claims:
Velvety Matte Look
Moisture Rich Balm
A Matte finish that's beyond plush.
Balm that's beyond comforting.
Our Triple Butter Complex of Shea, Coconut and Mango butters nourishes lips.
In 10 collectible, craveable colors.
Direction for Use:-For a polished and perfect lip look, apply foundation on and around the lips before lip color. Foundation helps to prep the lip area for a more flawless application and helps lip color last longer.
Ingredients:-
Price:- Rs.800 for
Shelf Life:- 3 years from the Mfg date.
Packaging:- Revlon Colorburst Matte Balms comes in a twist up retractable jumbo crayon style packaging which is convenient to use and doesn't require sharpening hence no wastage. The color coded packaging in matte finish makes it easier to identify the shades even if you own a whole lot of them.
My experience with Revlon Colorburst Matte Balm Audacious:
Shade: Audacious is a muted orangey coral shade with cooler undertones in satin matte finish. I have seen people telling that it is a reddish orange but I am not able to detect any Red tones in the shade, it is a plain soft orangey coral shade which will flatter light to medium Indian skin tones.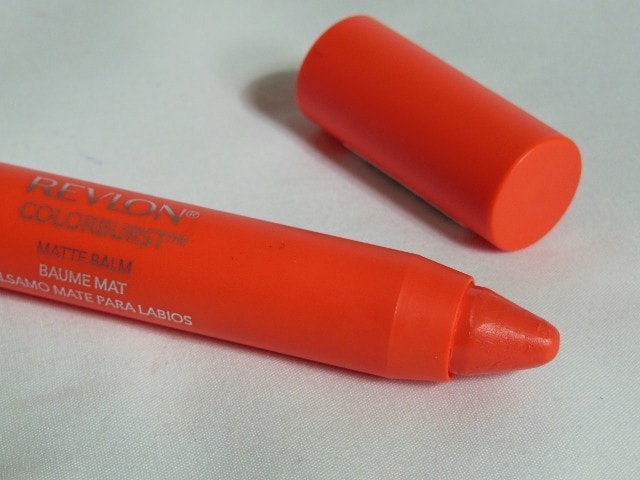 Texture: Matte Balm has a creamy smooth texture which glides easily on lips. The light weight formula doesn't feel heavy on lips but it has a waxy- crayonish feeling which gives a steaky application
Pigmentation: Audacious has a good color payoff but it doesn't give that ultra opaque coverage. There is slight sheerness in the finish which lets my natural lip color peeks in. The shade comes true to the bullet in 2-3 swipes but intensifies and turns a bit pinker on my lips as the day proceeds.
Finish: Initially, Revlon Matte Balm has a satin matte finish but within minutes  the initial sheen is all gone and it settles down to a matte finish. The lip balm swatch well on hands but looks cranky-panky on lips, if you have used Crayon colors ever you would know what I am talking about. Crayons have a rough finish cracky with a textured feel), similarly this Matte crayon has that uneven patterned finish. Wish, finish had been more of a sketch Pen like, smooth and even than a Crayon. 😛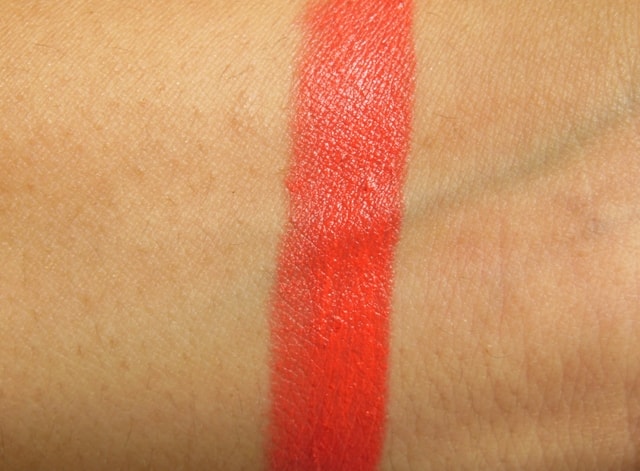 Staying: The lip balms lasts for 4-6 hours on me and the formula has staining pigments which makes the color lasts for another 2-3 hours. Though, it starts showing its real face soon after application/having meals as it starts flaking, seeps in lip liner and emphasize dry patches on the lips. It is not particularly drying but I feel like drying a lip balm after 3-4 hours.
It gives a streaky finish which refuses to smoothen up even after multiple efforts:
1st Attempt. Slathered on lips, the moment it arrived: I must have moisturized my lips that why it looks so bad
2nd Attempt: Applied over a light layer of lip balm: I must have applied lost of it and that's why it is slipping and giving that ultra smooth even finish
3rd Attempt: Applied over a creamy lipstick blotted with a tissue: I think the balm is refusing to gel well with this lipstick formula
4th Attempt: Exfoliated well moisturized lips: Finish is slightly better but the coveted smooth matte look is far fetched.
Conclusion: There is something wrong with the formula only as it refuses to apply evenly on lips. Also, the balm has a minty scent which is almost undetectable but the tingling sensation on the lips is hard to ignore
Pros of Revlon Colorburst Matte Balm Audacious:-
Decently pigmented
Light texture
Satin matte finish
Wears well for 4-5 hours
Feels comfortable on lips
Non-drying formula
Available in 10 gorgeous shades
Cons of Revlon Colorburst Matte Balm Audacious:-
Patchy application
Tingling sensation on lips
Pricey
Fills in lip lines
Starts flaking after 5-6 hours of wear
Shade will not suit medium-dark skin tones
Recommendation:- Revlon Colorburst Matte Balm Audacious is a beautiful soft orangey coral shade with a comfortable matte finish. The Balm has a creamy texture which glides easily but doesn't give a smooth and even application. The formula has a crayon finish which draws lines and swooshy pattern on lips and has a tingling sensation too, much to my dislike. The formula lasts long but it made my lips look so tacky. I am highly disappointed with my purchase this time. If you want to try just for the color go ahead but beware of its crayon-y formula.

I was planning to try Unapologetic and a wearable pinkish shade like Sultry next but now I am highly doubtful about that ,may be I should hit counters and check them out myself before ordering online. If they will also have the same texture and finish, I better stay away from them too :(.
Rating:- 2.5/5
Have you tried the Revlon Colorburst Matte Balm Audacious? What are your thoughts on them?