Revlon Colorburst Lipstick – Rosy Nude Review, Swatches, Lips
I have been waiting long to get my hands on these lipsticks but my better half never let me give a chance to visit any of the cosmetic stores while we are out for shopping. I didn't have a good luck with buying lipsticks online and ended up getting dud and hopeless shades like Absolute Plum. So this time I didn't wanted to take a chance and buy a lipstick without checking them in stores. Also, these are on the expensive side and the loss would have been huge so testing the shades in real was mandatory.
So, after months of research I finally decided to buy Revlon Colorburst Lipstick-Rosy Nude as my first lipstick from this range.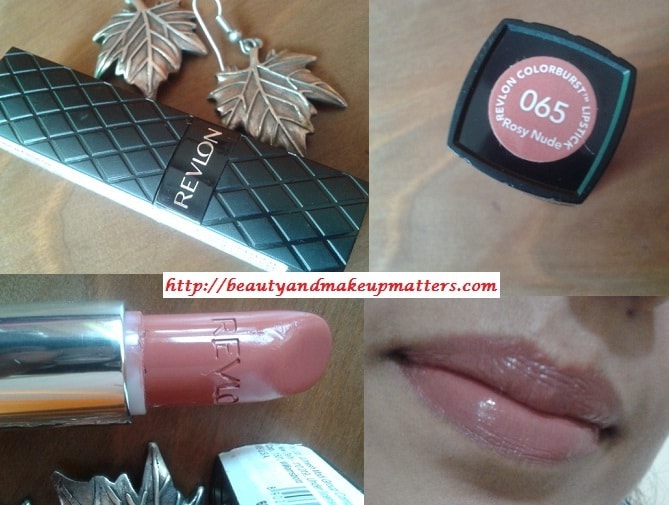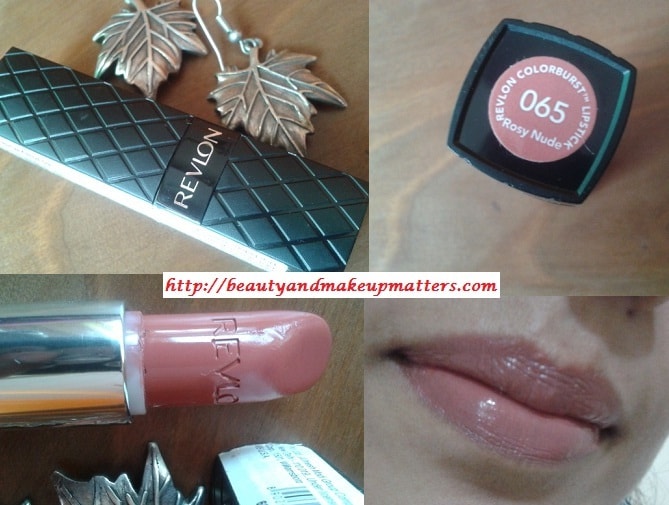 Product Claims:
Unique Elasticolor™ technology hugs lips with an explosion of color that feels virtually weightless
Innovative pigments provide immediate, release of rich color on lips in just one swipe
Contains film-forming polymers for longer wear and skin conditioning properties
Moisturizers and anti-oxidants, including Sweet Almond Oil, improve lip texture
Beautiful packaging, with premium bullet lipstick case and embossed Revlon logo on bullet
Available in gorgeous shades listed below:-
Soft Nude
Soft Rose
True Red
Candy Pink
Cherry Ice
Coral
Hazlnut
Fuchsia
Carnation
Plum
Pink Sugar
Peach
Rosy Nude
Respbarry
Lilac
Blush
Direction for Use:- Apply directly to lips for beautiful, high impact color. Can be worn with or without lipliner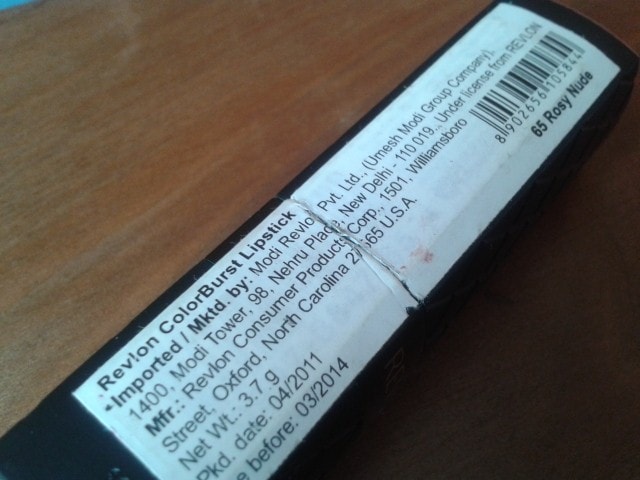 Price:- Rs.580 for 3.7 gm
Shelf Life:-  3 years from the Mfg date.
Packaging:- The lipstick comes packed in a classy black packaging. The outer case carries a cross (diamond) pattern running all over it. The matte finish adds charm to the casing. The top of the cap carries the indicator of the lipstick shade and the base has a sticker in the similar color with the name of the shade printed over it which makes it easy to identify the lipstick shade kept either upside down or vis-a-vis. The squarish tube is easy to store which doesn't topple like round packaging.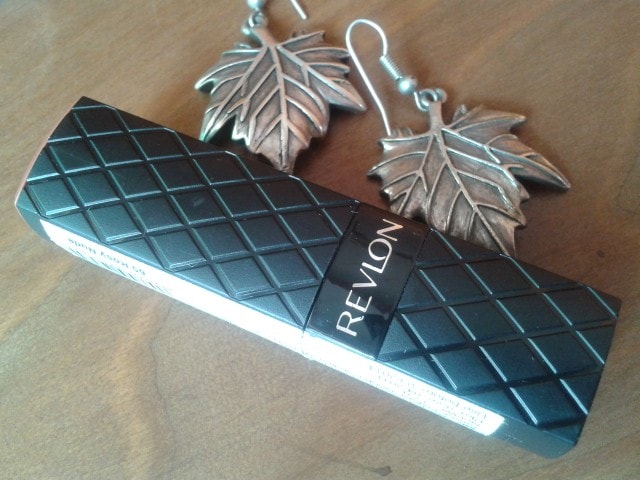 My experience with Revlon Colorburst Lipstick-Rosy Nude:–
Bullet:-The shape of the bullet is different from the regular angled top lipsticks. But I found it very easy to use and define lips in comparison to Maybelline Color Sensational lipsticks.
Shade:-Rosy Nude is a beautiful neutral shade with right balance of pink and brown color. It makes the best MLBB shade for my pigmented lips. It is matte shade from from all kinds of shimmers or frosts. Maybelline My Mahogony shade which is another MLBB shade sometimes looked washed out on me but Rosy Nude never failed me. It is a lovely peachy brown shade and would all skin tones.
Texture:-The texture of the lipstick is extremely soft and smooth .It glides effortlessly over the lips and gives an even application. The soft velvety touch of the lipstick feels like silk on my lips. It feels feathery light on the lips just like a second skin and gives them a smoother appearance. The lipstick provides enough moisturizing to the lips to skip the lip balm application before applying this.
Pigmentation: The lipstick is well pigmented and gives a decent color with 2 swipes over my pigmented lips. It is neither a matte nor a glossy lipstick but gives just the right amount of shine to the lips. If compared to Maybelline Colorsensational lipsticks which gives a creamy gloss it gives a light watery gloss finish to the lips.
Swatches:-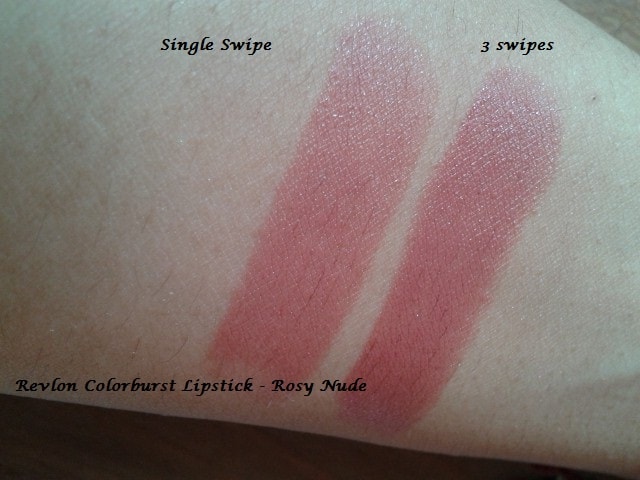 Staying power:- Being a lighter shade it tends to fade out after  4-5 hours of application but I love to reapply it. On my lips its barely survives meals but on un-pigmented lips it might leave a light peachy stain.
Look:-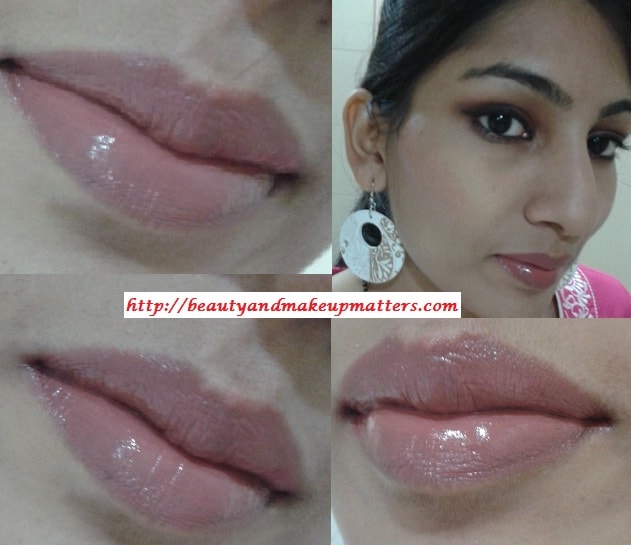 Pros of Revlon Colorburst Lipstick-Rosy Nude:-
Glides like a dream over lips
Rich creamy texture
Moisturizing to the lips
Gives a nice shine to the lips
Lips appear smoother and doesn't settle into lines in the lips.
Well pigmented
No funny smell
Attractive and sturdy packaging
Suits all skin tones, Lovely MLBB shade
Wont look cakey
Cons of Revlon Colorburst Lipstick-Rosy Nude :-
Expensive
Staying power of this shade is not significant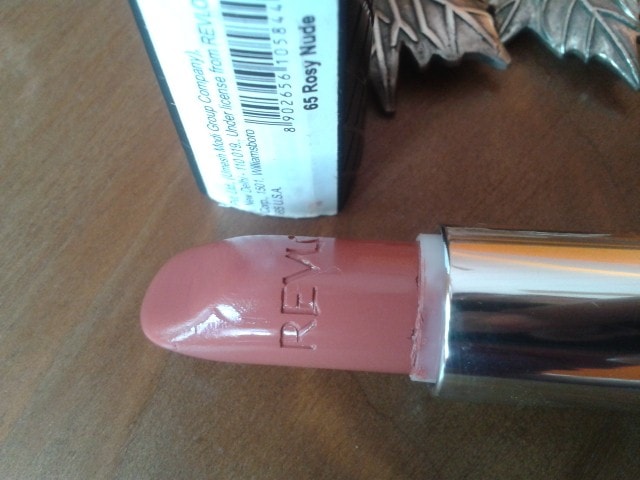 Recommendation:- Rosy Nude is my first lipstick from the Revlon Colorburst range and I loved it so much that its hard for me to wait to try other gorgeous shades from this range. Rosy Nude is beautiful peachy pink shade which gives natural looking color to my lips and is perfect for office wear. The lipstick went on smoothly over my lips, gives a nice moisturized look to my lips. This is lightest lipstick that I have ever used till date even lighter than the Maybelline Color Sensational lipsticks. It doesn't bleed and give a nice appearance to the lips.

I am falling short of words to explain my love for this lipstick. Everything is just perfect for this lipstick except it's a little less than expected staying power but I am not complaining. It is one of the best MLBB shades which never washes me out and complements heavy eye-make up well. If you are still in search for a nice MLBB shade do give this a try and I am sure you will like it.

You wouldn't know how they are different till you try any of these. I will repurchase this shade again and again. Highly recommended!!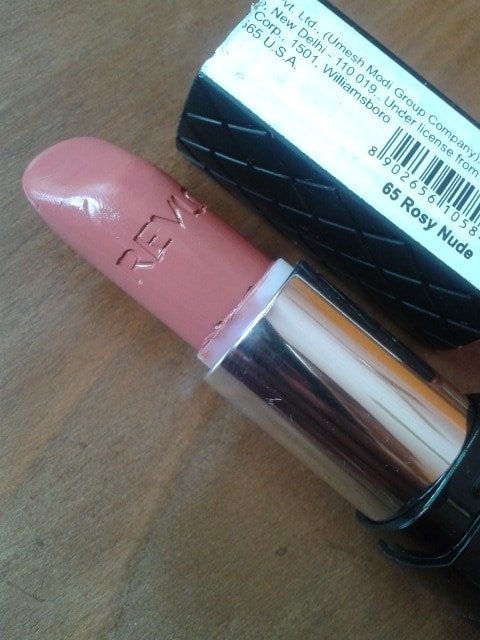 Rating:- 4.3/5
Have you tried Revlon Colorburst Lipstick-Rosy Nude? Which is you favorite MLBB shade?