Revlon Colorburst Lip Gloss Sienna Sparkle Review

Today, I am going to review another lip gloss from Revlon Colorburst Lip Gloss range, "Sienna Sparkle". I was hesitant to get this shade it looked like a garish brown in pictures and online swatches but I really wanted to add some brown lip color which can go with traditional-wear. So, bought this along with Papaya during an offer from medplusbeauty.com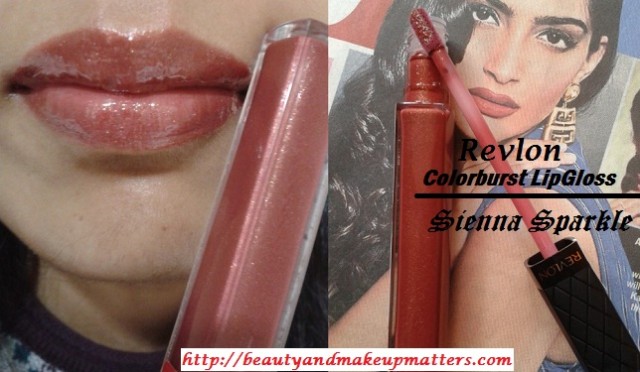 Product Claims: Revlon ColorBurst Lip gloss for lips that shine with killer color. This weightless gloss makes lips pop with 5X more shine than patent leather.
A pop of weightless color with vivid, mirror-like shine. Outshines everything but you!
Micro-crystal formula for 5X the shine of patent leather.
Plush applicator shaped to curves of your lips for smooth, even application of color.
Revlon ColorBurst's Elasticolor™ technology for rich color with a weightless feel.
Moisturizers and anti-oxidants such as sweet almond oil and vitamin E conditions and improves lip texture.
Available in 15 vibrant, on-trend shades.
Direction for Use:- Apply lipgloss directly to lips, using plush applicator shaped to curves of your lips.
For additional color or definition, pair with Revlon ColorBurst™ Lipstick or Revlon ColorStay™ Lip Liner.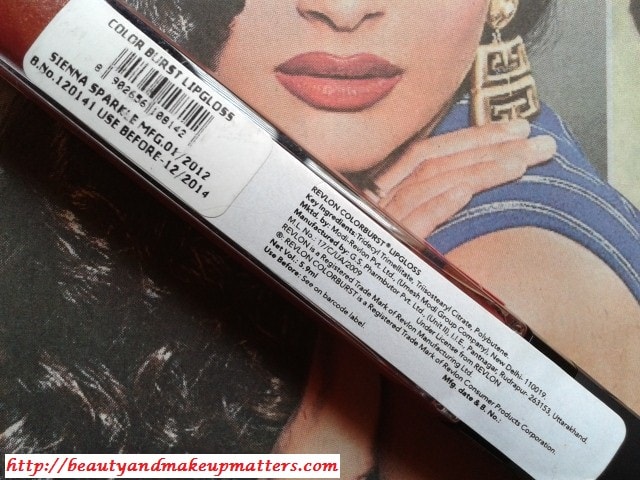 Price:- Rs.500 for 5.9 ml
Shelf Life:- 2 years from the Mfg date.
Shades Available:-
002 Crystal Lilac
004 Pink Ice
006 Strawberry
008 Peony
010 Hot Pink
012 Orchid
014 Rose Pearl
016 Bordeaux
018 Fire
020  Papaya

022 Sunset Peach
024 Gold Dust
026 Rose Gold
028 Sienna Sparkle
030 Bronze Shimmer
032 Buff
034 Aubergeine
036 Iced Coffee
Packaging:- Revlon Colorburst lip glosses have fabulous packaging. The long rectangular tube with a beautiful quilted patterncap looks nothing less than an expensive one. I find it fairly easy to apply the gloss using the large doe foot applicator. The shape and size of it works great for my fuller lips but thin lips might have a bit difficulty in limiting the gloss to lip boundaries.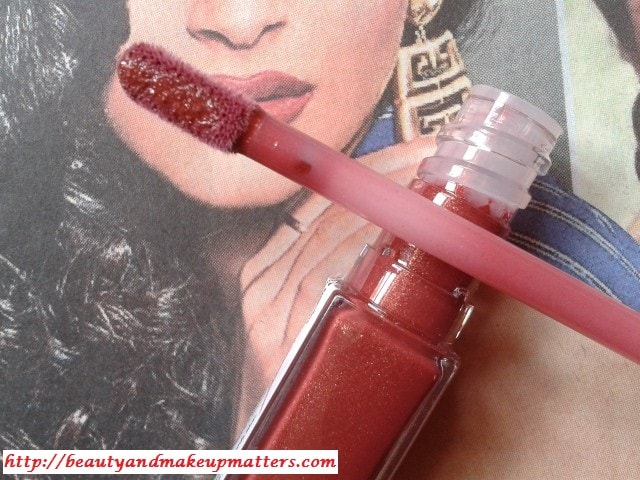 My experience with Revlon Colorburst Lip Gloss Sienna Sparkle:-
Shade:- Sienna Sparkle is medium-brownish plum shade with some red undertones and excess of gold shimmers. The subtle plum tones look more prominent when it comes to lips than in the tube which make it look even prettier. The smooth shimmers add shine to the finish and make lips look plumpy.
Color Corrected pics to capture Plum Tones –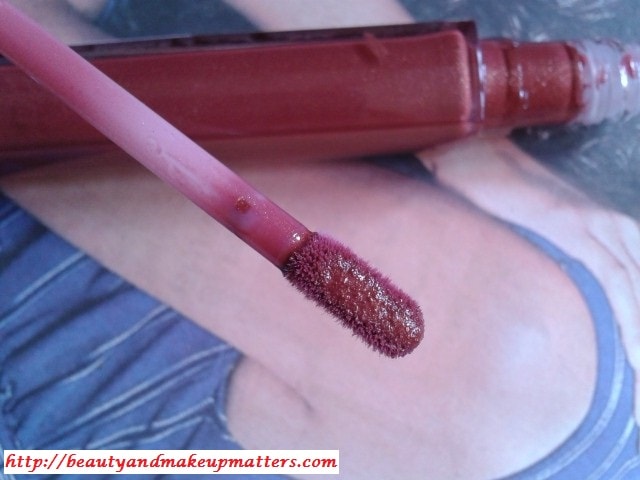 Texture:- The texture is light, smooth and absolutely creamy just like any creamy lipstick and if shimmers in it are ignored the gloss is pretty much similar to any crème finish lipstick (just a tad thicker). It keeps my lips moisturized and even when it bids good bye I can still feel hydrated and soft lips. Also, the shimmers are fine and don't make the lip gloss gritty at all
Pigmentation:- The pigmentation is amazing as it provides medium to full coverage and gives an almost opaque finish in 2 coats which is yay for pigmented lips. The gloss also tremendous shine to my lips which makes them look utterly delicious. 😉
Swatches:-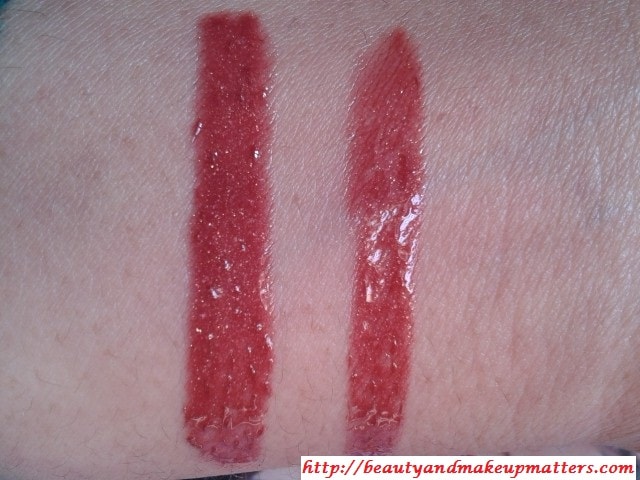 With Flash:-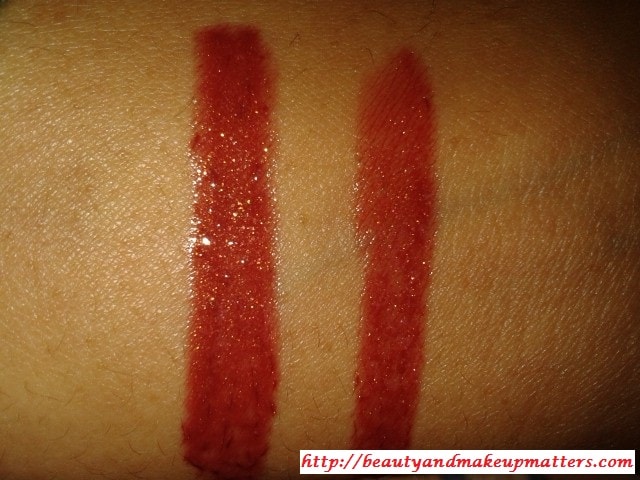 Staying:- . The lip gloss stayed easily for 3-4 hours on with light snacks in between and then faded away beautifully. It wouldn't survive meals but leave lips with a nice natural looking shine which stays for another half an hour. When it's completely gone I could detect some shimmers on lips but nothing bothersome.
LOTD:-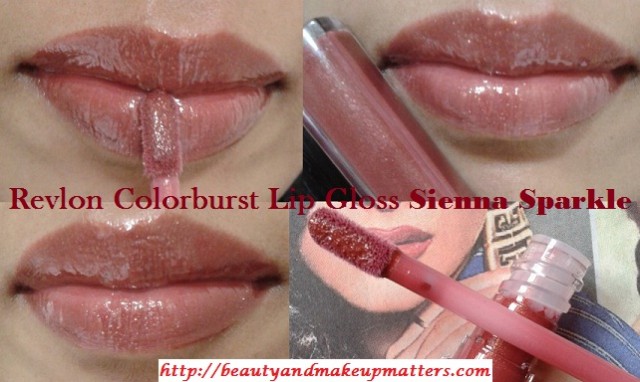 Fragrance:- It has almost undetectable but terrible chemical scent. I like my lip products to be fragrance free but unnoticeable scent also works.
Don't Miss to Checkout:
Pros of Revlon Colorburst Lip Gloss Sienna Sparkle:-
Beautiful Plum toned shimmery Brown shade
Excellent color pay off
Smooth and even application
Fine shimmers
Non-sticky Texture
Doesn't dry out lips
Make a beautiful lip color for dusky skin tones
Lovely fall/winter shade
Fascinating packaging
Flexible sponge tip applicator
Value for money
Available in vivid range of colors with shimmery/non shimmery, sheer/opaque finishes.
Cons of Revlon Colorburst Lip Gloss Sienna Sparkle:-
I couldn't think of any con as such just that it leaves specks of shimmers on lips after its gone.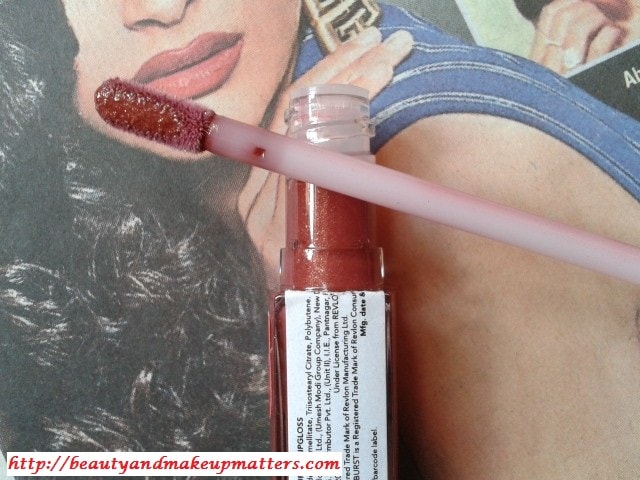 Recommendation:- Revlon Colorburst Lip Gloss Sienna Sparkle is tremendously pigmented warm toned plummish brown shade with overloaded with golden sparkle. Sienna Sparkle is much more pigmented and has noticeable golden sparkles compared to Papaya. Its light, creamy formula is moisturizing to the lips and doesn't turn sticky or gooey even with multiple swipes. The ultra-fine shimmers gives yummylicious shine and plumped up look to the lips. The luxurious packaging with exclusively designed applicator adds to the beauty of this lip gloss. The shade will suit all skin tones and will look exceptionally good on medium-dusky to medium –fair skin tones. I am eyeing few more shades like Aubergeine, Fire and Boudreaux from Revlon Colorburst Lip Gloss range to add to my bag.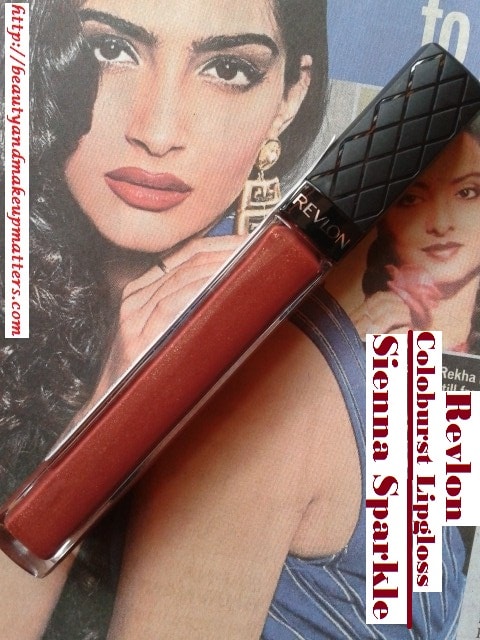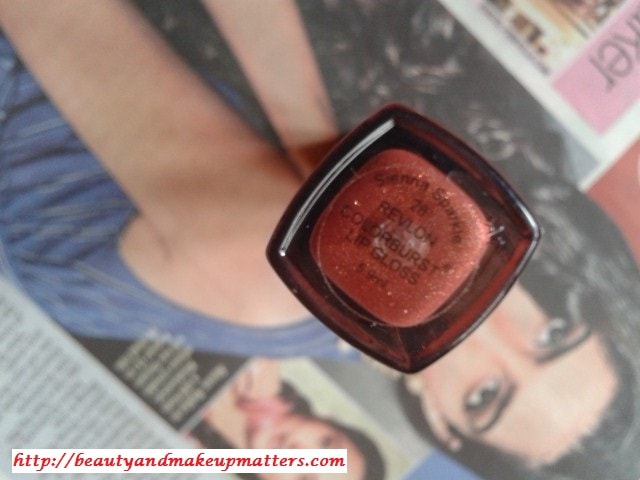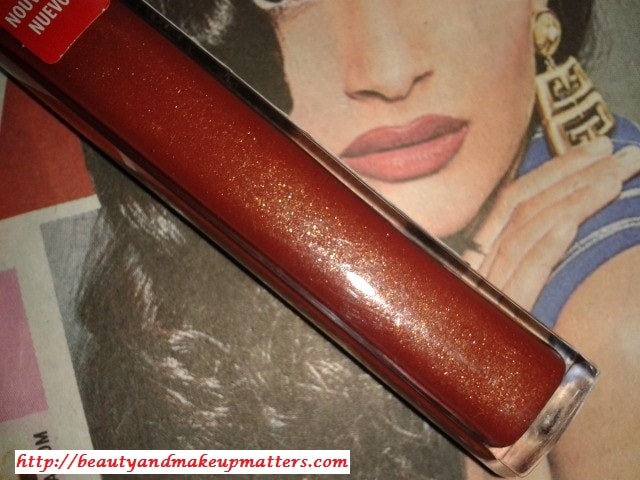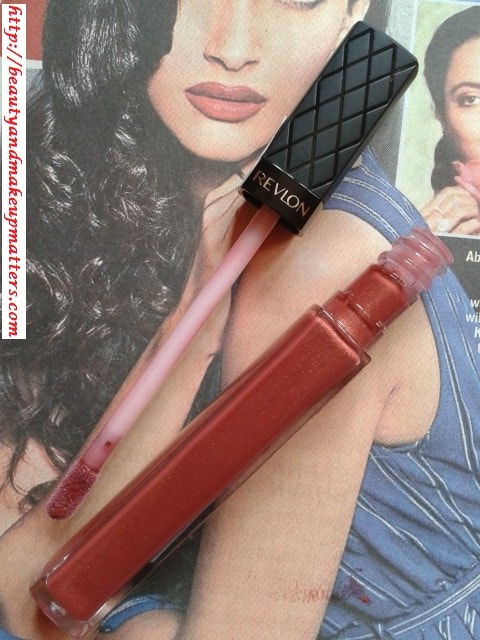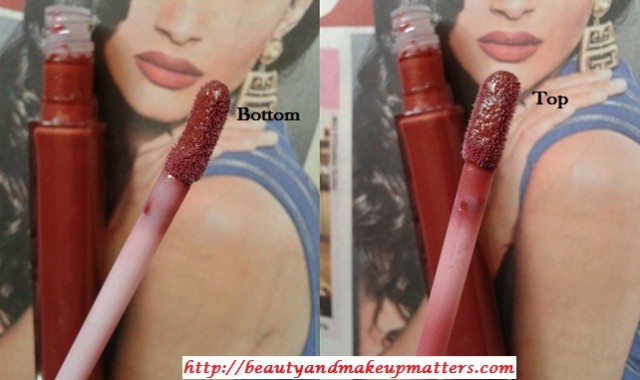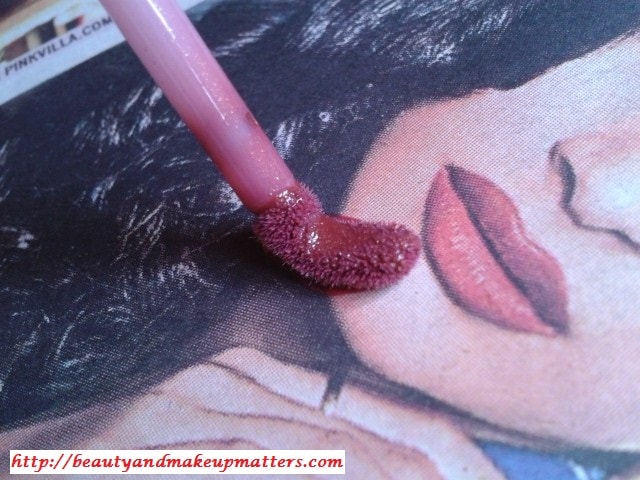 Rating:- 4.9/5
Have you tried Revlon Colorburst Lip Gloss Sienna Sparkle? Do you like such warm-toned lip glosses?