Revlon Colorburst Lip Gloss Papaya, 020 Review, Swatches, LOTD
Hello Everyone, Today I am going to share my first lip gloss from Revlon and its none other than Revlon Colorburst Lip Gloss in Papaya. Papaya is my favorite fruit and I just can't have enough of it. So, getting this Revlon Colorburst Lip Gloss in Papaya has become compulsory.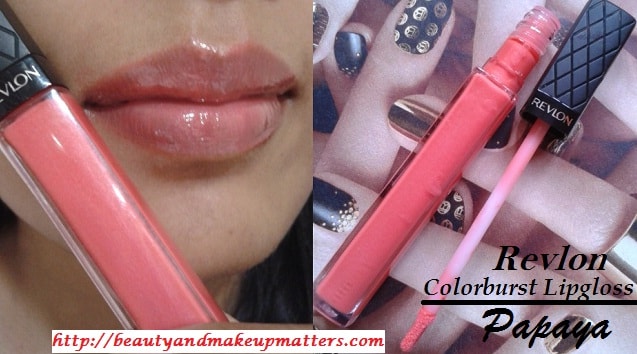 Product Claims: Revlon ColorBurst Lip gloss for lips that shine with killer color. This weightless gloss makes lips pop with 5X more shine than patent leather.
A pop of weightless color with vivid, mirror-like shine. Outshines everything but you!
Micro-crystal formula for 5X the shine of patent leather.
Plush applicator shaped to curves of your lips for smooth, even application of color.
Revlon ColorBurst's Elasticolor™ technology for rich color with a weightless feel.
Moisturizers and anti-oxidants such as sweet almond oil and vitamin E conditions and improves lip texture.
Available in 15 vibrant, on-trend shades.
Direction for Use:- Apply lipgloss directly to lips, using plush applicator shaped to curves of your lips.
For additional color or definition, pair with Revlon ColorBurst™ Lipstick or Revlon ColorStay™ Lip Liner.
Ingredients:-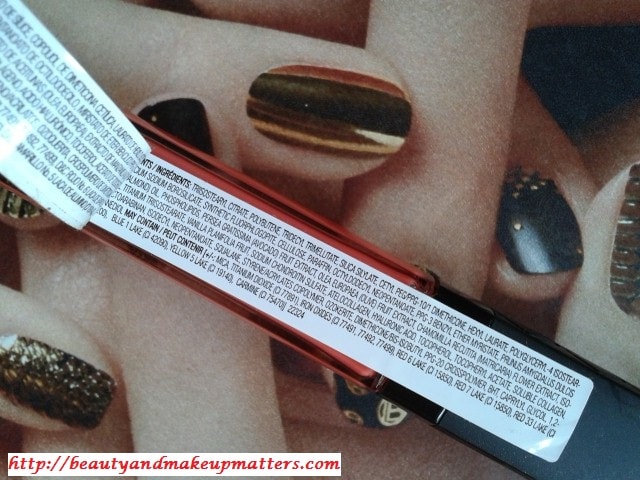 Price:- Rs.500 for 5.9 ml
Shelf Life:- 2 years from the Mfg date.
Shades Available:-
002 Crystal Lilac
004 Pink Ice
006 Strawberry
008 Peony
010 Hot Pink
012 Orchid
014 Rose Pearl
016 Bordeaux
018 Fire
020 Papaya
022 Sunset Peach
024 Gold Dust
026 Rose Gold
028 Sienna Sparkle
030 Bronze Shimmer
032 Buff
034 Aubergeine
036 Iced Coffee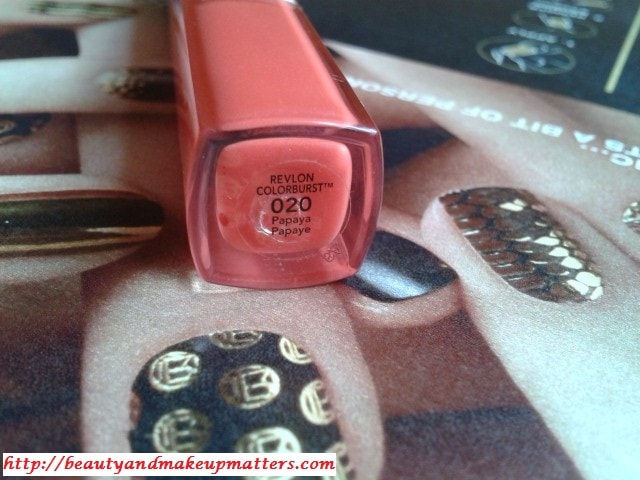 Packaging:- Revlon Colorburst lip glosses are contained in long see–through tube with a patterned cap. The long applicator has a flat doe-foot brush with a flexible neck which is quite different from the regular one and I didn't faced any difficulty to use this for an even application. Both sides of the applicator can be used for application which reduces the number of times I need to dip it in the tube to get more color. :). The packaging has an expensive feel to it which I liked.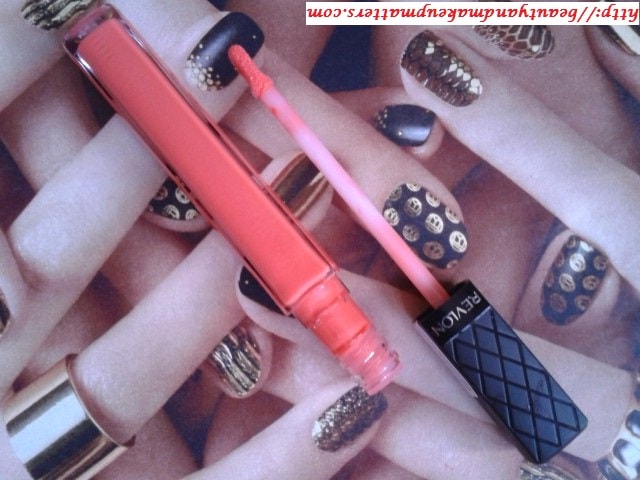 My experience with Revlon Colorburst Lip Gloss Papaya:-
Shade:-Papaya is a lovely coral shade with slight pink undertones and barely visible pink and gold shimmers. Shimmers provide luscious juicy shine to lips without looking OTT. The color has very romantic feel to it and I loved to do pouts with it. 😉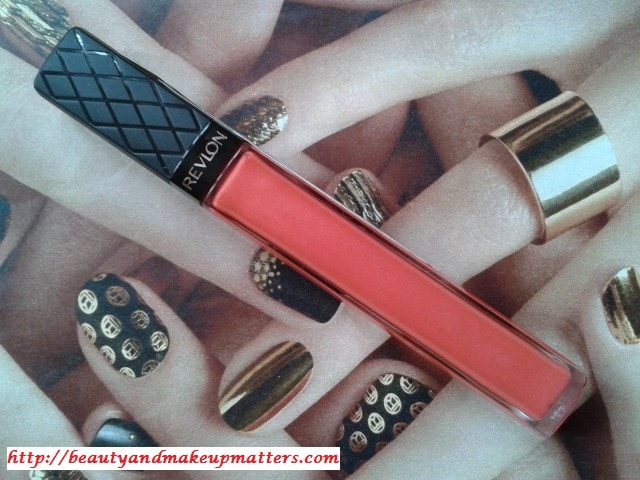 Texture:-The texture of the gloss is light and non-sticky. It feels comfortable and goes smoothly on lips. The formula is moisturizing to the lips and keeps them hydrated for long. The gloss might accumulate at a place when applied so spread the color with the applicator for even application.
Finish:- It is not an extremely pigmented gloss and gives a sheer coverage to the lips but the color is good-enough to be spotted on lips.
Staying:- Staying is average about 3-4 hours (similar all other glosses) but it starts to turns pink after an hour on application may be due to my pigmented lips which are naturally pink. It doesn't leave any hint of color behind but it also didn't leave my lips uncomfortably dry and I can delay to moisturize them easily for another half an hour.
Don't Miss to Checkout:
Swatch:-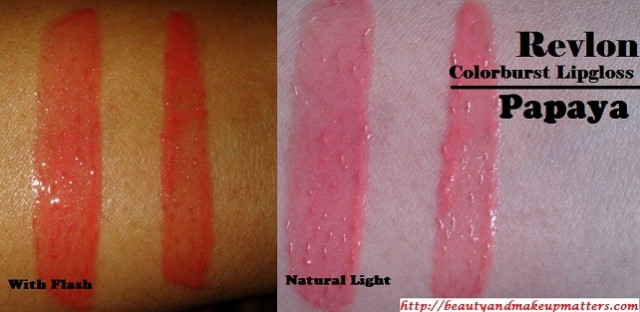 LOTD:-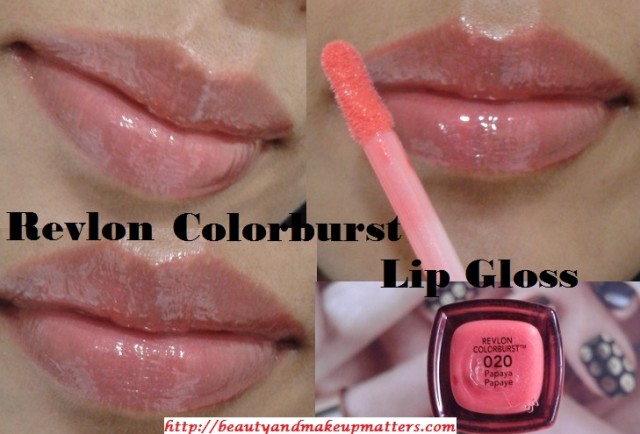 Fragrance:- Papaya has weird (chemical) scent but it extremely mild and can be easily ignored.
Tip:- I apply it over Maybelline Color Sensational Moisture Extreme Lipstick in Bronze Orange and voilaa.. the gloss looks like full coverage and stays coral on me without turning pink. Also I find it easy to get an even application this way.
Pros of Revlon Colorburst Lip Gloss Papaya:-
Beautiful Coral shade with subtle shimmers
Makes a flattering summer shade
Feels light on lips
Non-Sticky Texture
Moisturizing to lips
Gives juicy shine to lips
Luxurious packaging
Unique applicator design
Available in 15 shades with a mix subtle and high on shimmer and from richly pigmented to sheer coverage glosses
Cons of Revlon Colorburst Lip Gloss Papaya:-
Nothing as such just wished that the color had better pigmentation so that it could have stayed coral on me than turning pink.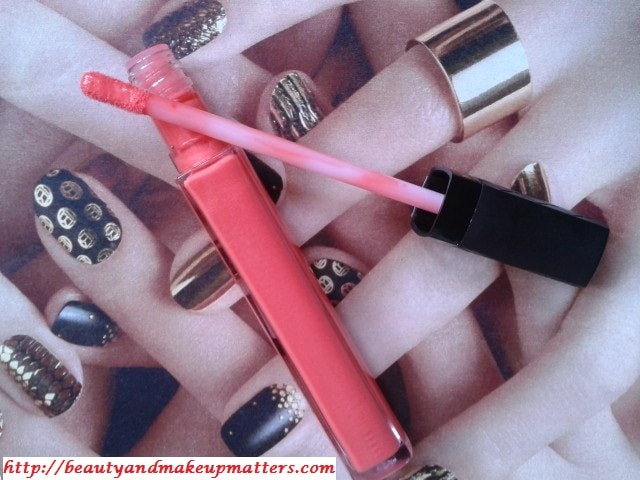 Recommendation:- Revlon Colorburst Lip Gloss Papaya is a gorgeous orangey coral color with teeny meeny shimmers which are not visible in natural light. It is an absolute coral shade in the tube but turns pinkish on my lips after an hour of wear. It has sheer pigmented, non-sticky formula which feels comfortable on lips and I enjoy its rich lustrous shine. It is a lovely summer shade and will look fabulous on fair to medium skin tones. Papaya is a must have its unique color and the glow it adds to the face. If you love coral shades than you are going to love this too. Highly Recommended!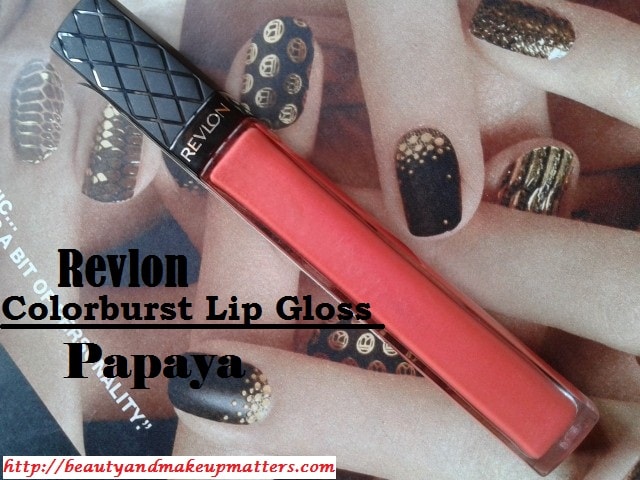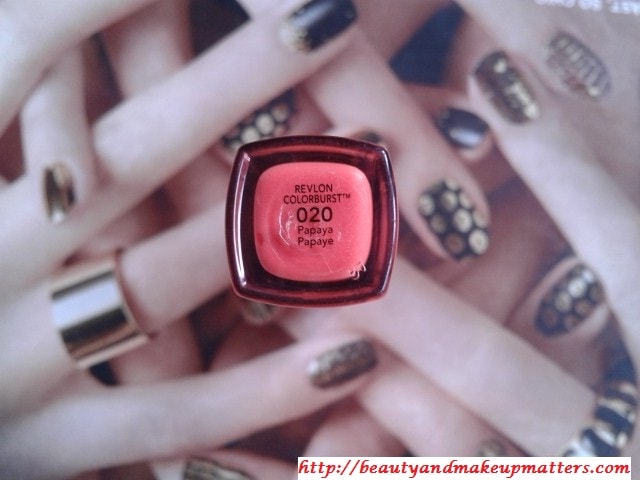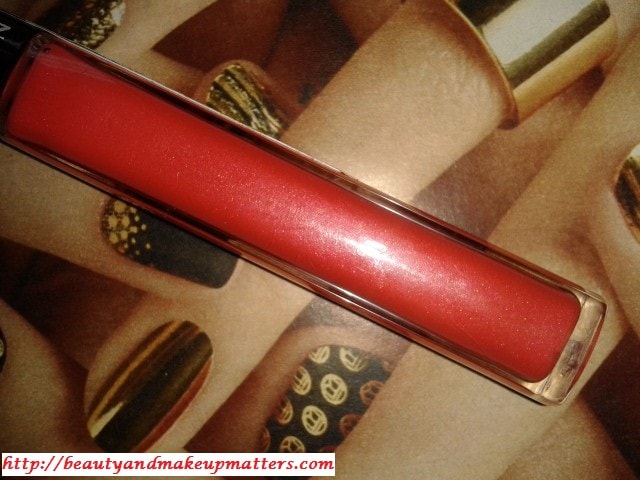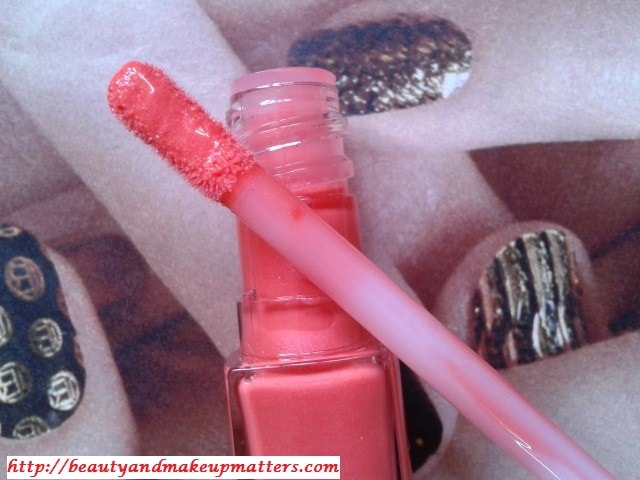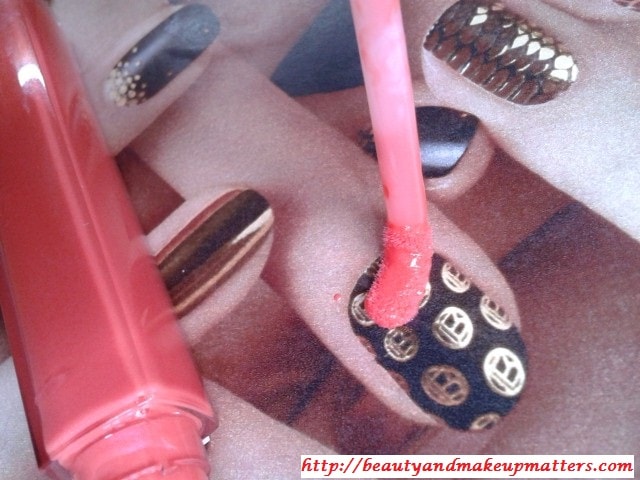 Rating:- 4.8/5
Have you tried Revlon Colorburst Lip Gloss Papaya? Do you wear coral Lip colors?