RevAyur Massage Cream with Herbal Extracts Review
Massage cream is not a popular product and not easily available in all the skin-care brands. When I was looking for one, for me, I had few options (barely 2-3) and hence easily zeroed on to the "RevAyur massage cream" with herbal extracts.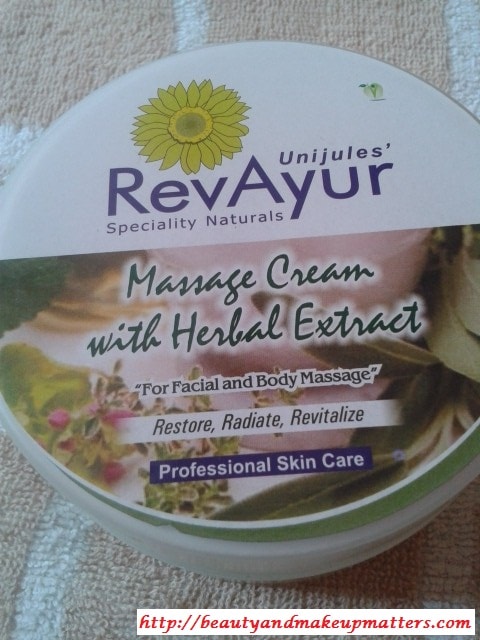 I am not a kind of person who can splurge in parlors for routine skin-care and facials. Also, I don't trust these parlor ladies for the quality of the products used and the hygiene levels. So, I prefer taking care of my skin by myself at home. I regularly scrub my face and follow it up with a pack but still wasn't getting that conditioned skin-effect. I can feel that something is missing in this regime and thought of adding a massage cream to it.
Due to my laziness, I end up wasting the Massage creams which I usually skip to shorten the skin-care regime and they pass through their expiry. So, I decided to start with a pocket-friendly cream which wont hurt much if gets wasted by any chance (read "Laziness")
Product Claims:
Fruit extracts gives radiance to skin and recovers brightness.
Enriches skin with intense moisture
Accelerates blood circulation and boosts skin renewal.
Helps regain skin's smoothness & diminishes dull complexion
Provides excellent slip for smooth massaging.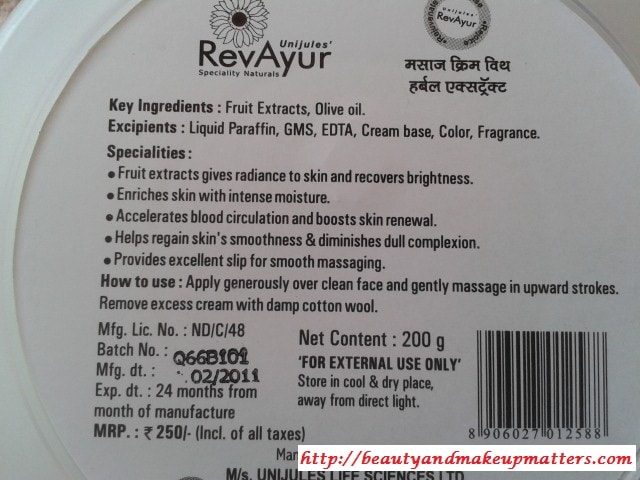 Direction for Use:-Apply generously over clean face and gently massage in upward strokes.. Removes excess cream with damp cotton wool
Key Ingredients:-Fruit Extracts, Olive Oil
Excipients:- Liquid Paraffin, GMS, EDTA, Cream base, fragrance
Price:- Rs.250 for 200ml
Shelf Life:-  24 months from the Mfg date.
Packaging:- The massage cream comes a large tub type container with a screw cap. The packaging is semi see-through and you can see the level of the cream in the tub. The cream is protected with a silver foil which seals the cream inside the tub and prevents it from messing up with the lid/cap. The container is made up of high quality plastic which makes the packaging sturdy but the size makes it travel–unfriendly.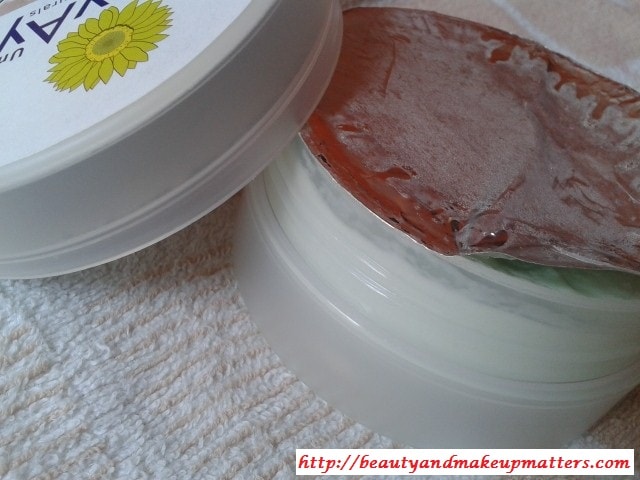 I was so happy to see that the cream was filled up to the brim unlike other creams which comes half filled in large tubs.
My experience with Revayur Massage Cream with Herbal Extracts:-
Revayur Massage Cream is Pastel Green in color which reminds me of the Aloe-Vera Gel. (Though it doesn't mention Aloe Vera as its ingredient). I really liked the whipped cream kind of texture of this cream. The light and smooth texture of this cream makes it easy to spread on the wet face without slipping. I use RevAyur massage cream after scrubbing my face with Lotus WhiteGlow Scrub.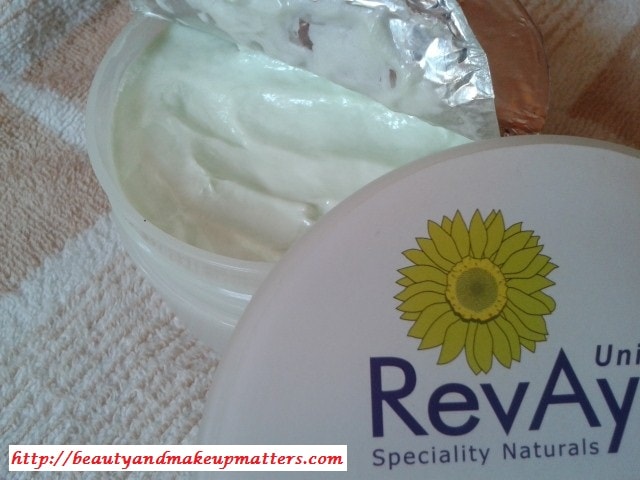 I scoop out a decent amount of the cream and apply a thick layer over the face and starts massaging. It glides evenly all over the face and I can massage it into my skin with a smooth gliding motion. The cream doesn't felt heavy or sticky. After massaging it for 5-10 min, wash it off with plain water. It washes off easily and doesn't leave behind any oily or greasy feel. My skin felt absolutely smooth and moisturized. My face has brightened instantly was shining
RevAyur massage cream also has very faint herbal smell. The smell is kind of sweet but it's very mild and not OTT.
Swatches:-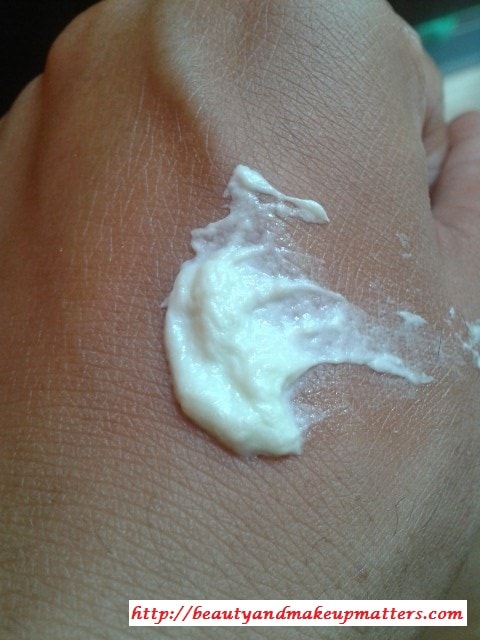 Pros of RevAyur massage cream:-
Only a small amount is required for single application. So, the cream is going to last me long( really long)
Reasonably priced at Rs.250 for 200gm.
Has a faint herbal fragrance which is not overwhelming.
Has soft texture which spreads easily on the face
It is non-greasy and light unlike normal massage cream
Made my skin soft and smooth with a single application
My skin looked healthy and radiant with the subtle glow it imparted to my face.
I haven't faced any breakout or irritation with this.
Enriched with natural fruit extracts and Olive Oil which provides moisturisation and nourishment to my skin
Cruelty free as it doesn't test on animals.
Cons of RevAyur massage cream:-
Revayur products are not easily available in store. I haven't been able to locate any but can be bought online.
The cream comes in tub type packaging which is not as hygienic as a tube. But as far as I know almost all of the massage creams comes in tub packaging, so RevAyur is also following the rule.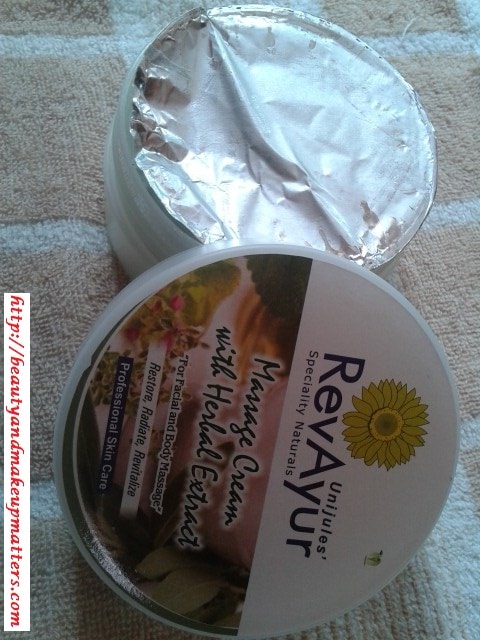 Recommendation:- RevAyur massage cream has become one of my favorite massage cream. It's smooth, non-greasy texture makes it easy to work with this cream. It is not heavy yet moisturizing to my dry skin. The combi/Oily skin people can also give this a try as it feels light on skin and doesn't leave any residue behind or feel oily at all. It gets washed off easily with tap water and leaves my skin soft to touch. I like the way it treats my skin and makes it glow.

I recommend this herbal massage cream to all who love to pamper their skin. It is going to be a must-have product for my winter skin-care. (I want to have one Barista Choco shake topped with whipped cream. But ohh it is so full of calories.).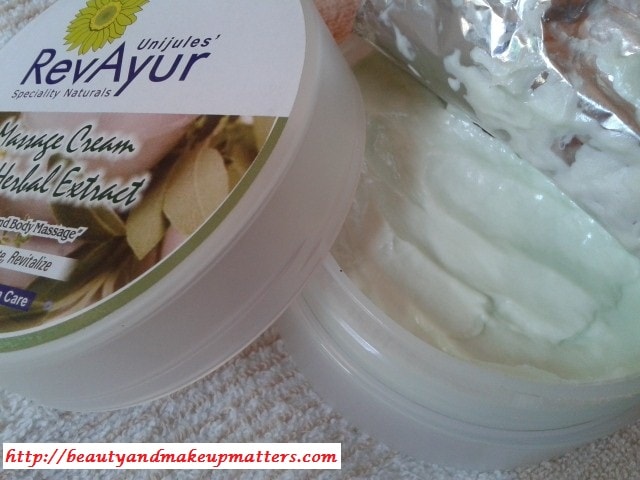 Rating:- 4.5/5
Have you tried Revayur Massage Cream? Which is your favorite Massage cream?