Republic day Makeup Tips – How to wear Tri -Color with a Twist
Feeling patriotic and want to color yourself up in the colors of the day but don't have any idea on how to put these colors together and look your patriotic best. I have few tips on how to play with the shades of saffron, white and green and twist them up to add to the festivities. Earlier I was planning to do a Makeup looks and all the tips mentioned here but the bad lighting yesterday didn't help and I couldn't go ahead with the plans.. If it gets sunny today I will surely do one and update later in the day but till then lets go through some of the looks that I have done earlier and could be your pick for the day! 🙂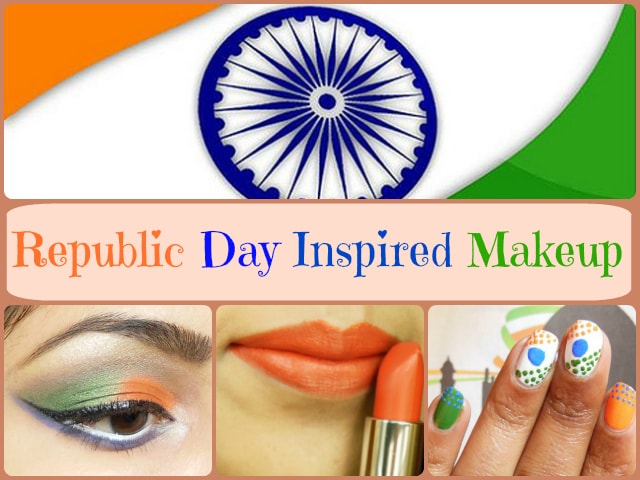 Checkout out these beauty tips and tricks and be a proud, fashionable desi today!
Green Nails: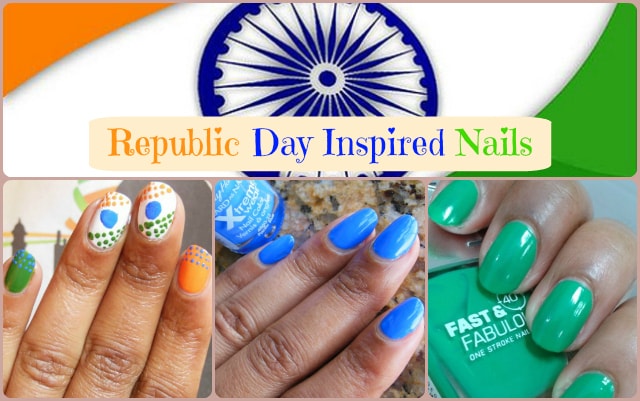 Time to skip your much loved French manicure and other colorful designs but go for a clean polished green or gradient green nails for R-day. Tri-color manicures are passé so choose your favorite hue of green and have fun with it. Here's how to do ombre Green nails at home;
Take bottle of green or any other shade of dark green and coat your nails with it.
On a plain dish, empty a blob of your base green alone with second shade, a shimmery pastel green
Mix the two blobs of green together with a tooth pick or the back of the Q-tip.
Take a makeup sponge and dab it in the mix. Now, brush the sponge on your nails carefully.
Move it up and down your nails, finishing on top to make the sparklers stand out on the tips.
Blue Lush Lashes:
If you are celebrating R-day by getting together with friends and toasting to patriotism, this is the best way to add stylist drama. Bring in a touch of bold blue that reflects your mood for the day. Apart from good quality blue mascara, you can also add a touch of mystic deliciousness with false eye lashes. Sadly, I dont have any in my collection neither I was able to find one online but if you have one.. don't forget to share 😀
Orange Lips: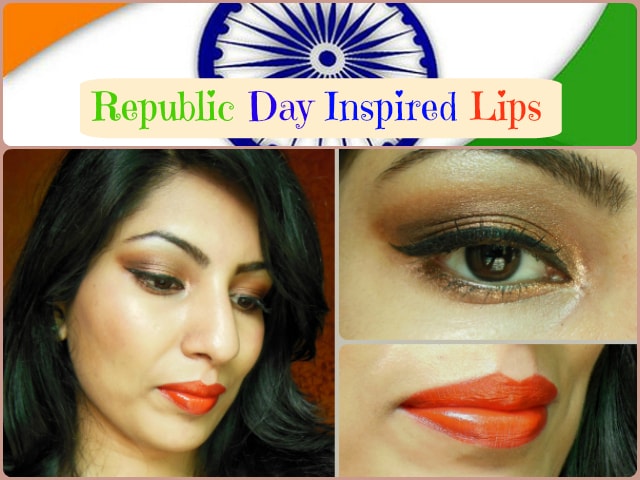 You lips will read fire with a bright tangerine orange lip color, matte orange would be a perfect pick but if you are stuck with some creamy lipstick, dab some translucent powder on top for a matte effect. Or give your lips an Ombre touch, here's how to ace the look:
Ombre Lips: Choose sunset lips to celebrate a new dawn on R-day. Use a blood orange hue for your basic coat and contour with similar colored lip liner. Now, use a canary yellow eye shadow and with Q-tip or fine brush fill the center of you lower lip and a bit of upper .
White Eyes: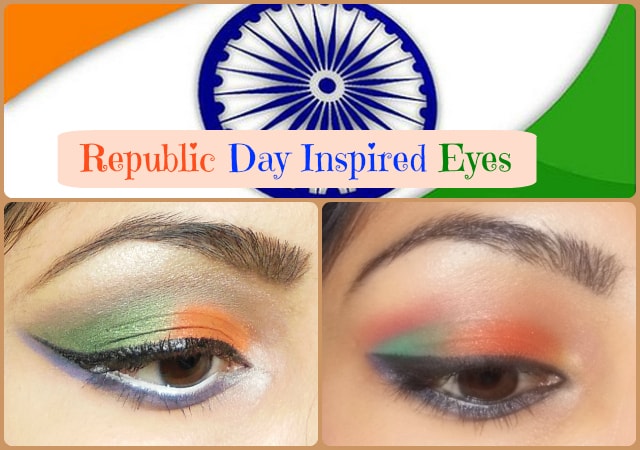 Ditch the standard black and experiment with the other side of monochrome. White can also be used to make your eyes look bigger and to add life to colors by using it as a topper for dark hues. White on eyes can be tricky but here are two ways to do it.
Color trick: Do lower waterline in a bright color and let the eye liner on the lid be bold yet soft and feathery white. You can even do a double dose of lining your lids with a color first and then adding and highlighting the hues with another white line above it.
Snowy Days: Just apply white frosty eye shadow on the inner corners of the eyes. This brightens up the eyes and makes them look bigger. You can also do frosty white eyes with loose shimmers on the lids and white eye pencil as a base.
Now you know how to indulge in these 3 signature hues for the day and tune in to the mood of the Republic day and look your patriotic best.
Some Recommendations:
Yummy orange Lipsticks:
Give me Green:
Snowy White:
Beat the Blues:
Go Indulge in the colors of the day!