Remove Makeup With Water: Makeup Eraser
Makeup Eraser has been all over Instagram and Youtube with so many beauty gurus using it including (Wayne Goss)!!! and raving about this Magical stuff. I have never believed that this cloth would actually be as effective as claimed by so many bloggers but when Wayne Goss endorsed it, I seriously can't ignore it anymore! So, lets checkout this awesome makeup removal stuff and see how it works for me, The Original Makeup Eraser.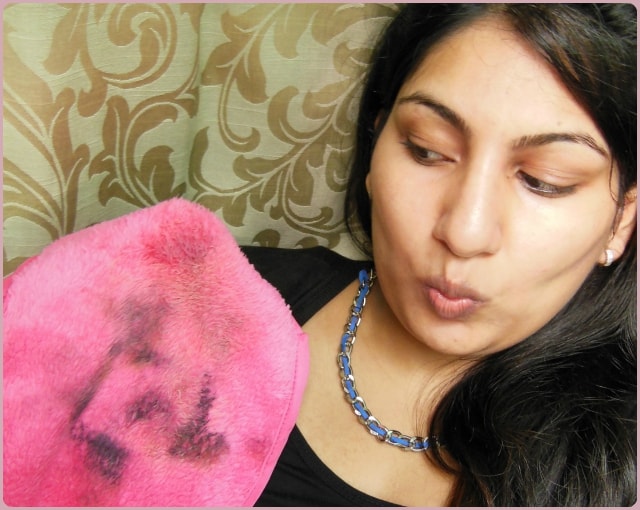 Product Claims:
The Makeup Eraser is an all natural method of your removing makeup.
No harsh chemicals needed, just wet the cloth with water and all your makeup is removed.
Including waterproof eyeliner & mascara, HD makeup and much more.
The best part of the Makeup Eraser is it is reusable, throw it in the wash and no stains remain. The Makeup Eraser will last 1000 washes and eliminate your need to buy product to remove your makeup.
The Makeup Eraser is pink with a sateen edge plush and soft to the touch.
Treat yourself to a spa at home everyday, while saving money!
Direction for Use:-
Using warm water wet Makeup Eraser cloth making sure the cloth soaks up the water.
In a circular motion remove makeup using the front side of the cloth. 3. Flip cloth over and continue until all makeup is removed. Machine wash warm, tumble dry and DO NOT BLEACH.
Size: 10 x 4.8 x 1.8 inches
Price: $19.90 (Buy from www.KMitchMakeUpEraser.com)
Shelf Life: 1000 washes
My experience with The Original Makeup Eraser:
The Original Makeup Eraser is bright pink colored cloth which is super soft and has 2 sides to it. It is sort of a microfiber cloth which is gentle on skin and wipe off makeup easily when used with warm water. One side with larger fibre threads is meant for cleansing and the other one for exfoliating. It is advised to wash the cloth before first use for best results.
I have always used cleansers and makeup removers to take off makeup and have never imagined using a wet cloth for the purpose. Well, needless to say after so many reviews and good ones I was super excited to see it in action!
I did full face makeup with foundation, concealer, eye shadows, matte lipstick and a mascara (don't have a waterproof mascara 🙁 ) and then soaked the cloth in warm water. I made sure that the cloth has absorbed a good amount of it and is dripping wet. Then picking up the softer side of the cloth and I started wiping my face and to my surprise… just one swipe and all of my makeup bases are on the cloth ( foundation, concealer, powder). I needed to swipe it quite a few time to take off the eye makeup. It actually did worked on mascara as well but I noticed some lashes fallout because of rubbing  ( bcz I rubbed it too hard!!). So, next time I tried taking of mascara by rubbing cloth on the lashes like we apply mascara, from bottom to top in wiggling motion and voillaa.. no more lashes fallout.
Coming to the long lasting lip colors, it takes off any of the long wear matte lipsticks in a jiffy but I was eager to see if it will be effective over the super duper long lasting LA Spalsh Cosmetics Liquid Lipstick which refuses to budge even with a heavy makeup removers and I am shocked that it did took off that as well. Though I have to be a little patient in the removal and have to rub a lott but even after all this rubbing no damage to lips were done, rather they felt like I have just exfoliated them! 😀
Don't Miss to Checkout:
If you wondering how hard it would be to clean that cloth then worry not because it cleanses as easy as any of your wash cloths, just was it with your laundry and woohoo.. you have this makeup eraser ready with you for another removal session!
Points to Keep in Mind:
Make sure you soak the cloth in warm water for easy removal (Warmer the better)
Wipe you face really well to take off even the last traces of makeup.
Wash the cloth after every use, to avoid any germ build up.
Recommendation: The Original Makeup Eraser has amazed me with its effectiveness. An ultra soft cloth with a little warm water takes off long lasting makeup with much ease and without causing any damage to my skin. It removes everything without leaving any traces of makeup when wiped really well on face, though it takes some time with water-proof makeup but everything comes off at last. It doesn't irritate eyes like most of the Eye makeup removers do, so if you have sensitive eyes.. this is for you! Also, it survives a whooping –thousand washes and it is machine washable ( rough and tough Guy!!) so I really don't have anything to not to love about this Magical Makeup remover. It is gonna be my favorite pal during travels where I don't need to carry cotton rounds and remover (which I forget 99% of the time 🙁 ) , and also swatches as I don't have to rush for a cleanser and cotton every time, just wipe with this and I am done.. 🙂 Highly recommended!
Rating: 4.8/5
Have you tried The Original Makeup Eraser? Would you like to give this magic cloth a try?
PS: I got it from KMitch at @beauty_rebelz on Instagram
Update: Hey Guys.. I have an exciting news to share with you..:D :D.. As most of you are interested in trying out this Magical makeup Cloth.. I am hosting a giveaway on my Blog and 1 lucky winner will get this "Makeup Eraser" .. !!! Do join me on instagram @Poonam_BMM to participate and a chance to win this beauty 🙂