Rejuvenate skin with Spa Ceylon White Jasmine Facial Masque
Hello Everyone,
I have a dry skin and with winters kicking in it has started to show its real face. I should not be using anything that dries it out further especially clay masks as they have tendency to dry out skin but I was surprised when I tried Innisfree Super Volcanic Pore Clay Mask which deep cleanses my skin and showed no signs of drying. Since then, I have been obsessing over Fask Masks/Masques these days. I had this Face Mask lying with me for a month now, received in October Fab Bag but finally I tried it on and lets see how it worked for me, Spa Ceylon White Jasmine Facial Masque.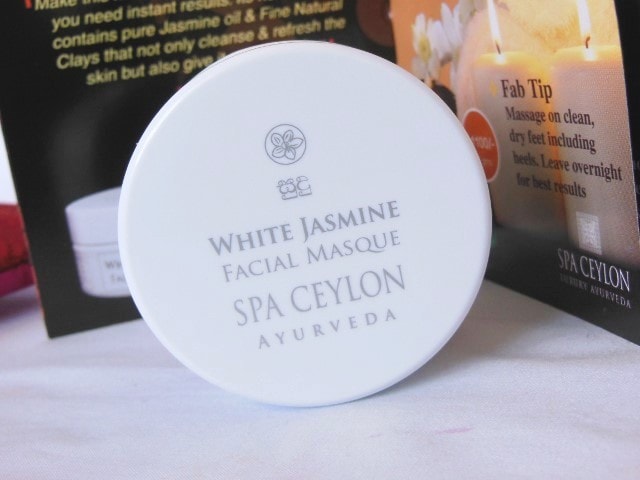 Product Claims: A rich formula with 100% pure precious Jasmine oil to gently lighten, brighten & illuminate skin. Fine Natural Clays combine with deep-acting White Minerals to cleanse, purify & refresh skin, promoting natural balance. Jasmine, Rice Bran, Avocado & natural vitamins help improve skin tone, while Licorice, Green Tea, Watercress & Bearberry help inhibit formation of dark cells. Virgin Coconut & Honey help soothe, hydrate & soften, while Sweet Almond & Olive help lighten marks & discolourations, instantly increasing skin radiance. The exotic aroma of Jasmine helps uplift & brighten the senses.
Direction for Use: Deep cleanse skin, apply thick layer all over face & neck, avoiding eye area. Leave for 10 minutes. Wet skin, lightly massage & wash off. Ensure masque does not dry on skin.
For better result also use White Jasmine Face Treatment Oil.
Ingredients: 100% pure precious Jasmine oil, Fine Natural Clays, White Mineral, Jasmine, Rice Bran, Avocado, Licorice, Green Tea, Watercress, Bearberry, Virgin Coconut, Honey, Sweet Almond & Olive
Price: Rs.2150 for 100gms
Shelf Life:3 years from the Mfg date.
Packaging: Spa Ceylon White Jasmine Facial Masque comes in a white plastic jar. The packaging is pretty simple but I like that it carries all the details about the masque including price, usage and Ingredients as well.
My experience with Spa Ceylon White Jasmine Facial Masque:
Spa Ceylon White Jasmine Facial Masque is a light gray colored masque. It is Kaolin clay based mask and is quite thick in texture but not as thick as Innisfree Clay Mask, therefore spreads with slight ease.
The best part of the Facial Masque for me is its divine Jasmine fragrance which I love to the core. It is so soothing and calming to the senses that it actually gives me a feeling that I am in a SPA.. relaxing!
I applied it on a clean face, after washing it with my favorite face wash these days, Just Herbs Silk Splash Face Wash and have experienced absolutely no tingling or burning sensation. Such face masks can give a slight burning sensation if applied on a scrubbed skin so I tend to avoid that, though not sure if it works better that way, so the results could be even more fascinating with that but I don't feel comfortable using Masks after scrub.. so that's that!
I applied medium thin (not thick as advised) layer of this Masque because its freaking expensive and I don't want to waste too much in a single application :P. It too around 15-20 mintues to dry down and I noticed that it transformed into a translucent veil on face which gave me a feeling that the ingredients penetrated deep into the skin.
I rolled my wet fingers on face and the mask emulsified again to a creamy texture. After massaging for few minutes I washed it off. I used normal tap water to wash it off and didn't experience any difficulty.
Results: My face does feel thoroughly cleansed and brighter with the pores on the cheek area and the nose shrinking giving a smoother look to my skin but the results lasts a day or two. I really like that my dry skin I didn't feel stretchy afterwards rather felt soft smooth and hydrated but with winters in I have to follow with a moisturizer afterwards.
The facial masque has an amazing ingredients list with lots of natural oils like Jasmine, Rice Bram, Sweet Almond, Avocado, Coconut, Olive Oil and many more! It is a luxurious product with plenty of natural ingredients and hence the price is on the higher side.
Recommendation: Spa Ceylon White Jasmine Facial Masque is a thick creamy mask with goodness Jasmine and Kaolin Clay among other awesome natural oils and ingredients. I absolutely love the mesmerizing Jasmine scent which induced the spa like feeling. The formula spreads nicely and dries quickly lifting all the dirt from the skin leaving it absolutely clean and smooth. The masque also hydrates the skin which makes it great pick for dry/normal skin. It is definitely a luxurious product but if you love Jasmine and want to try a natural formula invest in this face masque!!
Rating: 4/5
Have you tried Spa Ceylon White Jasmine Facial Masque? Which is your favorite face Masque?