Red Carpet Makeup Look with July Fab Bag 2015
Hello Everyone,
I am super duper late to share July Fab Bag with you but to make up for this delay I planned to give a first impression of the products and a bonus makeup look using the products provided in the bag to give you an idea about how they work when put together.
Fab Bag is a monthly subscription bag where you get 4-5 beauty products. July Fab Bag has "Red Carpet" theme and it does full justice to it. The bag itself a bright shimmery golden zipped pouch for that extra bling 😉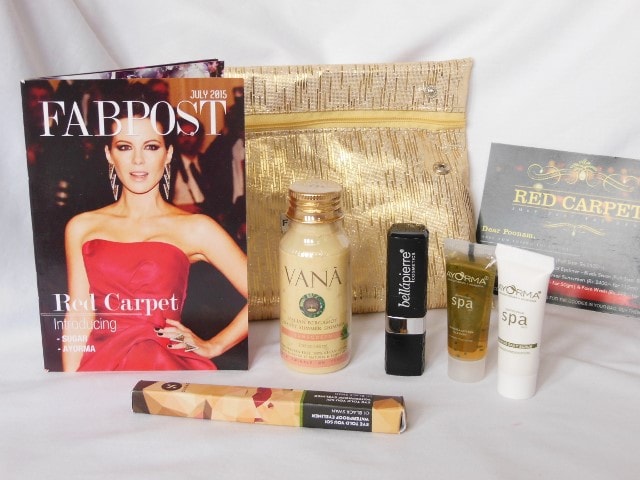 Here is what all is included in the bag and first experience with them:
Bellápierre Mineral Lipstick-Ruby (Rs. 1500 for 3.5g): This is a full sized bright red lipstick. It has a quilted pattern packaging which reminds me of the Revlon Colorburst lipsticks but its quality is not that good. Coming to the lipstick, it is super bright tomato Red lip color with a crème glossy finish. The formula goes a little sheer on application and I have to build it up for a decent coverage but good thing is it doesn't look cakey. If you are new to Red lips than just swipe it once for a hint of color on lips. It has a strong vanilla scent which might be liked by few ( not me!!)
Sugar Eye Told You So! Waterproof Eyeliner-Black Swan (Rs 699 for 1.7ml): It another full sized product and if you are wondering it is a German brand (impressive na 😉 ). It is a felt tip liquid liner with a super thin applicator. The formula is little runny and hence takes few more seconds than I would like to dry down as there are chances that it may transfer here and there during application. It goes absolutely matte once set and I love the intensity and finish of it. The liner stays for 4-5 hours on me after which it shows signs of flaking and if you touch eyes accidently.. ooops it will get rubbed off from that place. Also, as claimed it is not a water-proof eye liner and easily flakes when rubbed or touched after splashing water on eyes.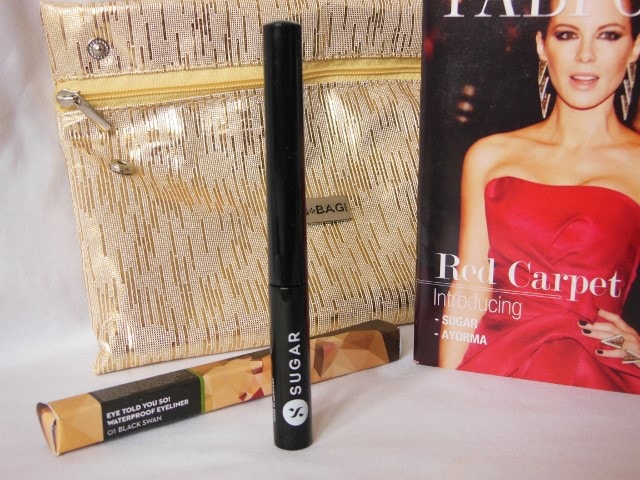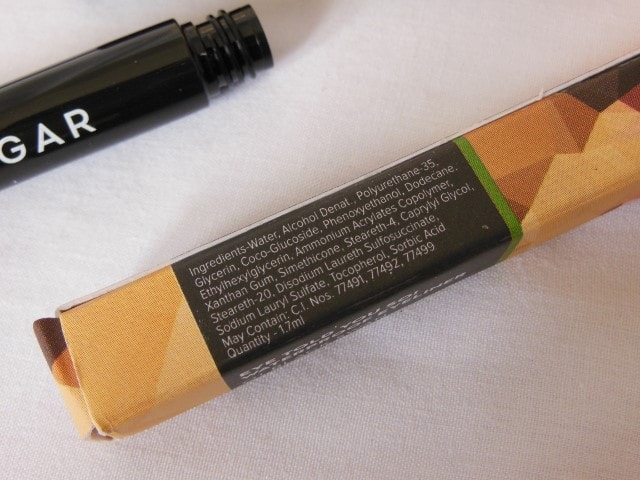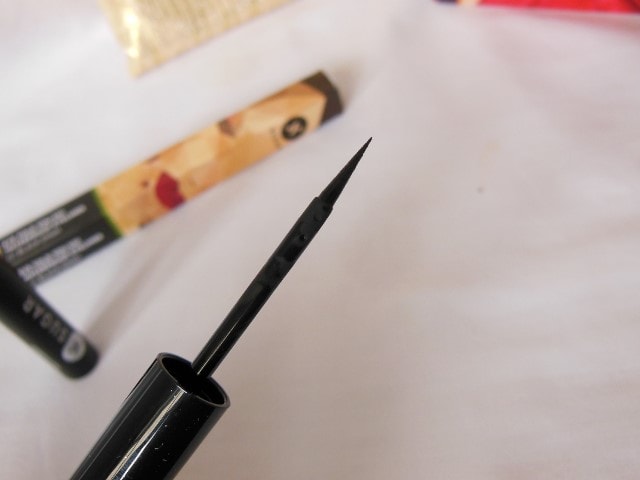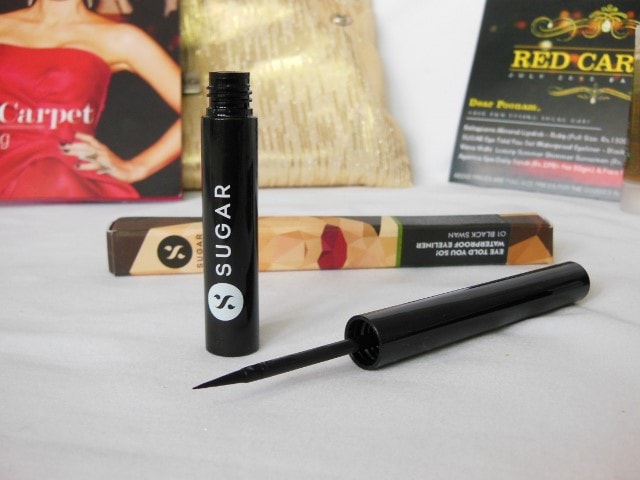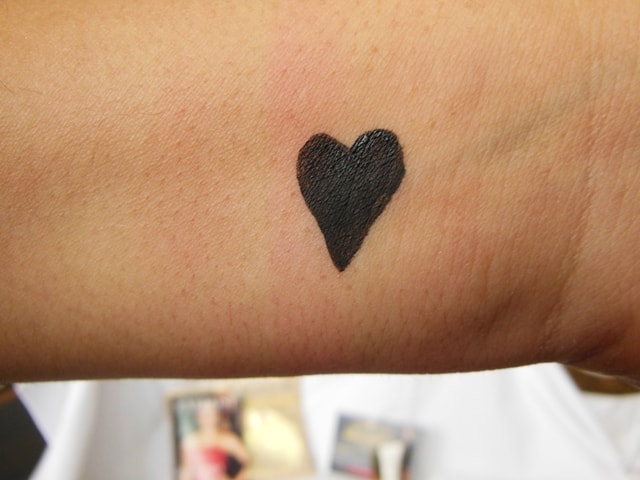 Vana Vidhi Luxury Summer Shimmer Sunscreen (Rs.2400 for 115 m): This is my first stint with Vana Vidhi products so I wasn't sure what to expect. The sample is quite huge with 60ml quantity and it is pretty expensive too. Vana Vidhi Luxury Summer Shimmer Sunscreen is a muddy yellow colored medium thick liquid with a strong balm-y fragrance which I highly dislike. Though I like the formula as it gets absorbed completely and absolutely no stickiness or greasiness is left behind but it contains fine gold shimmer flecks that sparkle all over your face. The shimmery look isnt my fav as I would prefer a dewy glowy finish better.  The sunscreen also doesn't mention the SPF which is quite strange because its so heavily price so I got to know the protection it provides.
Ayorma Spa Fairness Daily Scrub & Face Wash (Rs. 279 for 50gm / Rs. 349 for 100 ml): These are two tiny-miny samples of a Face wash and scrub from Ayorma Sap. The face wash is a green liquid infused with beads. It has citrusy fruity scent which is lovely and has mild cleansing formula which gently cleanses skin but it doesn't lather much. Ayorma Daily scrub is a salt based scrub which feels gentle on skin and does a decent job at buffing away the dead skin cells. The products are also Paraben and preservatives free.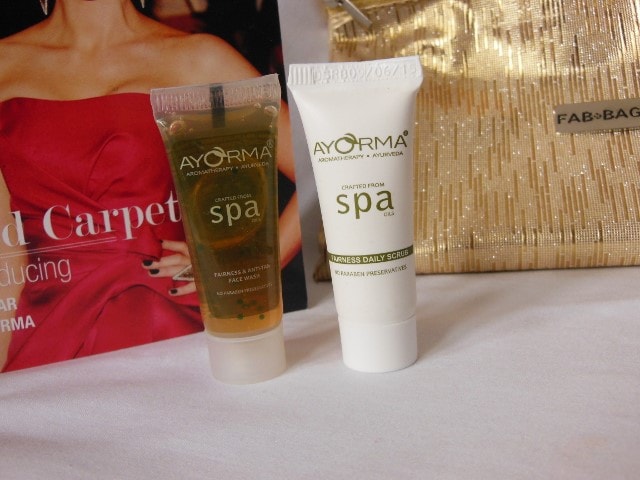 I liked the Fab Bag and it's a good value for money with full sized products and a luxury sized sample, I wish the quality of the products had been a bit better. Also, I would love to see products from the that I have heard off as most of the brands in the bag were new to me!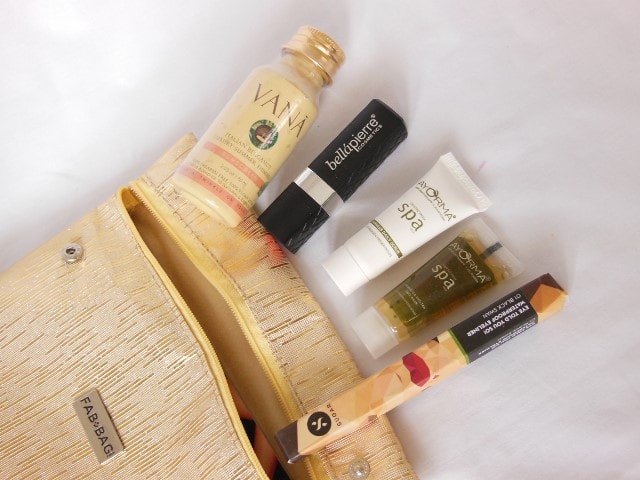 Don't Miss to Checkout:
Here is the look I created using July Fab Bag products. If the bag had some foundation sample or a BB cream that would have been perfect but in its absence I used Sunscreen as a base, drew a winged Cat–eye liner to go with bright glossy red lips..Do I look Red Carpet ready? 
Do you liked July Fab Bag? Which is your favorite product from the Bag?
PS: Bag sent by brand for consideration