Recover Hair and Nails with Zenith Nutrition Biotin Capsules
Hello Everyone,
It seems like nowadays, everyone has hair fall issue because almost 99% of the people I meet or talk always mention hair fall as their concern and asks recommendations for good shampoo. Shampoo could help in reducing hair fall to a certain extent but there are fair chances that the main reason of hair fall is related to your diet and lifestyle.
As we are always on the run, I don't think any of us take time and think how much nutrition they had in the day..(at least not me) but to maintain a good health and beautiful hair there has to be a balance. So, if you can't change your lifestyle just add these supplements to help you achieve your nutrition goals, Zenith Nutrition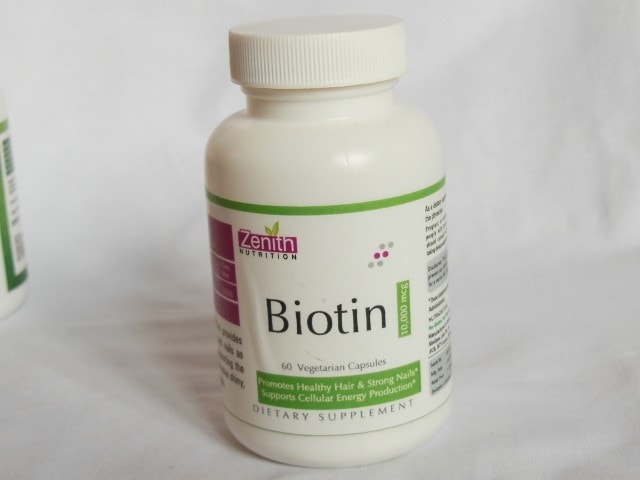 About the Brand: Zenith Nutrition provides Scientifically Advanced Nutritional Supplements. Zenith Nutrition's complete line of nutritional products includes vitamins, minerals, probiotics, standardized herbal concentrates and amino acids.The Company utilizes its industry leading capabilities to produce superior research based formulations that optimize the nutritional value and performance for its customers.
It is vitally important to us to strike a balance between traditional medicine and modern science making us a unique dietary supplement company that can offer traditional herbal supplements, as well as those that are backed by science
Product Claims:
GMP quality
Promotes Healthy Hair and Strong Nails
Supports Cellular Energy Production
Easy-to-Swallow
Water Soluble Vitamin
100% vegetarian
Are you prone to have dry brittle hair and nails? Studies have shown that those lacking biotin in sufficient quantity experience hair loss, brittle nails and unhealthy skin. Biotin plays a key-role in the body and is the important nutrient for the growth and maintenance of your hair, nails and glowing skin.
Biotin is a B vitamin, also known as vitamin H or Vitamin B7. Biotin is also essential for your metabolic processes including the metabolism of fats and amino acids, production of fatty acids, and cell growth. This vitamin processes nearly every type of food that you ingest, including carbohydrates, proteins and fats. When biotin levels are at the proper levels in your body, the food that you take in will be processed quickly.
Zenith Nutrition Biotin supplement supports the health of the skin, thick shiny hair and strong nails as well as of the nerves and digestive tract.
Price:- Rs.640 for 60 Capsules
Packaging: Zenith Nutrition Biotin Capsules comes in a white colored plastic bottle with screw lids and are sealed with a silver foil.
My experience with Zenith Nutrition Biotin Capsules:
Zenith Nutrition Biotin Capsules are white colored capsules and one tablet daily is advised to see the results. I have been going through a lot of hair fall lately which I guess is because of the pregnancy hormones or could be my errant sleeping schedule. I am not complaining but with baby I don't have the privilege of having a good night's sleep and have to get but every 2-3 hours to feed him, also I don't think I am taking any good care of me as skipping meals is like a ritual :-/ and this has definitely impacted my overall health and stress levels. It feels so disheartening to see huge strands falling off just like that.
So, to keep me sane and address this issue, I decided to take Zenith Nutrition Biotin Capsules which claims to promote healthy hair and strong nails.
I have been taking these for almost 2 weeks now and I can say that I have seen slight improvement in hair fall. Now, I loose lesser strands and hair feels healthier and stronger so I am no more afraid of washing them.
I like these capsules are Vegetarian and are free from Sugar, Lactose, Flavour, Salt, Gluten, Color, Fish and other preservatives so they are safe for someone who is prone to allergies as well.
So, if you do plan to add Biotin tablets in your routine do checkout Zenith Nutrition Biotin Capsules
Disclaimer: These products are not intented to diagnose, treat, cure  or prevent any disease. Always consult with your professional healthcare provider before changing any medication. Pregnant or lactating women shouldn't take it
Have you tried Zenith Nutrition Biotin Capsules? Do you take any supplements?
PS: Product sent by brand for consideration.