Real Gold: XANADU 24K Gold Face Serum
Hello Gorgeous,
As we all know, we Indians are obsessed with gold and love to buy it in any form.. ( I see some stunning neckpieces and droolworthy rings in my head :P). But till now we have it only in the jewelry or brick form. In the beauty world, I have only came across Gold facials Kits which claims to contain gold particles but I somehow I feel that just the shimmeyr gold flakes and not actual gold which kind of reminds me of " All that Glitters are not Gold". But now hold you breath babes because there is something that actually contains just the gold.. Real Gold and it's the XANADU 24K Gold Face Serum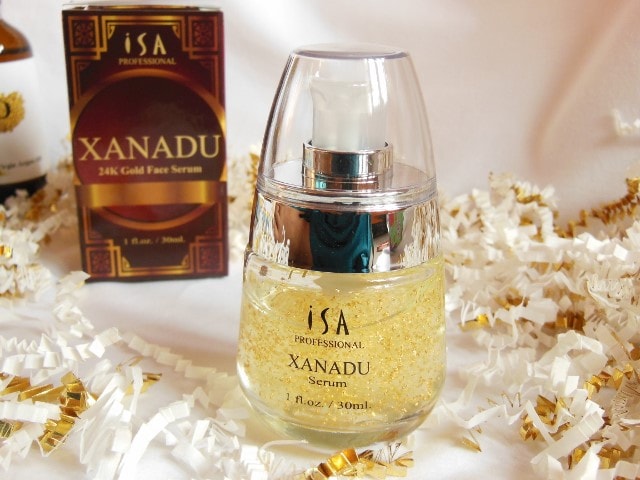 Product Claims: XANADU 24K Gold Serum by ISA Professional is designed to be the Best Serum for your face. Can also be used as a Makeup Foundation Primer that is weightless and helps makeup last longer.
Formulated with a combination of Botanical Ingredients, High Tech science, and 24K Real Gold. This serum will moisturize, reduce the appearance of wrinkles, even skin tone, repair sun damage, and give you a golden youthful glow.
From Nature
* 24K Gold.
* Vitamin C – pH balanced and highly absorbable. Brightens skin, combats wrinkles and dark spots.
* Vitamin E moisturizes and heals.
* Rose Extract soothes the skin and gives the Xanadu serum a delightful natural scent.
* P-anisic from the spice anise.
Supporting what's already in your skin
* Hyaluronic Acid captures and holds up to 1000 times its volume in moisture to your skin.
* Collagen to support your skin's own collagen.
* Creatine supplies energy to your cells.
* Beta-Glucan boosts the immune system.
From High Tech science
* Palmitoyl Oligopeptide (Matrixyl-3000) is a peptide that specifically stimulates collagen synthesis and skin repair.
* Epidermal Growth Factor stimulates new cell growth.
The Perfect serum for your face, made from the best botanical extracts and leading-edge technology.
Important Safety Notice: For topical use only. Not for use on mucous membranes. Do not ingest. Do not apply in, on, or around eye area. Irritation may result. If you do accidentally get some product in your eye, rinse with cool water.
Direction for Use: Apply twice a day, once in the morning and once at night, on freshly cleansed skin. Avoid eyes and mouth.
For speedy application, pump the bottle top twice into the palm of one hand, rub palms together, then apply to face.
For luxurious application, place one pump on each cheek (where your dimples would be) and smooth onto face with your finger tips in a circular upward motion.
WARNING: The second method may leave tiny flecks of gold intact on your face for your friends to envy!
Ingredients: 24K Gold, Deionized water, Vitamin C, Vitamin E, Collagen, Rose Extract, Hyaluronic acid, Creatine, Beta-Glucan, Palmitoyl Oligopeptide (Matrixyl-3000), Epidermal Growth Factor, P-anisic.
Price:- $199 for 30ml (  buy online at $59)
Shelf Life: years from the Mfg date.
Packaging: XANADU 24K Gold Face Serum comes in a royal dark red cardboard box which carries all the details about the product and has interesting motifs allover it. The serum is packed in an egg shaped clear glass bottle with a plastic cap and a pump dispenser.  The packaging is indeed stunning and those gold flakes swimming in the gel looks so mesmerizing.
My experience with XANADU 24K Gold Face Serum:
XANADU 24K Gold Face Serum has a medium thick gel consistency and is full of real gold particles.. 24K… can you beat that! I was super amazed when I heard of this brand but I though who puts real gold or if someone do it is just gonna be a few tiny flakes of it but guys.. I was so wrong.. the bottle is full of GOLD! At first I didn't want to use even a bit of it because I wanted to keep it and just look at this luxury daily 😉
Formula: Coming back to the review, the serum spreads very nicely on the skin and I apply it in the luxurious way that is placing it on my cheeks and then blending with fingers. As I have a dry skin, just 2 pumps won't do it for me so I have to go for at least 3-4 pump to cover my full face.
Application: The serum gets absorbed super quick into the skin and while it is seeping in it gives a slight cooling sensation which I really enjoy. Also, the gold flakes are very much visible even when the gel is completely blended in… so you are wearing Gold on your face baby 😉
Fragrance: Apart from Gold Flakes, what I love about the serum is its beautiful rose scent. I love roses and am a fan of rose scents, and this serum has one of the most amazing rose scent which is not too strong but strong enough to get noticed.
The serum is very light weight and gets into the skin completely leaving behind no residue. It doesn't have any sticky or tacky feeling that is common with gel based facial serums. It lightly moisturizes my skin but as I have super dry skin I don't feel its enough, so I usually layer it up with another moisturizer/serum.
Results: I absolutely love the awesome ingredient list of this serum which has… just the exotic and awesome stuff for a luxurious looking skin like 24K Gold, Vitamin C, Vitamin E and much more but no harmful chemicals. I have been using for quite a while now and have finished about half of it. My skin does feel soft, smooth and radiant and I haven't experience any irritation or breakouts with this but I am yet to see any visible difference in my fine lines.
It can be used as a Makeup primer (as claimed) and I did used it over my moisturized face. I cant say it made my makeup last longer but it did gave a nice application.
Recommendation: XANADU 24K Gold Face Serum is a luxurious serum with real 24Kgold flecks. It has gel like consistency which goes on really nicely and within seconds gets absorbed into the skin leaving behind no sticky feeling but a nice refreshed skin with mild cooling sensation and some gold flakes to make you shine! The gold flakes stay on for an hour or so before they get absorbed into the skin.  I am bowled over by its impressive Ingredients list which contains Rose extracts, Vitamin C, Vitamin E, Collagen which will do only good things to the skin. It also has a beautiful rose scent which smells like an expensive perfume and I love it.  The product is cruelty free and double up as a Makeup Primer too.

The serum contains everything that will help with fine lines, wrinkles and improve skin's texture but I haven't seen any visible difference yet. May be I will see it once I am done with the product, so will update you here if I see any change.
Rating: 4/5
Have you tried XANADU 24K Gold Face Serum? Would you like to invest in such a luxury skincare product?
PS: Product sent by brand for consideration