Raining Shower Gels: My Collection
Hello everyone,
Last year around this time I didn't even had a single shower gel bottle with me as I was more of a soap person and have been digging Fiama Shower Gel Bathing Bars. But like everybody i too got bored and decided to take a break from soaps and indulge in shower Gels instead. It started with Aveeno Body Wash which highly impressed me and since then I haven't looked back except occasional indulgence in Gia Bath Body Works Hand Made Soaps. So, today I am sharing the shower gels that I have accumulated over the year and have been working great on dry skin.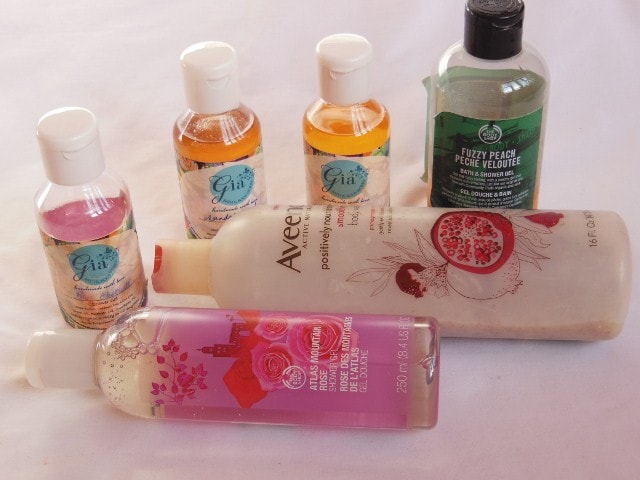 The Body Shop Shower Gel – Peachy Fuzz : It is a orange-peachy colored liquid with gel like texture. It has a light peach fruit fragrance which is quite refreshing and doesn't smell overtly sweet ( much to my liking). The refreshing fragrance with lightly hydrating formula makes it a great pick for summers
The Body Shop Shower Gel – Altas Mountain Rose : It is a blend of exotic floral and woody notes which smells gorgeous and is soothing to the senses. The fresh floral notes, pretty baby pink packaging and super hydrating formula leaves no scope for improvement. One of my favorite scents now, will be loved by all the floral scent lovers.
Aveeno Positively Nourishing & Smoothing Body Wash, Pomegranate+ Rice : It is one in all body wash with slightly thick creamy texture and tiny grits to gently exfoliate and cleanse. This body wash has a very faint sweet fragrance and contains natural ingredients which helps nourish skin in the best way possible. Great for both summers and winters, preferably winters due to its thicker texture but it doesnt feel heavy or greasy at all
Gia Bath and Body Works Rose Absolute Shower Gel : I love rose scents and this one makes me escape to the valley of roses. The rosy pink colored gel liquid with intoxicating rosey fragrance is just as good on skin as it is for my senses.
Gia Bath and Body Works Sastuma Shower Gel : It has a texture and color similar to The Body Shop Peachy Fuzz shower gel and has a sweet fruity fragrance like that freshly ripen Satsuma's.
Gia Bath and Body Works Sandalwood : It is a translucent peachy liquid with strong woody and sandal notes. It might not be liked by everyone as it smells slightly overwhelming but i love how it fades and leaves a faint aroma.
L'Occitane Cherry Blossom Shower Gel: It is a pale yellow colored liquid with a amazing mix of floral and sweet not (mostly floral) that comes packaged in small travel – friendly bottle. The fragrance lingers for few minutes post-shower.
Bath and Body Works Shower Gel Pink Chiffon : Another pink colored liquid with a delicate floral scent but out of all this is my lease favorite just because all others have outstandingly gorgeous fragrances.
Looking forward to add at least 2 more to make it 10.. 😉 .. Any Suggestions?
How many Shower gels do you have on your bathroom shelf ? Which is your favorite Shower Gel for summers?