Quick Eye Makeup with Faces Ultime Pro Eye Shadow Crayons
Hello Dolls,
I have shared this Must Have Creamy Eye Shadows/crayons list few months back and after that I couldn't hold back so went ahead and bought some of the eye shadow crayons from the list. I had already had tried Lakme Eye Shadow Crayon and added Sephora Jumbo Eye shadow Crayon and Rimmel ScandalEyes Eye Shadow Crayon in my stash. I loved these but the prices were on the higher side for Lakme and Sephora while they were unavailability issue with Rimmel ones so I got super excited to see that we have  another Indian brand that has also come up with their own crayons after Lakme and its none other than Faces. So, let's see if these are good enough, Faces Ultime Pro Eye Shadow Crayon.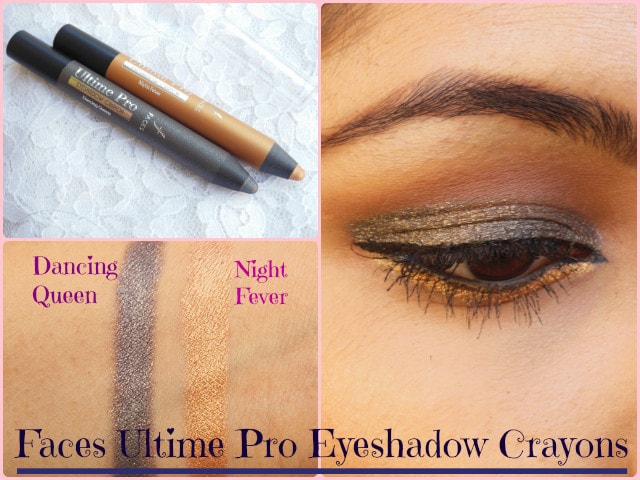 Product Claims: Back to the glamorous Hollywood days in 70's-80's, these beautiful eye shadow crayons will make you feel like a movie star on the red carpet. The shadow can help you form various looks from a dancing diva to glam goddess or from a shimmery princess to a bold queen.
 FACES Eye shadow Crayon is a unique format of an eye shadow in the form of a stick.
It is a water proof formulation that lasts all day long.
The application is extremely gliding and soft.
The shadow can be applied directly with the pencil tip onto the eye lid.
Smudge the color quickly on the eye lids.
Can also be used as a liner for most crease proof, stay on color.
Faces Ultime Pro Eyeshadow Crayon Collection includes :
Dancing Queen 01 :Add some drama…Create smokeyeyes or sultry look with FACES DANCING QUEEN. You will be blinking bling :))
Night Fever 02 :Add some glamour to your looks, this Gold shade is a must have for everyone!!!
Last Christmas 03 : A rich teal shade look gorgeous worn as an eyeliner or apply onto the contour of your eyes for a bolder look
Uptown Girl 04 : Uptown girl…she's been living in her uptown world…. Create this uptown girl look with this captivating FACES Pink eyeshaodow crayon… it just spills the sparkles all around
Staying Alive 05 :Smudged violet eyes are gorgeous on any day
She's Got D Look 06 : Shimmery princess in the day to the bold queen in the night, this grey blue shade will help create mesmerizing look
Direction for Use:
Apply the shadow directly with the pencil tip onto the eye lid.
Smudge the color quickly on the eye lids.
Can also be used as a liner for most crease proof, stay on color
Ingredients: Not Mentioned :-/
Price: Rs.599 for 1.6 gms
Packaging: Faces Ultime Pro Eyeshadow Crayons are sharpen-able chubby pencils with color coded body and transparent glass cap to protect the tip. The color coded packaging makes it easy to identify the shades but I wish the bottoms were colored too as I like to store my pencils in a glass/cup. Also, the cap doesn't shut tight so there's always fear of ruining the pencil while travelling.
My experience with Faces Ultime Pro Eyeshadow Crayons:-
Faces Ultime Pro Eyeshadow Crayons are available in 6 beautiful shades and I got two of these in the shades Dancing Queen and Night Fever.
Dancing Queen: It is a medium-dark purple toned gray shade saturated with visible golden shimmer specks which gives a glittery finish on application. The shade is perfect for evening party look when you want to go glam but don't want to mess with actual glitters. Owing to the glitters it doesn't feel comfortable on waterline. Also, when blended its mostly the shimmers that spreads out so prefer to use a similar colored eye shadow for blending to keep the intensity of the color.
Night Fever: It is a gorgeous bright yellow-orange gold shade with a glistening metallic shine. It doesn't have visible shimmers and looks more metallic then shimmery on lids. I used it on waterline and it doesn't irritated my eyes at all. It blends out beautifully and gives a very light wash of gold on lids. The most easy to use and wearable shade out of all.
Texture: The texture is super smooth and glides on like butter on lids. It isn't crumbling soft but creamy enough to apply without any tugging or pulling. The formula takes few seconds to set to a smudge proof finish and that give me enough time to blend these on the lids and get a seamless finish. The shimmers are finely milled and don't feel gritty or coarse on application.
Pigmentation: The crayons are beautifully pigmented and give rich intense color in 1 swipe. I like to go for 2 swipes for a more color saturated look on lids. I like to smudge these with fingers or a fluffy blending brush for a diffused look in the crease.
Staying: Dancing Queen doesn't last more than 4 hours on oily lids without any base as it fades, creases and shows significant shimmer transfer all over the lids. Night Fever  performs better and holds up a little longer on lids. Though it also fades slightly but doesn't crease as much. There is slight shimmery transfer when used on lower lash line but not as much on lids. Using these crayons over a primer improve their performance and they last whole day without any fading/smudging or transfer.
Recommendation: Faces Ultime Pro Eyeshadow Crayons in Dancing Queen and Night Fever are super-creamy and have a good color pay off as I just need 1-2 swipes for a saturated finish. They blend quickly shortly after application and then set to an almost smudge proof finish. The texture feels light and non-sticky on lids. It lasts for 4-5 hours on lids without any base which is slightly disappointing for the price but holds up excellently with a primer underneath. I wish they come in a retractable packaging's as it makes it easy to use and no wastage during sharpening,

Night Fever is a beautiful metallic gold shade, perfect for festive season and even for beginners who doesn't want to go around with eye shadows. Dancing Queen is a shimmery taupe gray which quite a unique shade and would be loved by those who love glittery eyes with less efforts. Overall, I like these eye shadow crayons and just need a base to last forever ( well a day) on my lids. I would love to see more vibrant shades in the range and a basic nude/white too.

Compared to Rimmel ScandalEyes Eye Shadow Crayons I feel Rimmel ones are a better options when it comes to shades selection and staying power but again they are not that easily available in India.
Rating: 4.5/5 ( With Base) , 3/5 ( Without Base)
Have you tried Faces Ultime Pro Eyeshadow Crayons? Which is your favorite Eye shadow crayon Brand?