Quenches Dry Skin's Thirst: Nellie Tier Anar & Palmarosa Hydrating Mask
Hello Beautiful,
I have already shared my love for Nellie Tier Frankincense & Neroli Face Polish and today I will be sharing another favorite of mine from the brand, Nellie Tier Anar & Palmarosa Hydrating Mask.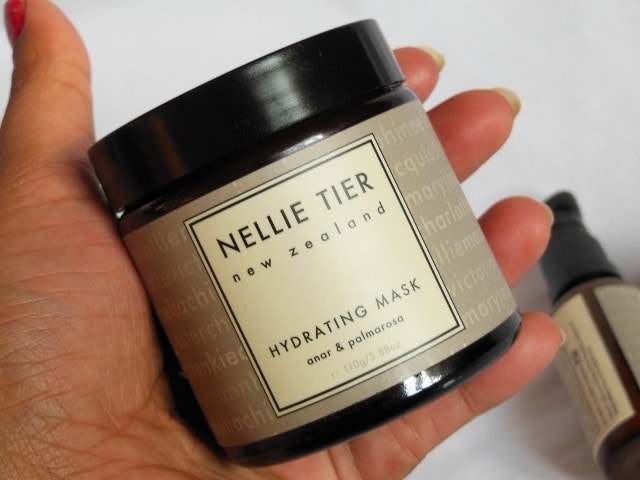 About the brand: NELLIE TIER is a handblended range of face, bath and body products that are safe, natural and sensuously luxurious. The range is fresh and effective with a strong focus on luxurious texture and wonderful aromatherapy based perfumes. To ensure freshness and quality all the  raw materials are sourced in small quantities and products are hand measured, mixed and poured in small batches. The range is free of parabens, sodium lauryl sulphate, mineral oils, artificial perfumes and colour additives.
Product Claims: This soothing treatment is designed to increase hydration, restore elasticity and soften the skin. An innovative formula delivers concentrated levels of anti-oxidants and botanical extracts in a velvety and deeply penetrating mask that promotes a more relaxed, toned and smooth appearance. Key ingredients include Aloe Vera Gel and Borage Seed Oil to combat inflammation and dryness. Green Tea Extract and Vitamin E offer anti-oxidant protection and Cucumber Extract and Jojoba hydrate and soften. A strong combination of Co2 extracts, Rosehip, Pomegranate (anar) and Seabuckthorn help restore elasticity and assist skin rejuvenation. Hyaluronic Acid aids moisture restoration and Palmarosa and Carrot Seed essential oils stimulate cell regeneration and promote toning.
Direction for Use: After cleansing smooth a thick layer evenly over the face and neck. Leave for 10-15 minutes wipe off any excess that has not been absorbed and proceed with usual beauty routine. This product can be used daily.
Ingredients: Aloe Barbadensis (Aloe Vera) Gel, Rosa Damascena (Rose) Floral Water, Glycerine (Vegetable BP Grade), Borago Officinalis (Borage Seed) Oil, Oryza Sativa (Rice Bran) Oil, Cucumis Sativus (Cucumber) Extract, Camellia Sinensis (Green Tea) Extract, D-alpha Tocopherol (Vitamin E), Mel (NZ Manuka Honey), Simmondsia Chinensis (Jojoba) Oil, Hyaluronic Acid, Emulsifying Wax, Stearic Acid, Punica Granatum (Pomegranate) CO2 Oil, Hippophae Rhamnoides (Seabuckthorn) CO2 Oil, Rosa Canina (Rosehip) CO2 Oil, Geogard 221 Ecocert Preservative Paraben Free (Dehydroacetic Acid & Benzyl Alcohol), Pure Essential Oil Blend, Pink French Argiletz Clay. 
Price:  $NZD 45 for 110 grams/3.88oz;– They ship Internationally
Shelf Life: 1 year from the Mfg date.
Packaging: Nellie Tier Anar & Palmarosa Hydrating Mask comes in the signature tinted brown glass jar with a black plastic screw lid. The glass is quite heavy and feels luxurious to hold. I switch between fingers and spatula to scoop out the product.
My experience with Nellie Tier Anar & Palmarosa Hydrating Mask:-
Nellie Tier Anar & Palmarosa Hydrating Mask has a medium thin creamy texture which spreads easily and feels really nice on skin.
Formula: I thought the hydrating mask is going to be a thick creamy paste because anything that claims to be moisturizing has a thick texture but I was surprised to find out that the mask rather has a thin and light texture.
Fragrance: This hydrating face mask has a slightly strong sweet fruity scent but it's all because of natural ingredients that go into the mask and it does fade away in few minutes of application.
Application: The thin creamy texture of the face mask makes it super easy to apply on skin and even after layering it heavily it never feels heavy or greasy on skin and that is one thing that I love about this mask. It is advised to wash off/wipe the excess after 15-20 minutes but I like to sleep with this on for the ultimate moisturization. I use it after face polish so that the maximum of it gets into my skin and it does a fabulous job. I love that it doesn't feel sticky or greasy and I don't see transferring to pillow covers when I sleep with it which is awesome because normally all the heavy moisturizers usually transfers and feel uncomfortable few minutes post-application
Results: I have a super dry skin and drying winters make the situation even worse. In spite of providing it all the hydration I started seeing some dry patches on the cheek and forehead which really bothered me. Then I tried this Mask and boom my skin got its moisture back and I can see it shining and glowing even without any moisturizer. With all the natural ingredients like aloe vera, rose water, borage seed oil, jojoba oil, Vitamin E it helps to combat dryness, restore elasticity and support skin rejuvenation.
Recommendation: Nellie Tier Anar & Palmarosa Hydrating Mask is one of the most comfortable moisturizing face mask, I have ever tried. It has a thin creamy texture which applies easily without feeling greasy or heavy. It nourishes skin in the best way with all the natural moisturizers which makes skin smoother, softer and beautifully radiant. It boosts skin's moisture and takes care of any dry patches instantly. It makes an awesome overnight face mask.. must have for dry skin in winters… Highly Recommended!
Rating: 5/5
Have you tried Nellie Tier Anar & Palmarosa Hydrating Mask? Would you like to give it a try?
PS:Product sent by brand for consideration