Qraa Underarm Black Spot Treatment Cream
Dark underarms is one of the most issue with girls in India. I have shared some Home remedies to get rid of Dark underarms few weeks back but if you are out of time and want an easy peasy solution. Here is something that might help you with lightening the dark underarm area so you can wear sleeveless without worries. Its, the Qraa Underarm Black Spot Treatment Cream. I have been using it for almost 3 weeks now so let's see if it worked!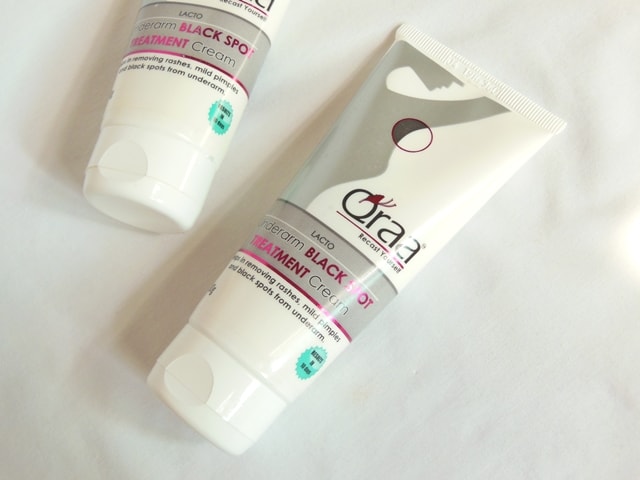 Product Claims: With extensive research, Qraa Under Arm Whitening cream is the only product in current market that instead of hiding the darkness of underarms by leaving a white patch, treats the cause of darkness by reducing melanin from there.
Qraa Underarm cream lightens your skin to reveal visibly fairer and smoother underarms.
Its natural ingredients, Licorice extracts and Witch Hazel, reduce melanin production and soothes skins irritation to reveal fairer, whiter underarms.
It has high quality natural herbal extracts that are proven to reduce rashes, mild pimples and dark spots from your underarm.
Visible results can be seen within 10 days of use.
So from now on, there'll be nothing holding you back from wearing your favorite sleeveless dress anymore!
How it Works:
Loaded With Active Ingredients:
Qraa underarm cream reduces the melanin levels in the underarm skin, which is the main cause for the darkness of underarm. Active ingredients present in the cream penetrate into the skin lowering the amount of melanin.
Gently Removes Accumulated Dark Layers:
Our underarm whitening cream removes the dark layers of skin, which have been accumulated all these years.
Boosts Fair And Nourished Skin:
It boosts the white cells leaving behind white and nourished skin.
How to Use:
Take small amount of cream and apply on underarm
Using it twice a day is highly recommended
See visible results in 10 days
Natural Ingredients:
Qraa Underarm Darkness treatment Cream contains natural and herbal ingredients that are very gentle on your skin and soothes it when applied. Some of the active ingredients are:
Vitamin C plays a very important role in slowing down that darkness under your arms. It reduces the cells that makes your skin dark and patchy, to make it smooth, fair and beautiful.
AMLA protects your skin against stress and reduces wrinkles. It help the skin retain its natural moisture and keeps it enriched with vitamins.
ALOE VERA restores your skin's original color and prevents uneven skin tone. The cooling effect of aloe vera regenerates new cells and leaves you with glowing soft skin.
LICORICE EXTRACTS contains natural compounds which absorbs UVA and UVB rays from your skin. It acts as a powerful and effective skin-whitening element.
Price: Rs 360 for 100gms ( buy Here )
Packaging: Qraa Underarm Whitening Cream comes in a white,colored squeeze tube type packaging with a flip top cap. The cap shuts tight and hence avoiding any leakage. The packaging Is sturdy and easy to travel with. All the information regarding usage, ingredients is mentioned on the tube.=
My Experience with Qraa Underarm Black Spot Treatment Cream
Qraa Underarm Black Spot Treatment Cream is a yellow colroed cream with medium thin consistency. It feels like a mousse on application which spreads easily and doesn't feel heavy or rich on skin. It has a tangy peppermint fragrance but it isn't overwhelming and fades away quickly so doesn't bother at all.
I apply it on clean skin, basically after shower so I know that there are no germs hiding inside. I take a big dollop of the cream on my finger tips and massage it gently on the underarm area.  The cream gives a mild cooling sensation as it starts getting absorbed into the skin and I actually enjoy the whole experience. It takes a few minutes to get absorbed completely but it sinks in completely and leaves no residue. It feels light on skin and makes the area feel fresh whole day. I do not feel sweaty or even a bit uncomfortable with this which is amazing!
Results:
Coming to its effectiveness and claims of reducing dark underarms. I have been using this underarm whitening cream for almost 3 weeks and I am happy to say that it actually works. I am surprised to see such visible lightening of my underarm skin. I wish I had clicked a before pic so I could show you the difference it made to my skin. I dint have any pimples or marks on my underarm area so can't confirm on its effectiveness on the same but for dark underarms it works like magic. I will keep using the cream until I get the desired results and if it does help me in getting rid of dark underarms completely I will keep you posted.
Also, I love the fact that it contains natural ingredients and no harmful chemicals. It has Licorice extracts, Kojic Acid as active ingredients which reduces melanin production and soothes skins irritation to reveal fairer, whiter underarms.
Recommendation: Qraa Underarm Black Spot Treatment Cream has a mousse creamy texture which applies smoothly on skin. It feels light on skin and gives a mild cooling sensation as it gets absorbed to the skin. It is an effective underarm lightening cream which helps in reducing the underarm black spots and makes skin look even and smooth. It contains licorice extracts and kojic acid that reduce melanin production to make underarms light and fair. It also helps in reducing rashes, mild pimples from underarms. It is pretty affordable for underarm whitening and easy to use. Highly Recommended!
Don't Miss to Checkout:
Have you tried Qraa Underarm Black Spot Treatment Cream? Do you feel embarrassing while raising your hand up?
PS: Product sent by brand for consideration but honest and unbiased opinion!