Purest Baby Wipes by MotherSparsh
As mothers, we always strive to choose the best for our baby but nowadays, it's not easy to find good products for your baby especially when you have numerous options and have no idea what's the difference. I try to stick to the well-known brands only who are specialized in baby skincare products. But when I got to know about these water wipes 'from MotherSparsh I can't resist myself from trying these out. So, let's just see what's so special about these MotherSparsh Baby Wipes.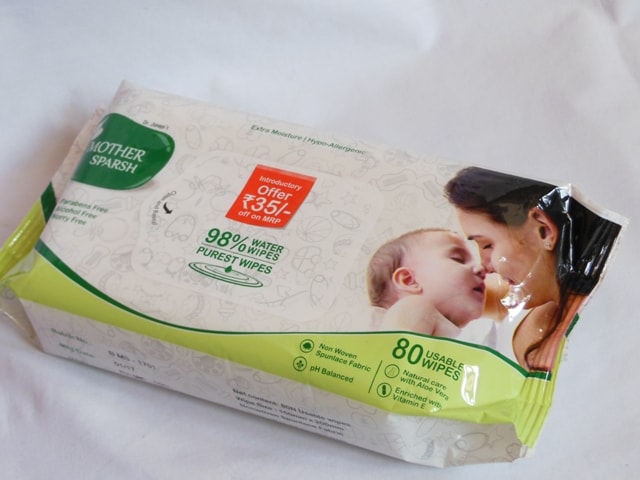 Video is alsolive:
Product Claims: It is well evident that baby's skin is much more delicate than your own skin.
Mother Sparsh WaterWipes are formulated specifically for your baby's supple, soft & delicate skin.
These are the only wipes that contain 98% pure water and aloe vera extract – a natural moisturizer.
Because it is Hypoallergenic, so Mother Sparsh WaterWipes don't irritate skin instead it cleanse your baby's sensitive skin without causing uneasiness, allergy, and infections.
It is also helpful in preventing diaper rash caused due to skin irritation and bacterial infection.
Mother Sparsh wipes are the purest wipes with extra moisture that provide gentle sparsh to your baby for keeping your baby comfortable, happy & smiling.
Price: Rs 150/- For 80
Key Features:
98% Water Wipes
Hypoallergenic
Alcohol free
Parabens free
Suitable from birth
Help avoid from nappy rashes
Nonwoven Spunlace Fabric
Pleasant fragrance that a sense of freshness and cleanliness
Enriched with Jojoba oil, Aloe Vera and Vitamin E
pH balanced
Safe and secure.
My Experience with MotherSparsh Baby Wipes:
Packaging: MotherSparsh Baby Wipes comes in a regular plastic packaging with a stick on thing to pull out the wipes. I wish it had a flap instead as that will protect my wipes for longer and is much more convenient to use and travel with.
Baby's delicate skin is very sensitive and might not react well to baby lotions or fancy oils so it's best to use water and cotton only to wipes their skin.  As you can rest assured that there will no allergies or rashes to the baby.
Wipes on Me: I started with these wipes as my facial wipes before using them on my baby and I was happy with the results. It feels very soft and gentle on skin and wipes away the dirt and grime from the skin easily. I loved that it doesn't feel soapy or slippery like some of the regular wipes. It cleanses the skin efficiently and leaves it soft and smooth. I don't feel the urge to wash it off with water it the wipes does pretty much the same.
Wipes on Baby: I have been using these baby wipes on my baby for almost 3 weeks now. And I love that they didn't irritate his skin at all. They are quite gentle on skin and suitable for sensitive skin too. I use to clean his face, hands, and bum and it does a fabulous job. This Mothersparsh baby wipes claims to be purest wipes as they are made with 98% water which is the purest thing one can use for baby. So, they can be easily used on newborns too. The wipes also contain natural Aloe vera extract, Jojoba oil and Vitamin E which are natural moisturizers and safe for baby's skin. The wipes are free from all the harmful chemicals like Parabens, Alcohol etc.
Recommendation: Baby Wipes is one of the best inventions for Mom's as now you can clean your baby and make him/her look clean and presentable anytime, anywhere in a matter of few seconds. And if you are looking for a safe and affordable option for your bay start with these MotherSparsh Baby wipes.  I am sure you wont like to switch to any other wipes after trying these. Highly Recommended!
Rating: 4.5/5
Coming to the Giveaway..:
Rules for participation:
Subscribe to my channel here http://bit.ly/1Pu1I7G
Follow me @Poonam_BMM and @Mothersparsh on Instagram
Like the Video (Click Thumbs Up)
Comment on the video with your @Instagramhandle and sharing why should I pick you as winner?
Like my page and Share on Facebook/twitter using hashtag #BMMxMotherSparsh and tagging 2 of your friends inviting them to join the party. ( for extra brownie points)
Prizes Details:
2 Water Wipes pack for each winner
Have you tried MotherSparsh Baby Wipes? Which is your favorite Baby Wipes?
PS: Product sent by brand for consideration but honest and unbiased opinion