Punjabi Jutti Online: Rehmat Kollection
I love my heels but there are days when my feet give up and I opt for comfortable flats. But when it comes to flats I become very choosy and it's very difficult for me to find a good looking pair. Though there is one thing that never disappoints when it comes to a beautiful flat shoe, Punjabi Jutti. Yes, Punjabi Juttis not only look graceful but stylish and chic too when paired with casual wear.  There was a time when I was obsessed with Punjabi Juttis but then it was so hard to find a good quality jutti. So, let me tell about Rehmat Kollection, manufacturers of designer Punjabi juttis with a stunning collection to choose from.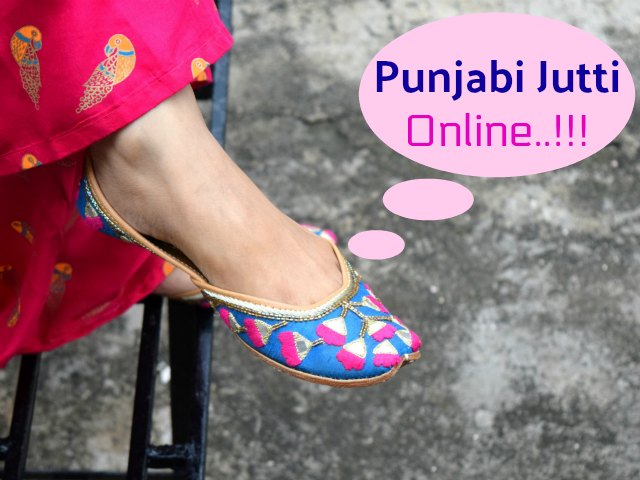 Rehmat Kollection has a wide variety of ladies jutti designs to choose from ranging from studded ones to  printed designs and trust me it was a tough task to pick one but I decided to go with these "Denim Star" ones which are perfect for everyday casual wear and can even be styled for a wedding look or any celebrations.
About this Jutti
Denim Star: Denim Star is the perfect jutti for the modern girl. You can pair this blue Punjabi jutti with any casual outfit. Show your desi side by wearing this mojari.
Price: Rs 3000
Return of Punjabi Jutti trend In India:
Punjabi juttis were quite popular few years back but with changing fashion trends they got lost somewhere but when it is such a beautiful and comfortable pair of footwear it was bound to come back!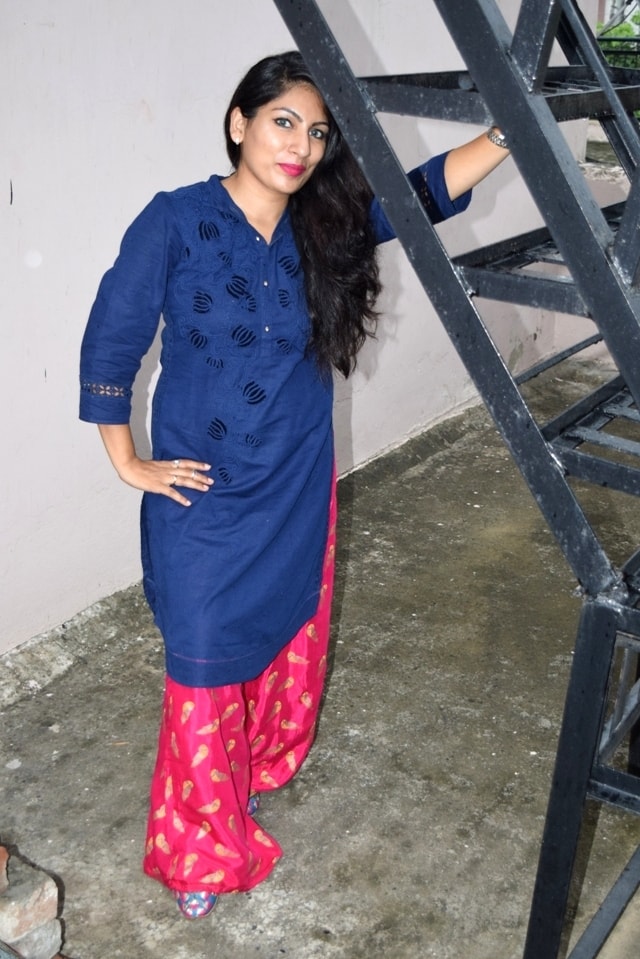 Some believe that Punjabi Juttis or Mojaris can only be paired with Ethnic wear or Salwar suits but these stylish pieces can very well be paired with western attires for a fusion look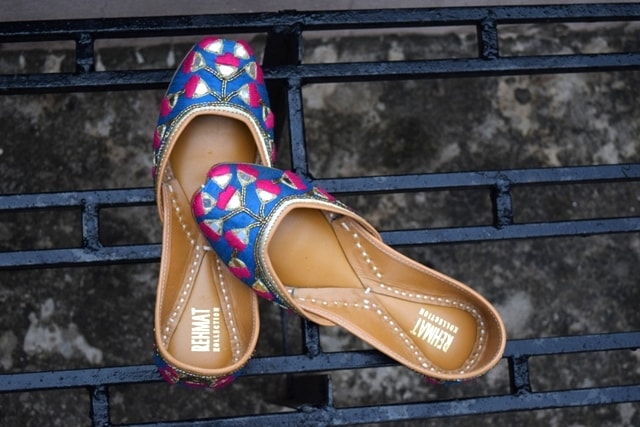 Punjabi Juttis or Mojari can be a tough thing to find in a local market especially if you are looking for good quality ones. So, I am glad that Rehmat Kollection decided to come online and help all of us out here with their stunning handcrafted pieces which will never go unnoticed and garner you compliments even from strangers.
The Denim Stars juttis have a beautiful mirror work with colorful hand embroidery which is done to perfection.  The juttis are made with high-quality material so they can be worn be anyway. If you are looking to buy a Punjabi jutti for the first time I will highly suggest going with this Denim Stars as are ways to pair with the western outfit without being too loud.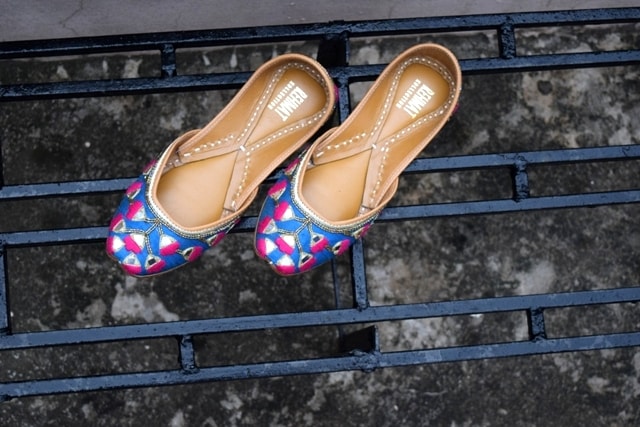 Why reserve your Juttis for traditional functions when you should be able to wear them every day. The brand has kept this in mind while designing and crafting jutti and it totally reflects in their juttis which will look classy and elegant when paired with everyday casual wear.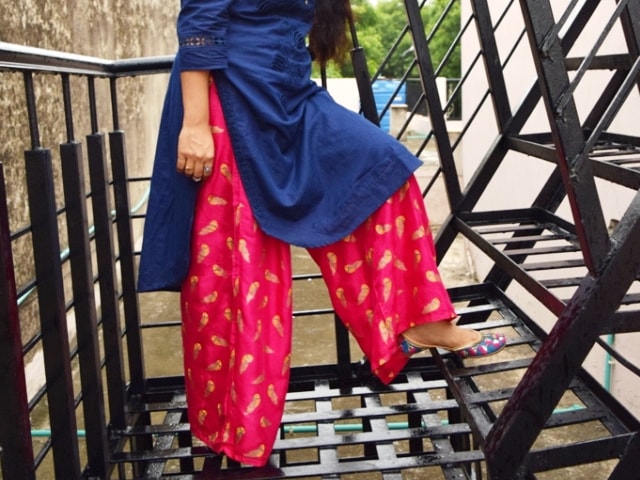 Now, coming to the price of the juttis which is slightly on the higher side but these are made with finest materials like genuine leather and hours of craftsmanship to churn out just one pair of jutti which indeed makes it worth the investment.
I have been wearing these for past few weeks and I must tell you that I totally enjoy wearing them. They feel so comfortable because of that extra cushioning in the soles.  And I love that the design extends to the back which makes them gorgeous even when seen from the back!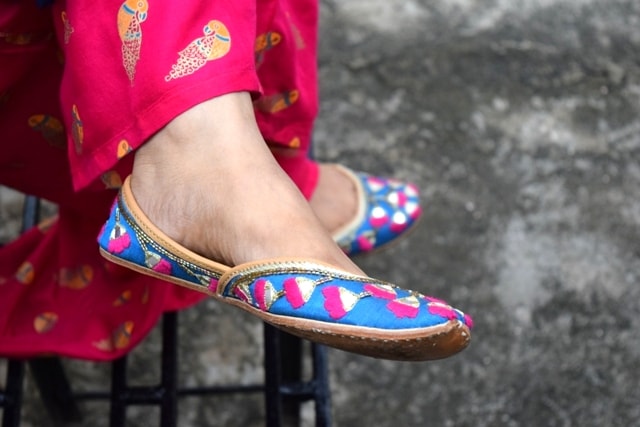 How to Buy Punjabi Jutti Online:
Rehmat Kollection is one of the exclusive online stores for Punjabi Juttis with a huge collection of beautiful designs to pick from. Check their collection here
Use the size chart on the page to find the right size jutti for your feet.
Add the Jutti design you love in your cart and pay.
Within a week's time, your jutti will be home!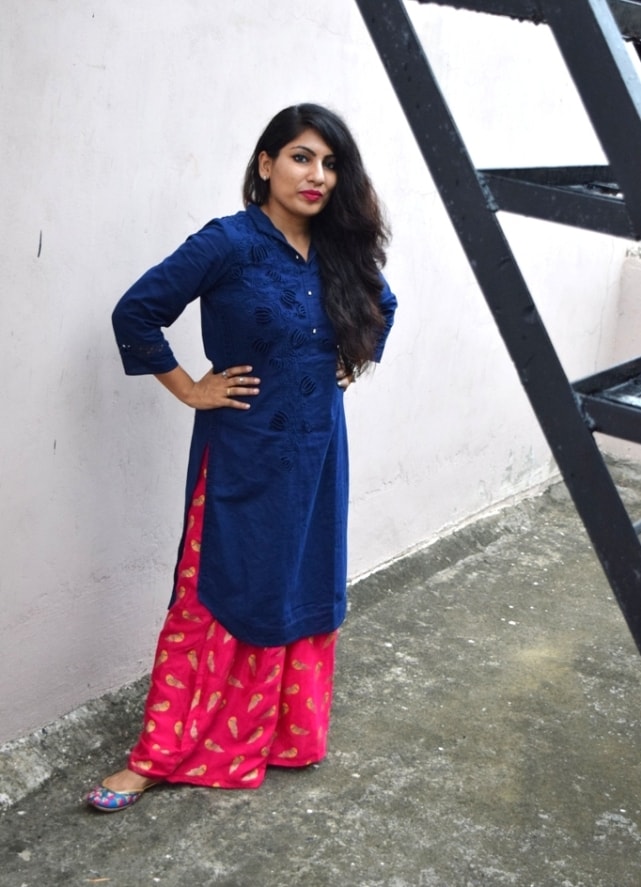 Tips to Avoid Shoe Bite from Punjabi Jutti:
The genuine leather, Rehmat Kollection used in juttis will make sure you don't get any shoe bites. In the case of an occasional shoe pinch, apply a little mustard oil to the back of this jutti. This will soften the back of the jutti. Keep them in direct sunlight to make the softness permanent.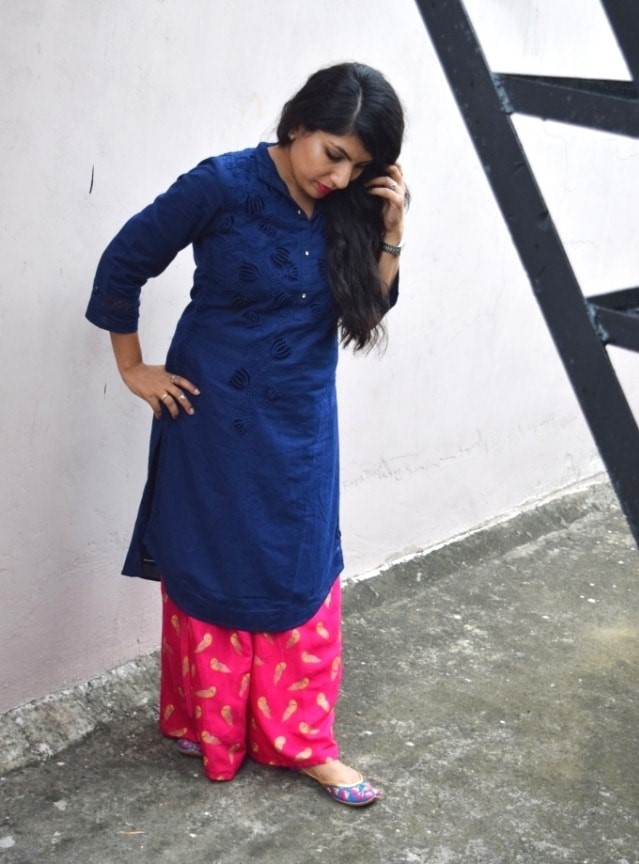 How to Clean Juttis:
It is extremely easy to clean this jutti, just Wipe with a damp cloth is enough to get to it to be looking brand new.
Now, what are you waiting for grab your first pair of Punjabi Jutti now! Pair your juttis with a denim or a dress and you'll be turning heads.
Have you tried Punjabi Juttis yet? Are you planning to give these a try?
PS: Product sent by brand but honest and unbiased opinion.