Prime Time: Stick It To 'Em Eye Shadow Primer
Hello Dolls,
I love playing with eye shadow but sometimes the colors or the formula ditch me when they don't come out as intense on the eyes or starts creasing sooner than expected. If I know that I have a long day and want my makeup to look fresh and clean even at the end of the day I make sure I use a primer underneath but not every primer does this job perfectly. When I think of Eye Primers in India, I can barely think of any and the one I have is from NYX Cosmetics that I bought years back, NYX HD Eye Shadow Base. So, this is the perfect timing for me to test and try a new eye primer on the block, the Sedona Lace Stick It To 'Em Eye Shadow Primer.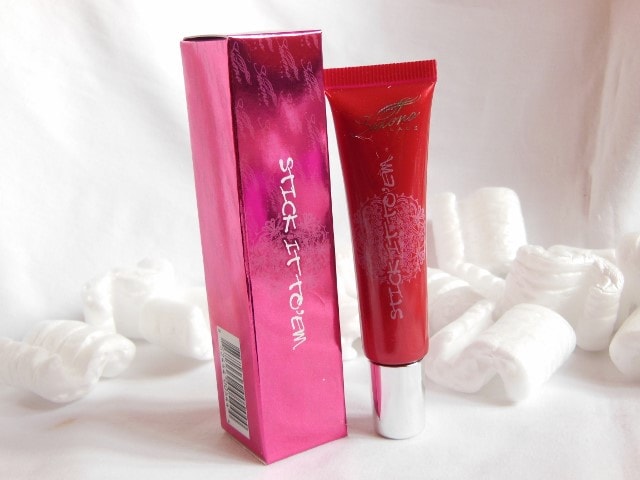 Product Claims: Eye shadow has no chance of escape when you start your look off with our incredibly creamy primer. Our weightless formula has a slight tint to help conceal imperfections while also creating the perfect barrier between the oils of your skin and eye shadow. That means no more creasing and no more fading just intense vibrant color all day long.
Directions for Use: Dispense small amount on finger tips and dot all over the eye lids towards brow bone. Massage gently until blended. Apply eye shadow as usual.
Ingredients: Cyclopentasiloxane, Cyclotetrasiloxane, Silica, Caprylyl Methicone, Talc, Methicone, Peg-10 Dimethicone, Caprylic/Capric Triglyceride, Polyglyceryl-3 Diisostearate, Lanolin, Synthetic Beeswax, Titanium Dioxide, Ci 77491/77492/77499, Propylparaben
Price: $14.95 for 15ml/0.50 Oz  now for $7.98 Use  "beautyandmakeup" for $4 Off
Packaging: Sedona Lace Stick It To 'Em Eye Shadow Primer comes in a pretty maroon red plastic tube type packaging with a silver metallic screw cap. There is a tiny nozzle to dispense the product which helps to control the amount but sometimes under pressure more amount comes out of the tube, so I have to be very cautious when using this primer. The tube is housed in a Fuchsia pink cardboard box which carries all the details.
My experience with Sedona Lace Stick It To 'Em Eye Shadow Primer:
Sedona Lace Stick It To 'Em Eye Shadow Primer is a pale peach colored thick cream which melts quickly when blended with fingers. It doesn't have any tint or color to it so it goes absolutely clear on the lids.
The thick cream melts and spreads to cover a lot of the eye area, so I just need a tiny miny amount of it, size as little as a jumbo pencil tip which is enough for single application.
Just let it set and dry for few seconds so that it doesn't make the eye shadow crease and once it is set, start with eye shadows as usual.
Results: Somehow, I didn't expect it to make much of a difference to eye shadow application but wait I am awestruck by its performance and you can see yourself in the swatches.
Intensifies Color: It makes lighter eye shadows look brighter, while the colors belonging to dark family look super intense and dark with this primer. I don't feel the need of packing and patting color on lids because this primer does that job for me so beautifully without any extra effort.
No Fading Or Creasing: It holds the eye shadows whole day and they don't move even a bit. My eye makeup looks bright and fresh till the end of day. I have tested it for around 10 hours and it was going strong with no creasing or fading on my lids.
This primer is also compared to the much loved Urban Decay Primer Potion which costs a bomb but this one won't make you break a bank as it is easy on pocket and Sedona Lace goes on discount quite often.. so you can grab this on an amazing deal
Tip: Just apply a tiny amount lightly on lids and let it dry completely before putting your eye shadow.
Recommendation: Sedona Lace Stick It To 'Em Eye Shadow Primer is thick creamy primer which goes on smoothly and blends out quickly on lids. It does take a few seconds to set but once it is dry it won't move for the rest of the day. It intensifies the color and make them pop so I don't feel the need to go for any black or white base underneath.

This Sedona Lace eye primer makes my eye shadows last whole day and I saw no creasing and fading on lids until I removed my makeup with a remover. Just a tiny amount is required for single application so the tube is gonna last me long.  I haven't tried it with eye shadow pigments but I am sure it will do a fabulous job with them too. It is one such primer that definitely goes to my repurchase list whenever I run out of this. The packaging is pretty too but i wish the product comes out more easily but otherwise I am in love with this primer.. Highly Recommended!
Rating: 4.8/5
Have you tried Sedona Lace Stick It To 'Em Eye Shadow Primer? Which is your favorite Eye Shadow Primer?
PS: Product sent by brand for consideration