Prettiness Overload: Mont Bleu Tools and Accessories
Hello Everyone,
Today I will be sharing some gorgeous tools with you.. yeahh they are tools but pretty too!! I have seen similar glass files on an international blog and I fell in love at first glance but didn't know where to get these from in India. And then one fine day God heard my prayers and these beauties landed in my arms. I have already shared a little bit about these Crystal Nail Files earlier on the blog but I got some more members from their Swarovski family to share with you.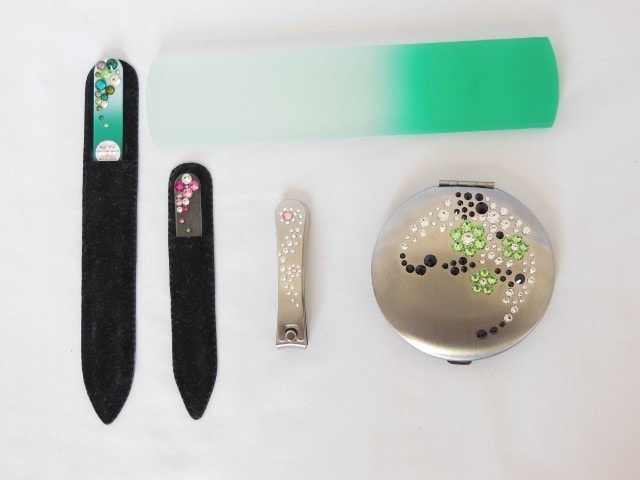 Mont Blue Tools and Accessories 
Crystal Swarovski Glass Nail File – Large : € 14
Crystal Swarovski Glass Nail File – Small : €8
Glass Foot File – Mint : € 16
Crystal Swarovski Metal Compact Mirror: €27
Crystal Swarovski Nail Cutter: €12.50
Price: Mentioned above
My experience with Mont Bleu Tools and Accessories:-
Crystal Glass Nail Files: These are glass nail files opposed to the metallic nail files that we usually find in the market. I swear I haven't seen something as cute as these in India. We like to prettify our nail by painting them in our favorite nail shade or a nail art but do we pay attention to the nail tools that we use in the process… I guess not. The glass surface is etched both sides so you can use it either way and it is not as gritty as metal one but does the job faster and smoother than them. Sometimes, even before realize that I am filing my nails.. They are done! I love the studded handle for its beauty and also the necessary grip it provides while filing nails.
Glass Foot Files: These Foot files are made of thick glass and are very heavy compared to glass files but it makes them perfect for doing the hard job of removing the dead skin from feet. Like Glass Nail Files, they have their urface etched on both sides and are bvery effective in removing dead skin with least effort. Foot filing is the worst job ever but if my Foot file is as pretty as this I won't mind doing them every week. These don't have the Swarovski elements like the nail files but they still look as fancy as they can get.
Nail Cutter: This is a small nail cutter which can do the toughest job with ease because the cutting edges are as sharp as shark teeths.. ;).
Metal Compact Mirror: This compact mirror is my favorite item of all. It has a normal and a magnifying glass on the inside. The body is quite heavy for a compact mirror but that makes it sturdy. It has push open locking system which I love because now I am sure that it is travel safe. It is comes in it own box similar to those expensive jewelry boxes.
Recommendation: These Mont Bleu Tools offers the prettiest tools and accessories which are the best example of "Beauty and the Beast" because they got beautiful looks but they perform their job like a beast. The products are of best quality, made of finest material and these added Swarovski elements make them so pretty to look at. Shaping my nails was never as easy and tempting as with these nail tools. I must say this is the prettiest nail tool/ nail file I have come across till date. Highly Recommended
Rating: 5/5
Have you tried Mont Bleu Tools and Accessories? Which is your favorite piece from above?
PS: Product sent by brand for consideration