Prep up your Skin for Holi
Hello Girlz,
Are you are geared up to drench in the colors of "Holi".. don't tell me you don't like to play holi because of all that cosmetic color issues that you think might damage your skin. The organic colors are so easily available nowadays and even a little bit of "cosmetic colors" wont be that harmful or you can take soem precautions to minimize the skin damage.
Well, I am a big big supporter of holi and love this festival to the core.. I enjoy myself getting all colorful and being shot by water balloons and water canons.. It like a war that wont do any damage and you can play it everyday!!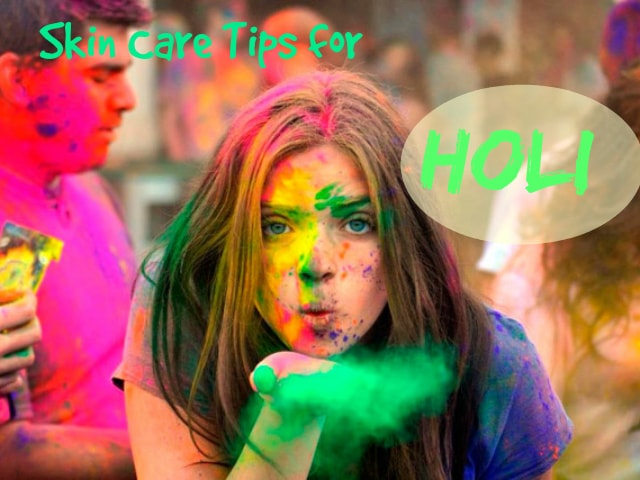 Don't refrain your self from being an active part in the play of colors because of the harsh chemicals in the colors that cause skin problems. because today I will sharing some easy-peasy tip to prep up your skin for Holi.
so, here are some skin care tips that will surely help in protecting any skin damage while you enjoy colors of Holi.
Skin Care Tips for Holi:
Stay Hydrated: Keep drinking as much as water you can,both  before leaving the house and after coming indoors. You should always keep in mind that the colors contain chemicals which snatch away moisture from the skin, so it becomes very important to keep re hydrating your skin and what better way to do I than drinking plenty of water at regular intervals.
Layer of Oils: I swear by this skincare tip. Since, childhood days I am religiously following this regime to cover up every part of my body with a good layer of any the oils like Olive Oil, almond oil or even mustard oil. Apply it heavily on hair and give your self a good massage covering back, neck, feet, ears, face, legs, arms.. everything. So that color doesn't come in direct contact with your skin and it will help in easy removal of the color as well! 🙂
Paint Nails: Apply a dark colored nail polish on your nails and also use Vaseline on your nails. Apply it beneath the nails and also over it. This prevents permanent staining of your nails and adjacent area.
Protect Eyes: Eyes are extremely vulnerable to harmful chemicals in colors. Make sure that colors do not get inside your eyes. If a color comes in contact with the yes, one should immediately wash it with large amounts of water and case of irritation persists, medical aid should be sought immediately.
Cover up: Wear clothes that can cover maximum part of the body. A swimsuit or waterproof tights under your clothes would protect your body from the harmful effects of chemicals in the colors
Play Safe: Avoid running and jumping on wet floors as you can slip and injure yourself and with so many chemicals all around it can cause infection in the wound if you're hurt
Skin Care Tips after Holi Celebration:
This is I am sure the most tiring part of the Holi celebration… Getting rid of the color from the skin. But make sure to be gentle to your skin and don't harm it by rubbing it too hard because it might cause excessive dryness or lead to skin issues.
Skip Soaps: It is best to give those soaps a complete miss and use the simple homemade cleanser to cleanse your skin. Make a paste of Besan and Milk and apply it all over your body to remove the color residue from the skin. Or you can first apply a curd or Milk to dissolve that color from the skin which will make the removal easier.
Clense Gently: Cleaning the skin and hair after playing with colors is very important. Do not rub the skin vigorously with soaps to wipe the face of gulal, instead opt for a gentle creamy cleanser.  You can also go for a mix of Glycerine and Olive Oil to take the color off your face.
Use lemon to remove: Wash the colors off from your skin with lemon wedges. Apply lots of moisturizer. Also, in bathing water add a few lemon drops and use mild scrub. Rub the skin gently to be off the colors.
Homemade Hair cleanser: Hairs I would say are the worst affected part after holi celebrations because while trying to remove the color, we generally do over-shampooing like 3-5 times which strips off all the oil and nourishment from hair and they are left dull, dry and frizzy. Its best to apply a pack of Oil, lemon and curd on hair and leave it for 20-30 minutes. And after rinsing the pack follow with a gentle hair cleanser only once.
So, while you are dancing in the clouds of Gulal and getting soaked in the showers of colored water, these simple skin care tips for Holi will let you enjoy Holi in full form without worrying about any skin problems later as you will look as glamorous as you do before.  🙂
Have a Colorful and Safe Holi!