Perfume in Pocket: NEESH Perfumes Women's Collection
Hey Guys,
We all love perfumes.. And the first thing that comes to my mind when I think of perfumes is their exquisite packaging with magnificent design and luxurious looks.
I have never been a fan of deodorants firstly because of their Can packaging and secondly that they do almost nothing for me. They are super strong when sprayed and within an hour the scent is gone like it has never existed. I like my fragrances to last longer and that is why I am always on the lookout for long lasting perfumes but why everything I like has to be Expensive: P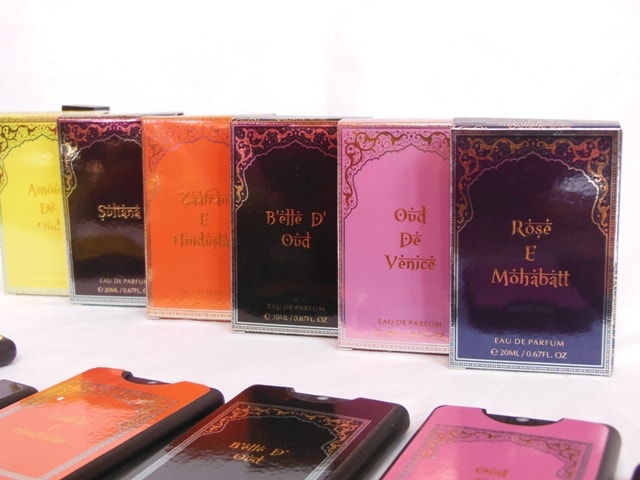 With Summers in full bloom I need a good perfumes more than ever because.. let me tell you!
My Summer Woes:
I sweat like anything the moment I step out of the house (sweat is inevitable indoors too), the deodorants just can't help and carrying those beautiful glass bottles in bags would be such a pain ( and risk too if it drops accidently) .
Using those big cans in the public can be so ridiculous but have you ever wondered or wanted something that can solve all your Summer worse.
And I am going to a party with a sleek clutch in hand where is the space to fit in Gigantic bottle of deo/perfume.
I can go on and on but these are my major concerns and guess what I found a simple solution to all of them without going bankrupt..:D "NEESH Perfumes"
About the Brand: NEESH is the first Attar based Perfume brand of India. They offer 12 High quality fragrances which includes 6 Parfumes Variant for Men and Women each. Neesh perfumes are concentrated with 10-20% oils that makes them last upto 12 hours. Some of the ingredients are made the same way as ancient India used to make attar. The perfumes are antibacterial, Anti-inflammatory, Antioxidant, Moisturizing. Neesh is also the first oriental perfume brand that comes in a pikpack.
Price: Rs. 340 for 20 ml (Buy online on Snapdeal, Flipkart, Amazon, Ebay )
Shelf Life: 3 years
Product Description: NEESH perfumes are budget friendly fragrances, which fits in a pocket, so they can be called pocket perfumes or perfume in a pocket. There are 12 perfumes launched for both men and women.
Ingredients: ETHANOL 80% V/V DENATURED WITH 1% DIETHYL PHTHALATE, PERFUME, CREMOPHOR RH 60, D.I. WATER
Packaging: NEESH Perfumes comes in colourful rectangular shaped cardboard packaging which carries all the product details. The perfume comes in a rectangular shaped bottle called "Pikpack" with a small cut out at the top for the spray. It is a fuss free packaging which easily fits into the pockets. Each fragrance carries a distinct color which makes it easy to identify scents but I absolutely love the Mughal era inspired design on the packaging with Urdu lettering. The packaging is designed to be easy to use and travel friendly and it totally is. Love this unique one of its kind packaging for perfumes.
My Experience with NEESH Perfumes – Women's Collection:
NEESH Perfumes collection is divided into two where 6 of these gorgeous scents are made for women and 6 for men. I got the full Women fragrance collection and a chance to experience awesomess. The beautiful golden colored box contains 2 pieces of each perfume from the collection
Fragrances: NEESH Perfumes has a large variety of fragrance and you can easily pick the one that works for you. Though most of them are on the stronger side but there are some like Oud-De-Venice and Amour-De-Oud which can be worn by anyone. I love that they have some rosy notes in each of their scent in these perfumes which adds a touch of feminism to the fragrances.
Longevity: They have truly surprised me with their staying power. Usually perfumes fade away within 4-5 hours unless you are paying a bomb but these NEESH ones have easily lasted for 8 – 10 hours while some of them over a day. I am totally in awe of their formula which contains natural oils that helps fragrances last longer. They can surely beat any expensive perfume with their staying power.. Awesome!
Fragrances from NEESH Perfumes – Women's Collection:
Zaafran-e-Hindustan: It is hands down my favourite fragrance of all. It is such a beautiful blend of rose, wood and musky notes. It has an exotic feel to it and I love to wear it on special occasions.
Sultana: It is quite a strong scent and smells like an ancient attar to me. I can definitely smell the strong rose notes mixed with a beautiful blend of Agarwood. It can definitely be termed as a "Valentine's Day" kinda scent.
Rose-e-Mohabatt: It can be termed as a complicated scent as it has mix of many luxurious ingredients. Not sure if I can smell them all but I can definitely make some seductive chocolate notes with a spicy tinge. It is a bit too strong for my liking.
Oud-De-Venice: If you are not into strong scents than this one is for you. The scent is mild and has enticing rosy notes with a pinch of spice and woody notes. Again, a fragrance made for "Love".
Belle-d-Oud: It is again a very strong scent with complex notes as it has a mix of Rose, musk, amber and saffron. It has a bold, sensual feel to it which makes a great pick for evening time parties.
Amour-de-Oud:  It is a beautiful oriental fragrance with slight musky base notes. It is a very refreshing scent and nothing too sophisticated which makes it a perfect pick for day time. It is on the lighter side and I like it a lot.
The perfumes aren't heavily priced and with such a affordable price tag anyone can own a beautiful, long lasting scent within budget. I loved the Neesh Perfumes Women's collection to the bit and am already planning to get the NEESH Perfumes Men's collection for Mr. husband as he seems to be quite amazed by these. (He is trying to steal the unisex scents from the my collection :P)
Recommendation: NEESH perfumes Women's Collection is an assortment of strong and mild fragrances giving me the freedom to pick one according to my mood and occasion. The fragrances range from exotic, oriental, spicy with super long lasting formula which I can smell on clothes even the next day. Now, you don't have to travel with bulky perfume bottles or faint people because of your sweat smell because these tiny pickpaks fits easily into pockets.… Smell well anytime, anywhere with these NEESH perfumes. Highly Recommended!
Rating: 4.8/5
Have you tried NEESH Perfumes? Which is your favourite perfume for summers?
PS: Product is sent by the brand for consideration, but honest review !