Patanjali Shishu Care Body Wash Gel: Top to Toe
Patanjali has entered into the baby skincare game with this Shishu care range. This new Shishu care range was singing to me. So took the risk ( I would say because I am always skeptical about Patanjali stuff!) and bought some Patanjali Shishu care products to try and test and see how they perform. I have been testing these Shishu care skincare for quite some days now, and today I will be sharing my review on the Patanjali Shishu Care Body Wash Gel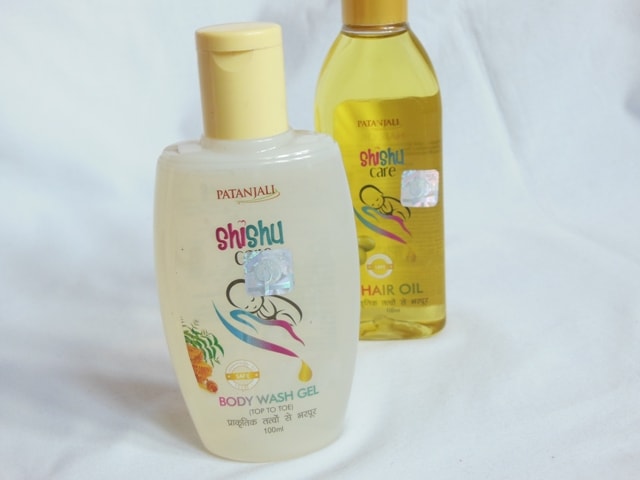 Video Review:
Product Claims: A mild, soap free, gel based formulation with natural extract of Neem, Tulsi, Turmeric, Aloe Vera and Honey which cleanses gently, moisturises delicate baby's skin, leaving it soft and supple.
Directions for Use: Wet your baby's body and apply generously, lather and rinse with water. Avoid areas around eyes.
Price: Rs 75 for 100ml
My experience with Patanjali Shishu Care Body Wash:
Patanjali Shishu Care Body wash gel Top to Toe comes in a transluscent plastic bottle with a flip top cap. The packaging feels sturdy and the cap shuts tight so it convenient to use and carry along. The bottle is small and handy which makes it perfect for travels too!
I have this habit of trying the baby products and myself before using them on baby to make sure that they are good enough and won't cause any issues. So, I used this Patanjali Shishu Care Body wash gel as face wash before using it on him.
Patanjali Shishu Care Body wash gel Top to Toe is a clear gel with a medium thick texture, not too runny. It applies smoothly and gives a very mild lather. The body wash also has a beautiful mild scent which feels really good and is perfect for babies. The fragrance is nowhere herbal or that kinds but a bit floral sweet notes.
I really like that it has a very mild formula which doesn't burn eyes and makes skin dry and stretchy. It gently cleanses the skin and leaves it mildly hydrated. My only issue is that I have to use a lot of it as it doesn't lather much so not that much economical but otherwise a great product.
The formula is infused with natural ingredients like Aloe Vera, Honey, Neem, Tulsi , Turmeric, Olive Oil, and Glycerine which wont irritate the delicate baby skin. Also, the product is Dermatologically tested so it is safe for babies!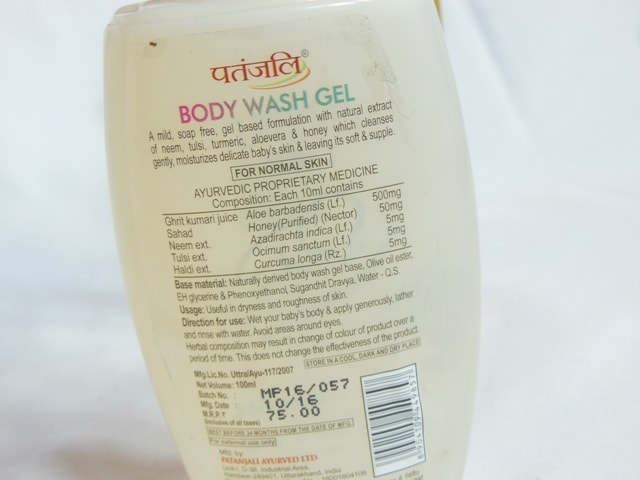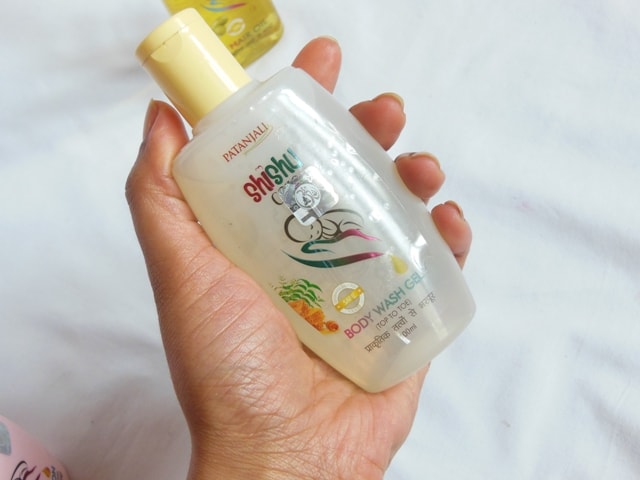 Don't Miss to Checkout:
Rating: 4/5
Have you tried Patanjali Shishu Care Body Wash Gel? Which is your favorite Baby Body Wash?