Patanjali Ojas Mint and Tulsi Body Cleanser Review
I have been trying Patanjali Products for past few months to find out something that really works for me. I have used Patanjali Aloe Vera gel which was nothing great, Patanjali Kesh kanti Shampoo which was pathetic and Patanjali Kesh Kanti Oil which did nothing for my hair. And today I am back with the review of the much raved about Glycerin soaps from Patanjali the Patanjali Ojas Body Cleanser. So, I am going to talk about the Patanjali Ojas Mint and Tulsi Body Cleanser and will see if it actually delivers what it claims or is just another "bakwaas" product.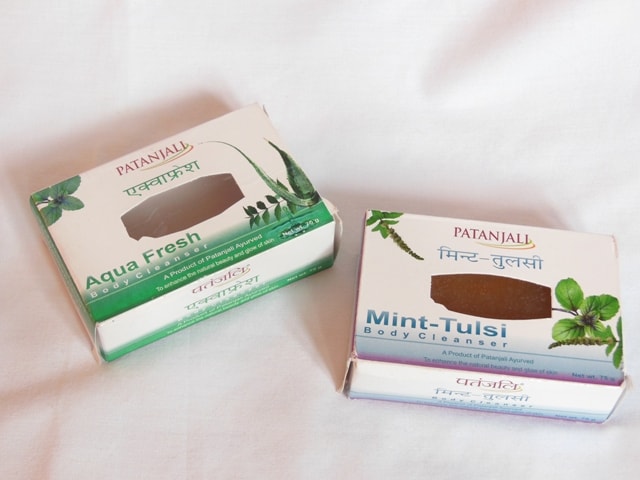 Product Description: Patanjali Ojas Mint Tulsi Soap including refreshing pudina (Mint) transparent Body Cleanser. It is beneficial for a healthy, beautiful and refreshing skin. And it protects the natural humidity of the skin. Very soft and contains medical qualities. Excellent healthy products for the protection of body, skin and hair.
Price: Rs 25 for 75gms
Packaging: Patanjali Ojas Mint and Tulsi Body Cleanser come in a cardboard case packaging with all the details. There is a small window in the front which displays the color of the soap. The soap is packed in a plastic sheet so that it doesn't get damaged in the packaging. The brand name Patanjali is engraved on the soap but the finish and cutting of the soap is not good and it looks like some cheap product with such rough edges.
My experience with Patanjali Ojas Mint and Tulsi Body Cleanser:
Patanjali Ojas Mint and Tulsi Body Cleanser is a translucent orange colored soap. The soap has a mild herbal minty scent which isn't strong but could have been better.
The soap glides on easily but doesn't lather well even with a loofah. I like my soaps to give good lather and I love Fiama Di Wills Gel bathing bars for that. But Patanjali Ojas Body Cleanser barely gave any lather.
The soap cleanses the skin well but I didn't find it as hydrating as the other Glycerin based soaps I have used. It gave that squeaky clean feeling to the skin which I don't enjoy on my dry skin. It just didn't feel comfortable on my skin, and find it slightly drying. Also, I don't even enjoy its minty herbal fragrance.
Overall, I am quite disappointed with the performance of this Patanjali Ojas Mint and Tulsi Body Cleanser on me. I have also tried the Patanjali Ojas Rose Body Cleanser but hated the artificial Rose fragrance. I also have the Patanjali Ojas Aquafresh Body Cleanser which has a beautiful refreshing fragrance and contains some natural oils in the ingredients but the results are the same. Not Recommended!
Rating: 2/5
Don't Miss to Checkout:
PS: Let me know if I am the only one who dislikes Patanjali Products as they never work for me!
Have you tried Patanjali Ojas Mint and Tulsi Body Cleanser? Which is your favorite Glycerin Based Soaps?