Patanjali Kesh Kanti Oil Review
Everybody raves about Patanjali Products, so I planned to try them myself and see their effectiveness. I did a Patanjali products haul last month and have been using Patajanli products since then. Today, I am going to share my experience with one of the best selling products from the brand, the Patanjali Kesh Kanti Oil.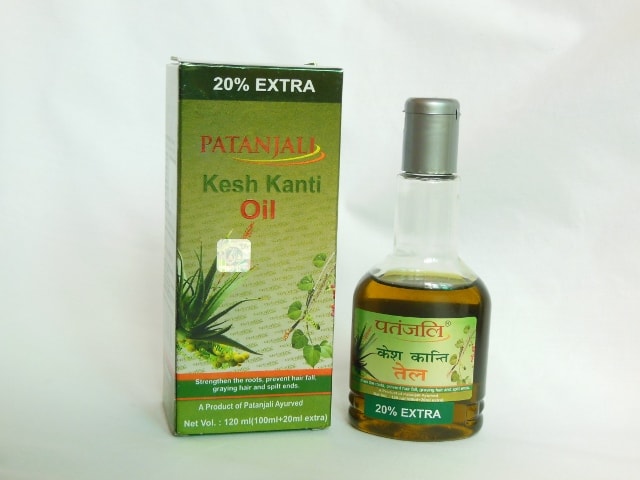 Checkout Video Review here:
Product Description: Provide deep nourishment and strengthen the hair roots, prevent hair fall and dandruff, prevent graying hair and split ends. Useful in sleeplessness and headache.
Method of application: Before going to bed at night take required quantity of oil and massage gentle over hair and scalp, leave for overnight may wash in the morning.
Price: Rs 130 for 120ml (Buy Here)
Packaging: Patanjali Kesh Kanti Oil comes is clear plastic bottle with a flip top cap. The cap shuts tightly with a click sound and wouldn't allow the oil to leak through the bottle. The packaging is simple and convenient to use.
My experience with Patanjali Kesh Kanti Oil:
Patanjali Kesh Kanti Oil is a green colored oil with a medium-thin runny texture just like any regular oil.  The liquid isn't thick or sticky and is marginally thicker than almond oil which makes it easy to apply.
This hair oil has a slightly strong herbal scent with citrusy notes which I find very pleasing. I actually enjoy its fragrance but it may not be liked by all.
I use a good amount of this oil and get it massaged into the scalp so that it gets all the nourishment and the benefits of the herbal ingredients of the oil. I have been using it for almost a month now and this is what I feel about the product.
The hair oil has an exotic list of herbs with Til Oil as base oil but the quantity of natural ingredients is very less.
Results:
Nourishment: Patanjali Kesh kanti is a light weight oil which provides slight nourishment to the hair but its deep condition. I have dry hair and after using this oil I feel my hair feels rough and dry post hairwash. So, I have to use a heavy conditioner to make them smooth and soft. To provide that nourishment to the hair I have started mixing it with Almond oil so that I get benefits of both
Prevents Hair fall and Dandruff: I haven't noiced any difference in my hairfall or dandruff. Though it may take longer to show results but I feel the quantity of herbs is very less which reduces the chances of improvement in hair health.
Prevent graying hair and split ends: I don't have split ends so not sure of its efficacy in that but I think the claims are too tall to be fulfilled by an hair oil.
Useful in sleeplessness and headache: Yes, that's where I find this is most effective. I get a good head massage and feel relaxed and calm. I like its fragrance which helps in soothing my nerves but if you don't than its not for you
Recommendation: Patanjali Kesh Kanti Oil is a light weight herbal oil with lots of natural ingredients to address hair problems like hair fall, dryness, dandruff and all. The oil is infused with a strong citrusy scent which might bother sensitive noses. It provides slight nourishment to the hair but doesn't deep condition them so I have mix with Almond oil or use heavy conditioner post hair wash. It doesn't do anything for me other than helping me with relaxing with its lovely fragrance. Overall, I am slightly disappointed with the product as I was expecting much more from it.  It is pretty much an average hair oil , nothing to rave about. I don't understand why people go gaga over it!!
Don't Miss to Checkout:
Rating: 3/5
Have you tried Patanjali Kesh Kanti Oil? Which is your favorite herbal hair oil?