Patanjali Aloe Vera Gel Review
Lately, I have been totally into Natural Skincare products to give best to my skin. I have been testing Patanjali Products for past few weeks and today I am going to share my experience with the much raved about Patanjali Aloe Vera Gel. Everyone is going gaga over this Patanjali Aloe Vera Gel, so I tried it myself to see if it's worth the hype. Let's see how this Patanjali Aloe Vera Gel performed on me.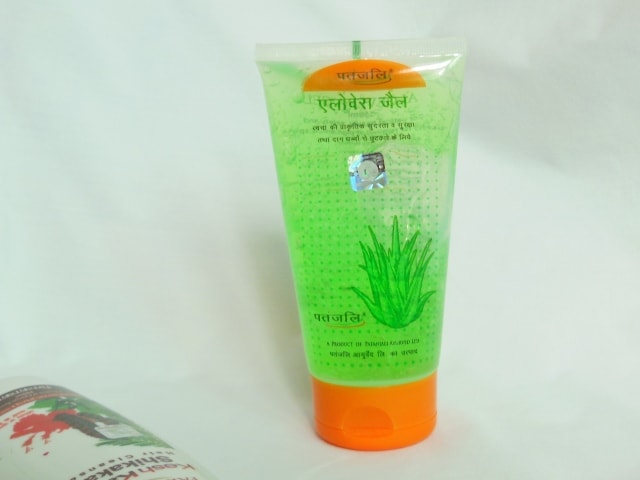 Video Review is now live..
Product Description:
For natural beauty, safety & useful for removal of pigmented spots
Useful in Rejuvenating, Nourishing, Beautifying & Glorifying skin, Helps in retaining healthy skin.
Directions to use: Aloe Vera, Base Material, Permitted Colour, Vitamin -E, Fragrance & Preservative.
Price: Rs 80 for 150ml
Packaging:
Patanjali Aloe Vera Gel comes in a clear plastic squeeze tube type packaging with a flip top cap. The packaging is convenient to use and travel with.
My experience with Patanjali Aloe Vera Gel:
Patanjali Aloe Vera Gel is a light green colored gel with a medium thick texture. I find it slightly hard to control the amount to be dispatched. It spreads out nicely and the green tint disappears on application.
It has a strong alcoholic scent with hints of Aloe Vera which definitely feels artificial. Initially, I couldn't handle its strong scent which is very rare for me.
The Aloe Vera Gel gets absorbed quickly into the skin but some of it still sits on the top. I can feel it on my skin for sometime. But if I wash my face even hours after application I can feel the product washing out with a slippery touch to my fingers. In Conclusion it doesn't get completely absorbed into the skin.
Results:
The Patanjali Aloe Vera Gel makes some tall claims of working on acne marks, removal of pigmented spots, providing moisturization and beautifying skin. I have been using it regularly as a day time moisturizer for past couple of weeks and I can say that I have seen no improvement in my skin. It doesn't provide much nourishment to my dry skin. It is mildly hydrating.Neither do I feel it has worked on acne marks or pigmentation spots for me. I haven't used any other Aloe Vera Gel so can't compare but I am not impressed with this one. Will, try the Just Herbs Aloe Vera Gel next and update you with the same.
I have natural Aloe Vera Gel and it was so much better than this. I know it is a mess to handle and a lot of effort to get the juice out of the Aloe Leaf but the results make it totally worth the pain. I also tried the Benton Aloe Vera Gel which again is far better than this one in terms of texture, formula and performance as it gets quickly absorbed into the skin without any residue behind.
Recommendation: Patanjali Aloe Vera Gel is an affordable Aloe Vera gel which claims to contain 90% of the Aloe Vera Juice. It provides mild hydration to my skin but that's everything. The gel has a strong alcoholic fragrance which is quite difficult to handle. I don't feel it has done anything for my skin. I see no improvement in texture, pigmentation and marks. I feel it is a very average product which is blown out of proportion. If you are sensitive to fragrances than definitely skip this. Also, I wanted to know what preservatives are used in the products but it isn't mentioned on the packaging. I am definitely not a fan of this Patanjali Aloe Vera Gel because it does nothing amazing or even ordinary for my skin.
Rating: 2/5
Don't Miss to Checkout:
Have you tried Patanjali Aloe Vera Gel? Which is your favorite Aloe Vera Gel?