Parachute Advanced Body Lotion – Summer Fresh Review
It has been quite a long time (almost a month) that I have bought any body lotion. It's so difficult to finish off even a single bottle of the lotion in summers. Though, I have been lavishly using "Parachute Advanced Body Lotion-Dry Skin"  for almost a month but still left with half of the bottle. I was happy to see that Parachute delivered such an amazing body lotion. After my successful venture into Parachute body lotion, I was dying to try its other variant –Summer Fresh. So, here is my review on Parachute Advanced Body Lotion-Summer Fresh.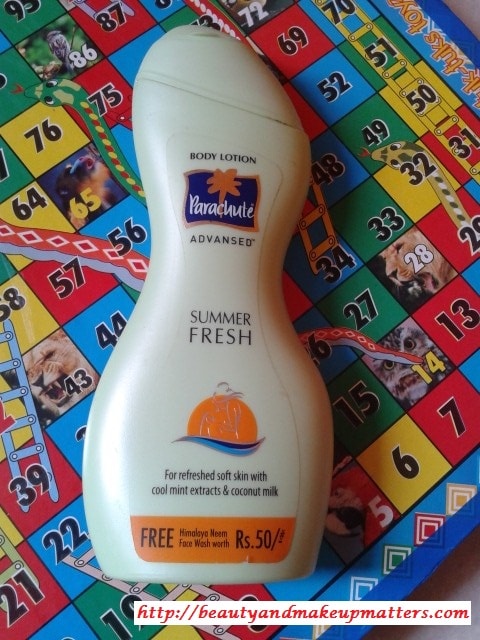 Product Claims: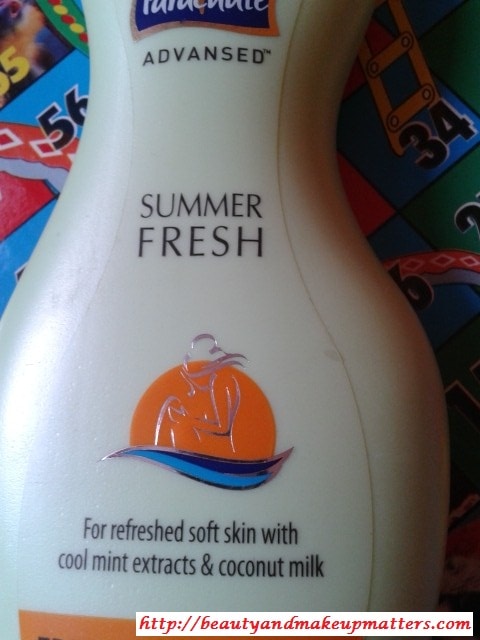 Ingredients:-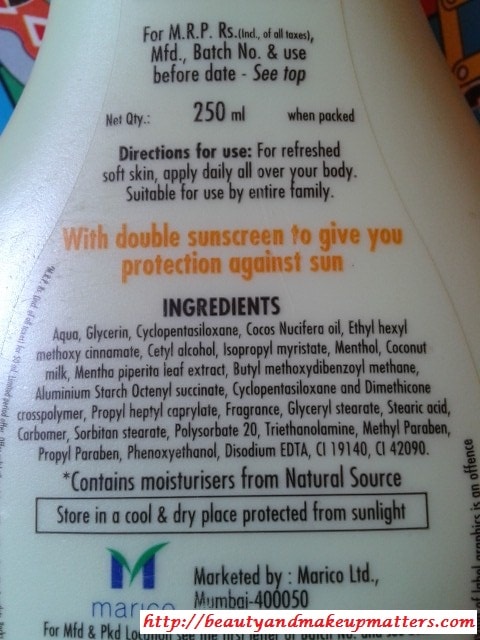 Price:- Rs.105 for 250
Shelf Life:- 2 years from the Mfg date.
Packaging:- The body lotion arrive in the same curvy bottle as the Parachute Advanced Body Lotion-Dry Skin. The bottle however is pastel green in color this time. I really like the stylish packaging of the lotion which comes handy.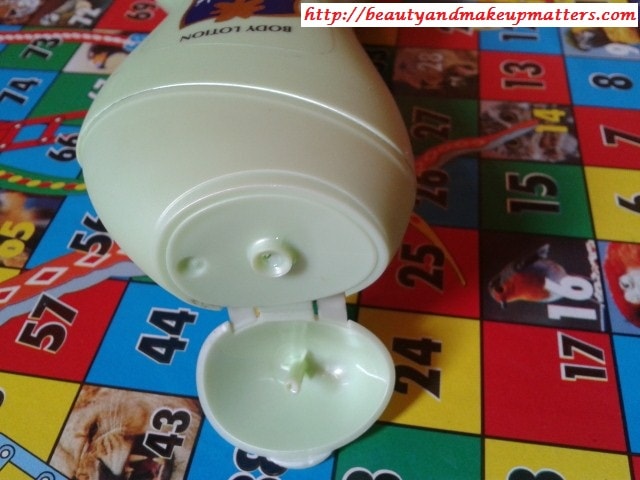 My experience with Parachute Advanced Body Lotion-Summer Fresh:-
The texture of the lotion appears to be slightly thicker than the "Parachute Advanced Body Lotion-Dry Skin" but it spreads with the same ease. The colour of the lotion is also light green which is similar to the packaging, may due to presence of mint in the ingredients.
The lotion goes sheer when spread and gives a feeling like I have been applying cool water. It doesn't give any streaky application and melts quickly with the body heat. It sinks quickly into the skin without making skin sticky or oily. It is enriched with mint extracts which gives a mild cooling sensation, when the lotions starts getting absorbed into the skin. Though the sensation is short-lived but it feels relieving in hot summers.
Don't Miss to Checkout:
Swatches:-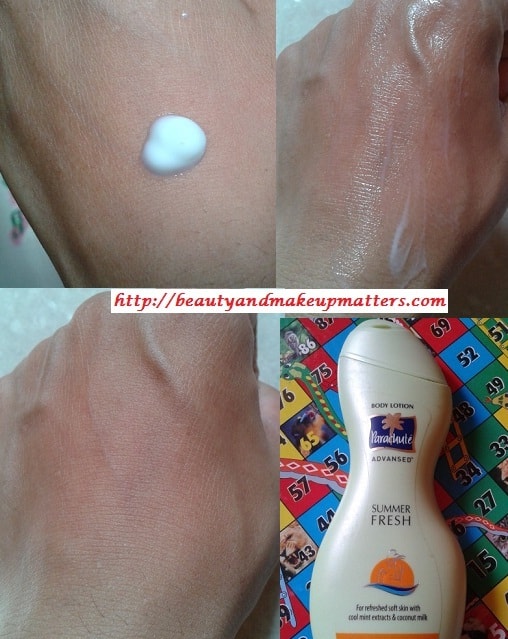 It has a pleasant minty fragrance which is not overpowering.  It is a light moisturiser but it moisturiser my dry skin well and keep it fresh and moisturised whole day. I don't feel the need of re-application even after spending 9-10 hours in AC. It makes my skin soft and smooth without giving any uncomfortable greasy/oily feel. I enjoy it more than its dry skin variant in summers and monsoons.
Pros of Parachute Advanced Body Lotion-Summer Fresh:-
Love its fresh minty fragrance
Light texture which blends easily into the skin
Mild cooling sensation while absorption
Absorbs quickly without leaving any traces
Keeps my skin moisturized throughout the day, without any re-application(in summers)
Results in soft and smooth skin
Contains double screen for added sun-protection
Love its curvy packaging.
Affordable price
Cons of Parachute Advanced Body Lotion-Summer Fresh:-
Claims to contain SPF but doesn't mention it anywhere.
It is a light moisturizer which might not provide enough nourishment to dry skin in winters but it is the best body lotion for hot summers.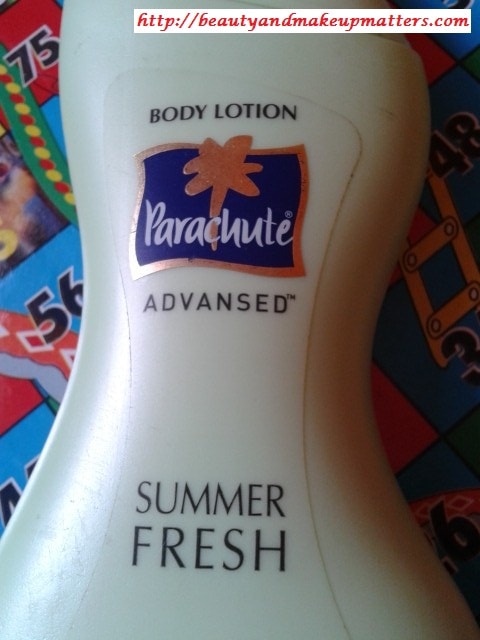 Recommendation:- I didn't enjoy any body lotion more than Parachute Advanced Body Lotion-Summer Fresh lotion   in hot summers and humid monsoons. It is really effective when it comes to providing nourishment to dry skin and non-sticky, non-greasy texture of the lotion makes it perfect choice for summers. I love its color, the mild cooling sensation and the refreshing scent.

Overall, It is a great product and a must have for me in summers. I would highly recommend it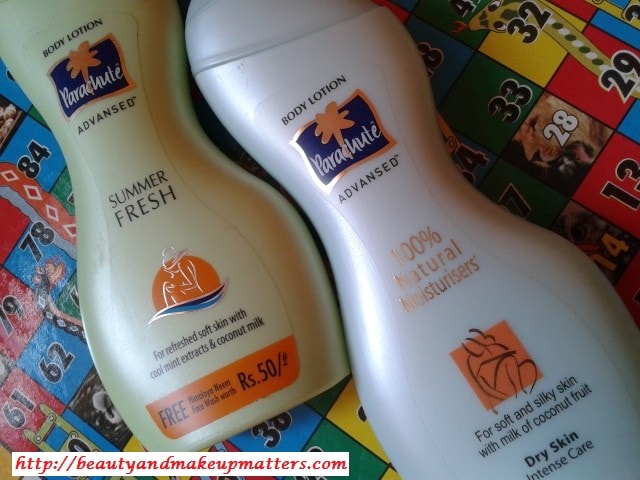 Rating:- 4.8/5  (as a summer moisturiser)
Have you tried Parachute Advanced Body Lotion-Summer Fresh? Which is your favourite variant of Parachute Body Lotions this summer?