Parachute Advanced Body Lotion – Dry Skin Review
Lately I have been looking for a non-greasy, moisturizing body lotion that can provide required nourishment to my dry skin and is neither thick nor greasy for my skin in summers. I have bought few of the Lotus body lotion:-
These are moisturizing but not made for summers as they feel slightly greasy and take time to get absorbed completely. Next, I bought Nivea UV protect Body Lotion which is light and was fulfilling all my requirements. But I love to stock up body lotions and when I was half way through the Nivea UV protect Body lotion, I started looking for another one. This time I bought "Parachute Advanced Body-Dry Skin". It is also available in "Summer Fresh" variant.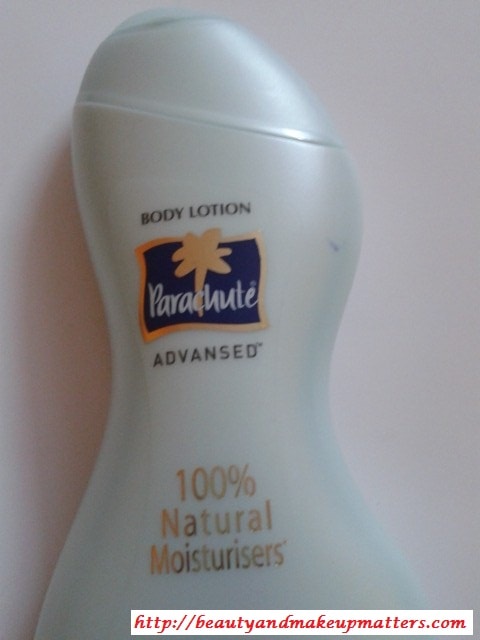 Brand:- Parachute is a name that have always been associated with hair oils but now when they have decided to expand their market base and launched their body lotion; we will see if they had been able to make an impression in the market which is flooded with body lotion.
Product Claims:-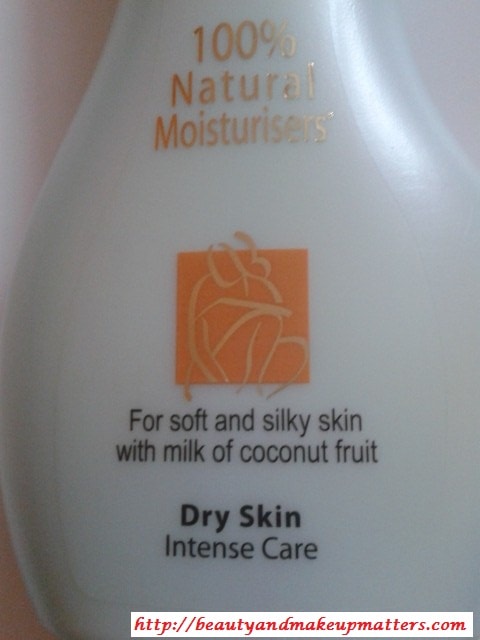 Ingredients:- Aqua, Cocos Nucifera oil, Glycerin, Coconut milk, Steareth-21, Steareth-2, Fragrance, Carbomer.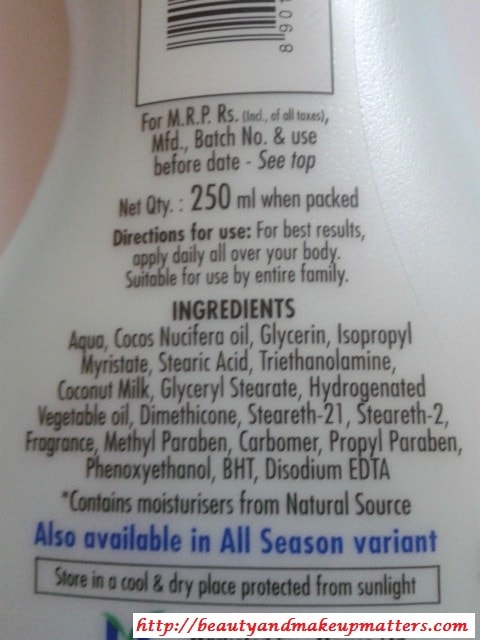 Price:- Rs 99 for 250 ml, Rs 49 for 100 ml.
Shelf Life:-  24 months from the Mfg date.
Packaging:- The lotion comes in an attractive curvy plastic bottle. The shape of the bottle somehow resembles the women's body which gives a sensual feel to the packaging. The bottle is light blue in color with a small flip-cap. The cap shuts tight with a click sound, so can be easily carried along. But the opening knob is a bit small and sometime I find it difficult to fit my nail in that small place.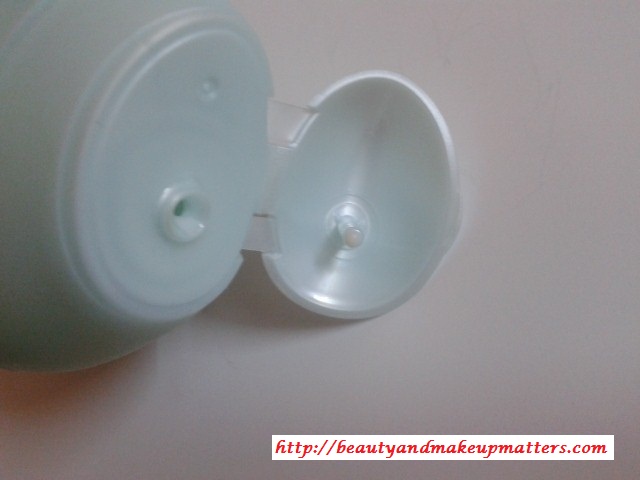 My experience with Parachute Advanced Body Lotion- Dry Skin:-
Parachute Advanced Body Lotion- Dry Skin is a white colored lotion which has a runny consistency. The lotion flows out of the bottle with a slight pressure. The lotion has mild pleasant fragrance which is kind of sweet and has some coconuty notes. I really like the refreshing fragrance of the lotion which lingers on for few minutes.
It is a light-weight formula which spreads easily and get absorbed quickly. It is a non-greasy lotion which moisturizes skin without leaving any uncomfortable oily layer on the skin. The lotion penetrates into the skin quickly and leaves it soft and smooth.  I feel it is more of a hydrating lotion than being a moisturizing one, which suits the skin requirements for summer months.
It has worked really well on me and has made my skin softer and smoother with regular use and has become one my favorite body lotion for summers.
Don't Miss to Checkout:
Swatches:-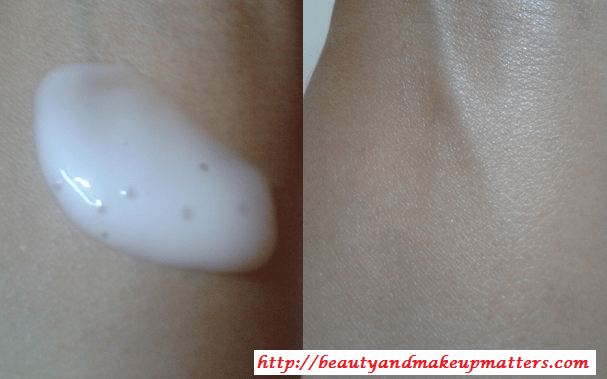 Pros of Parachute Advanced Body Lotion- Dry Skin:-
Non-greasy texture
Gets absorbed quickly without leaving any traces
Moisturizes my skin well and make it soft and smooth
Nice sweet scent
Attractive packaging. Travel sized bottle is also available
Claims to contain from natural source ingredients, no harmful chemicals.
Decently priced
Available in summer fresh variant too
Cons of Parachute Advanced Body Lotion- Summer fresh:-
Not a con but I would love to have sun-protection included in this lotion. To make it a perfect lotion for summers. But the Summer fresh variant has the SPF so that is going to be next on my list.
Recommendation:- Parachute Advanced Body Lotion- Dry Skin is a non-greasy, non-sticky light-weight body lotion with a mild refreshing scent. In spite of its light texture it provides hydration and nourishment to my dry skin and makes it soft and smooth with regular use. If you are looking for a good summer moisturizer then Parachute Advanced Body Lotion- Dry skin must be considered. Highly Recommended!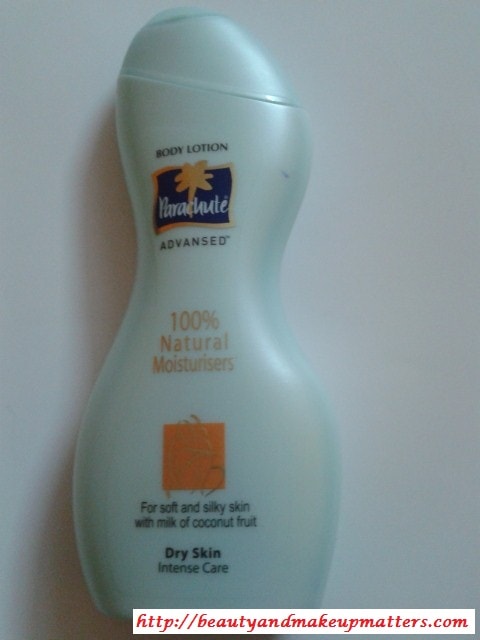 Rating:- 4.1/5
Have you tried Parachute Advanced Body lotion? Which is your favorite variant?