Pamper Yourself with Korean Mask S

heets from Skin18.com

Hello Everyone,

Korean skincare products are everywhere and everyone seems to be addicted to them.. including me! I have been obsessed with Korean Mask Sheets and glad that I can have Korean Mask sheets in India, have a look at my posts where I shared my love for Korean Mask sheets from Skin18.com. I have quite a collection of them now and I love playing around them and picking up one depending on my mood.

Today, I will be sharing some more stuff in addition to Face Mask Sheets from Skin18.com.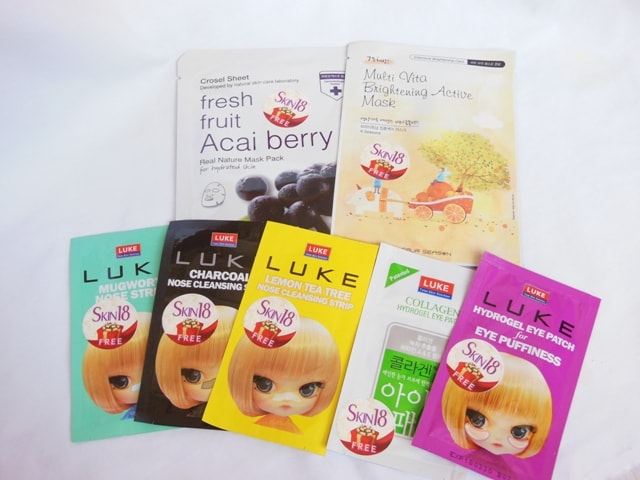 Products Received:
Four Seasons Multi Vita Brightening Active Mask
Mirum Fresh Fruit Acai Berry Real Natural Mask Pack
Luke Hydrogel Eye Patch for Eye Puffiness
Luke Collagen Hydrogel Eye Patch for Eye Puffiness
Luke Lemon Tea Tree Nose Cleansing Strip
Luke Charcoal Nose Cleansing Strip
Luke Mugwort Nose Cleansing Strip
Face Mask sheets: I already have both of these in my collection and I am happy that I got the doubles as now I use them up without any resentment. Though both the mask sheets are quite similar and do a fabulous job at nourishing skin from within I am a little biased towards the Mirum Fresh Fruit Acai Berry Real Natural Mask Pack as it contains Acai Berry which is rich in Anti-oxidants and hence has some anti-ageing benefits.
Nose Strips: You can call me backward but this is the first time I used a Nose strip. I have been seeing them all over the internet but never got a chance to try them or may be I was a little sceptical about using them. I applied the sticky side directly on my nose and sprayed some water on top so that it sticks better to the skin. After 15-20 minutes it starts feeling hard which means its time to pull off.
I could see a little bit of white heads and tiny hair on the strip so it does clean up the nose area though not as much as I expected. Still, a great product to try for an instant cleaning session.
Eye Patches: These Eye patches are quite similar to nose strip and claims to reduce puffy eyes. I have a bad sleeping schedule so I do wake almost everyday with puffy eyes. Though I don't expect these eye patches make a huge difference but anything that will fix my eyes quickly is welcome. They do make a slight difference to the eyes but I like the idea of using these eye patches more than the results ;). They are just fun to use.
Recommendation: Skin18.com is the perfect place if you are on the lookout of Korean Skincare products. They stock majorly all the brands and also provide package protection if your package is lost during transit or held by customs. They also have a free shipping section where you can claim some mask samples at no cost but just the shipping charges… gosh I am amazed at the idea of freebies.. :P. Get your own Korean Mask sheets in India with Skin18.com and enjoy! Tune into their social media to stay updated with offers and discounts:

Facebook: https://www.facebook.com/skin18
Twitter: https://twitter.com/skin18com
Pinterest: https://www.pinterest.com/skin18
Instagram: https://instagram.com/skin18com
Have you tried any of these Korean Masks? Which one you like the most here?
PS: Product sent for review purpose.Honest Opinion!