Palazzos And Jumpsuits – The Mark of Trendy Fashion
But these changes complete their full cycle and come back for modifications, talk about any such trend and we do have a strong history associated with it. Some staples and classics have a classic origin which makes them a timeless pick.
Anything can be made fashionable if it's comfortable? Jumpsuits and palazzos are such timeless picks that keep coming back in trend and we adopt them with an open heart!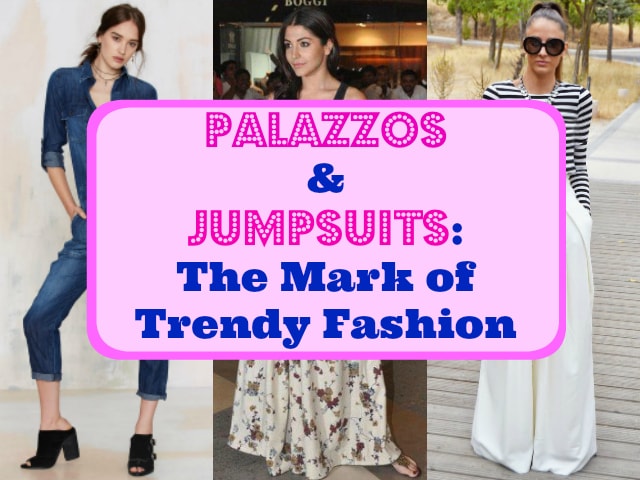 Oh! well, how can we deny that super comfortable pair of palazzos and those smart jumpsuits! Well, these classics have a remarkable appeal and a comfortable ease, which define sheer comfort with fashion.
Flared or narrow legged, sleeveless or with sleeves this one piece are a super chic option women swear by. All you need is the right pick with some good accessories to rock your jumpsuit look.
John Galliano very triumphantly quoted
"Fashion is above all an art of change".
Palazzos And Jumpsuits – Trendy Fashion
To categories broadly on basis of patterns jumpsuits can be categorized in Solid Colors, Denims, and Printed kinds.
1. Solid Colors
2. Denims
3. Printed
And styling these comfortable pieces is no biggie, you just need right accessories and you will be rocking your statement look in no time.  A little bit of mix matching and that's, no rocket science!
Jumpsuits:
Just like Jumpsuits, Palazzo's have come a long way! Flared and comfortable pair of pants that gives you the right style quotient and supreme level of comfort.
Regardless of what is your body type, you can pick these comfort pairs and prep your looks accordingly. What kind of these are in the market and how they can be styled, well we have a quick summary of it. Take a look –
Regular Palazzo Pants
The ones with regular flair, no pleats that are just so very comfortable! Pair them with long kurtas, they are like happier counterparts of your good old leggings.
 2. Layered and Pleated Palazzo
Palazzo with more flair, the ones that have more volume and layers they should be styled with well-fitted tops and a statement piece of accessory will complete the look.
The pleated ones give an impression of flared skirts with the comfort of pants, they are best for ethnic looks when styled with a vibrant jacket or short kurta.
3. Culottes –
Popularly called as a younger lad of palazzo pant, as these end inches before ankles, well flared and often supported with buttons. Short jackets, shirts or crop tops are some good options to style with culottes.
You can check out the beautiful collection of Jumpsuits and Palazzos on Shoppers Stop online website.
I haven't tried this trend but I am all set for Denim Jumpsuits and flared Palazzo pants.. so comfy and chic!!
Don't Miss to Checkout:
Have you tried this Fashion trend? Which is your favorite style here?