PAC Cosmetics Ultimate Blender Sponge Review
I have been addicted to Beauty blenders now and they are my favourite thing to blend in the foundation and concealer for that flawless finish. I started my journey with Real Techniques Beauty Sponge and then I met the awesome PAC Beauty Blender which is so affordable and easily available in India that I didn't look back. Today, I am going to share some more awesomeness from the brand PAC Cosmetics, the PAC Cosmetics Ultimate Beauty Blender Sponge – Black.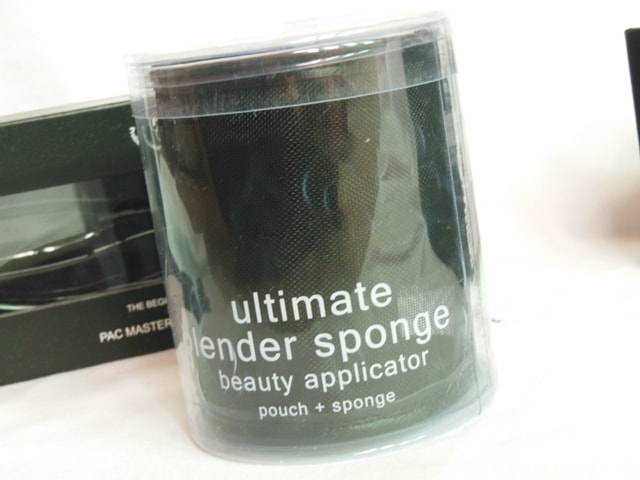 Price: Rs 745 (Buy on Amazon)
Packaging: PAC Cosmetics Ultimate Blender Sponge comes in a clear plastic jar with small black mesh pouch to hold the beauty blender/sponges. The pouch has a magnetic enclosure which shuts easily and tightly. The best thing about its packaging is even of the blender is wet I can store it in the mesh pouch and let it dry.
My experience with PAC Cosmetics Ultimate Blender Sponge:
PAC Cosmetics Ultimate Blender Sponge is a pack of two which contains 2 beauty sponges in black, one of which is a tear drop shaped with a fat bottom and pointed tip white the other one has a slanted tip and pointed bottom which looks similar to the Real Techniques Beauty Sponge.
PAC Cosmetics Ultimate Blender Sponge is also available in Pink, which might help you even more in makeup application by adding that feminine touch 😉
The beauty sponges are quite soft to touch even when dry. They look small but quickly fluffs up to almost double in size when soaked in water and gets even softer and smoother. I have also shared the details on how to use the Beauty Blender so you might want to check that out.
Uses of Beauty Sponges:
Liquid or Cream Makeup Base: I love using beauty sponges to blend in the base makeup like foundation and concealer. They work best with heavy coverage cream based products to provide that even, flawless finish as they push the product in the skin and absorb all the excess product so the face never look cakey or feel heavy.
Baking: The beauty sponges can also be used to pick loose powder and bake the under eye area as well as the contour. '
Just bounce the sponge all over your face till it beats the product into your skin.
Recommendation: PAC Cosmetics Ultimate Blender Sponge is a great combo to try both designs of the beauty sponges and pick which one works best for you. I like to use Tear Drop one for belnding in the foundation and the slanted one for blending concealer and baking the under eye area. They are one of the best alternative to the Original beauty blender at an affordable price and without compromising on the quality . I love how soft and squishy they becomes after being soaked in water. The quality us top most and it does blend in heaviest of the foundation with ease. Just be a little careful while using it and avoid digging nails in the sponge and you are good to go. I have washed these 2-3 times and they stayed intact. I love these and I am sure you will love them too. Highly Recommended!
Rating: 5/5
Don't Miss to Checkout:
Have you tried PAC Cosmetics Ultimate Blender Sponge Black? Which is your favourite Brush/Sponge to blend in Foundation?
PS: Product sent by brand for consideration but honest review as always!