PAC Cosmetics Intense Duo Eyeliner Pencil Review, EOTD: Marc Jacobs Dupe?
Hey Gorgeous, I wasn't planning to fall in love but seriously I did. PAC Cosmetics is my latest obsession and I love the new products they are coming up with and this beautiful Eye Liner pencil, PAC Cosmetics Intense Duo Eyeliner Pencil is one of them.
I have tried N number of Eyeliner Pencils in the past but trust me nothing looked as stunning as this one. The liner does remind me of the MARC JACOBS eye liners which are a dream so let's see of this PAC Intense Duo Eyeliner Pencil can be considered as a dupe for Marc Jacobs Eye Liners.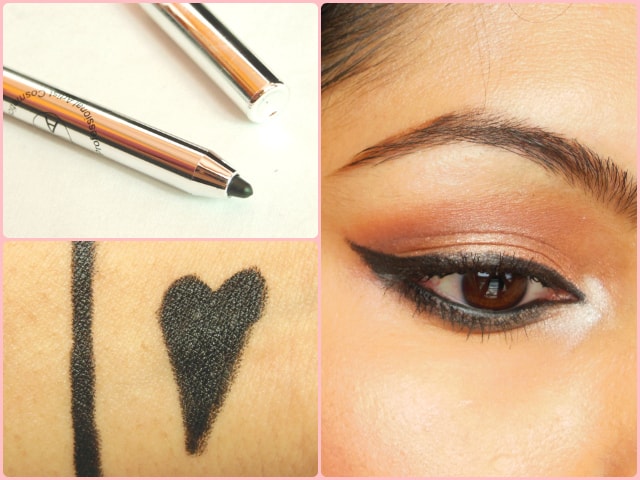 Product Description: PAC Intense duo eyeliner pencil gives you the luxury of gel eyeliner with the ease of a kohl pencil
Make a bold statement with this extreme-wear, waterproof eyeliner that glides on effortlessly to deliver instant color payoff. , the super-malleable formula offers versatility of application.
Use it to create flawless, precise lines, or smudge immediately after lining for an instant smoky eye.
Formulated with innovative gel ingredients and conditioning vitamin E and rosehip seed oil.
Its intense color comes in an array of richly pigmented shades, including Blacquer, the blackest, shiniest black for irresistible look.
Price: Rs.585 for 0.50 gms (Buy On Amazon)
Packaging: PAC Cosmetics Intense Duo Eyeliner Pencil comes in stunning metallic, chrome finished sleek pencil body with retractable mechanism. The color band at bottom shows the color of the liner which is black in this case. There is also a sharpener at the end which can be helpful if I need to sharpen the tip of the liner. The packaging looks luxurious and easily stands out of the rest.
My Experience with PAC Cosmetics Intense Duo Eyeliner Pencil:
Formula: PAC Cosmetics Intense Duo Eyeliner Pencil in Black is deep dark black eye liner in creamy finish with a hint of shine. The texture is super buttery and the liner glides like dream on eyes. The formula reminds me of L'Oreal Silkissime Eye Liners which have similar creaminess.
Pigmentation: The formula is immensely pigmented and when I say this trust me it has more color payoff than any of the other drugstore liners. The PAC Intense Duo Eyeliner Pencil feels like a Gel liner in pencil form, so smooth and creamy. I loved the new L'Oreal Kajal Magique Bold a lot but this PAC one is even better than that. It goes smoothly on lids giving intense color payoff. I have even tried it on waterline and it looked awesome.
Longevity: Don't get distracted by the creamy texture of the eye liner because it sets to an absolute smudge proof finish. It takes a few seconds to settle down in which you can smudge it and get that smokey eye effect. Once it is set, it won't come off even of rubbed hard. So, for oily lids it's like a blessing in disguise. The liner lasts whole day 8-10 hours or even more with barely any signs of fading.
I have tried other liners from PAC earlier but none of them was impressive. I am so glad that PAC finally came up with this, PAC Intense Duo Eyeliner because it's the best.
Is it a Dupe of MARC Jacobs Eye Liners?
Packaging wise it looks so very similar to them but I haven't seen the Marc Jacobs liners in person. Also, the formula is top-notch so can't say if Marc Jacobs will be better than this. It looks like a Dupe to me.. 😀
Recommendation: PAC Cosmetics Intense Duo Eyeliner Pencil is a stunner and one of the best Eye Liners in India. The gorgeous retractable packaging adds X-factor to the pencil and the bang on pigmentation and buttery smooth formula does the rest. It glides on eyes without any tugging or pulling. It sets quickly to transfer-proof finish and refuses to budge even after rubbing hard. PAC Intense Duo Eyeliner is a jet black kohl which has everything I look for in an Eye liner. It is a bit pricey but the quality makes it totally worth the money. I want to request PAC Cosmetics team to come with more colors in this range. Highly Recommended!
Rating: 5/5
Don't Miss to Checkout:
Have you tried PAC Cosmetics Intense Duo Eyeliner Pencil? Which is your favourite Eye Liner Pencil?
PS: Product sent by brand for consideration but honest and unbiased opinion.
PPS: The liner isn't looking that intense on lids because it got layered with eye shadow but trust me its super duper black ( thanks to my hooded lids :P)