PAC Colorlock Long Lasting Lip Liners Review 
I guess I haven't reviewed any lip liner in ages. When I started with makeup I was obsessed with lip liners and tried a few from Maybelline and Diana of London (which I really loved). But after that due to sheer laziness I stopped using them at all. Lately, I wanted to add some lip liners to my makeup stash and that's when these PAC Colorlock Long Lasting Lip Liners came to me. I have tried some of the PAC Master Stroke Brushes and PAC Beauty Blenders which have really impressed me. Today, lets see how these PAC Long Lasting Colorlock Lip Liners worked for me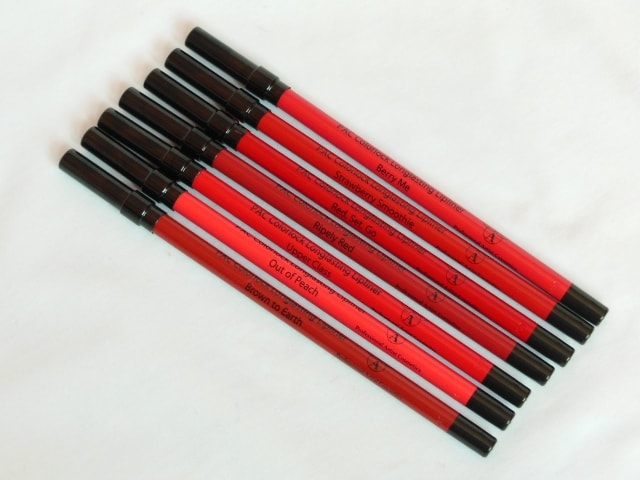 Review and lip swatches: Video is now live..
Product Description: A formula which is unique in every way Purely pigmented, Waterproof, Smudge proof, Pure matte Are you thinking the long lasting power ? we would want you to decide that.Because for us they last forever 🙂
Price: Rs 385 each (Buy on Amazon)
Shades Available:
Brown to Earth
Strawberry Smoothie
Red Set Go!
Upper Class
Ripley Red
Berry Me
Out of Peach
Packaging: PAC Colorlock Long Lasting Lip Liners come in a color coded packaging with a black plastic cap. The pencils are much longer that any other wooden lip liner from Indian drugstore brand. These are wooden pencils which need to be sharpened, so you ought to get a sharpener with these. Sharpening may lead to wastage but it is much hygienic to use that way. Also, you can get the pointed tip back by sharpening the pencil.
My experience with PAC Colorlock Long Lasting Lip Liners:
PAC Colorlock Lip Liners comes in 7 gorgeous shades. The shades look quite similar from the outer packaging but they are totally different when swatched. The PAC Colorlock Lip Liner collection has some beautiful reds and reddish-pinks. While most of the shades have red undertones there is a gorgeous brown that totally stole my heart.. yes that's Brown to Earth!
Texture:
They have fairly soft creamy texture which glides easily on well moisturised lips. The liner might tug when used on dry lips, so pat a little bit of lip balm before applying these for a smooth application.
Formula:
The formula is water proof and smudge-proof. The lip liners quickly set to a matte finish after which it will not budge. The liners doesn't bleed or smudge for the whole time they are on lips. The formula doesn't feel moisturizing to the lips and I can feel the dryness on lips. But its not too drying and a dab of lip balm before application can help. You can also top them with a sheer gloss for comfortable, pigmented, glossy lips.
Pigmentation:
These PAC Lip Liners are beautifully pigmented. They have a rich color payoff and in just one swipe they give true to the pencil color on lips. I love to use these as an all over color as they give such a nice definition to the lips along with opaque color coverage 1 -2 swipes. Only the "Out of Peach: was slightly sheer and a little patchy on me, the rest were awesome.
Staying Power:
The deciding factor on the efficacy of any lip liner is its longevity. And these PAC Lip Liners surely does a good job by staying put on lips for long. The formula hugs the lips really well and if allowed to settle for a minute or 2 it will last for 7-8 hours easily with light meals in between. It might flake from the center of lips after oily food but otherwise rest assured they are going to stick to your lips.
Swatch Test:
I swatched these on my arm and tried rubbing under running water and nothing came off.. no smudging or bleeding of colors. Only after many vigorous rubs I saw some flaking. The formula is really impressive.
Shades:
Recommendation: PAC Colorlock Long Lasting Lip Liners have a beautiful variety of Reds in the range. The formula is creamy which glides well and give an even coverage expect Out of Peach. The liners are packed with color pigments and give rich color payoff. They need few seconds to set to a smudge proof, water-proof finish after which they wont whole day on lips. They have a beautiful matte finish but are slightly drying on lips. I wish PAC Cosmetics come up with more shades in this lip liner collection from brown and pink color family. Overall, I am really impressed with the quality of these lip liner at the price. My favorites are Brown to Earth, Ripley Red and Red Set Go!. Recommended!
L-R: Strawberry Smoothie, Ripley Red, Berry Me, Brown to Earth, Upper Class, Red Set Go,Out of Peach
Rating: 4.5/5
Don't Miss to Checkout:
Have you tried PAC Colorlock Long Lasting Lip Liners? Which is your favorite Lip Liner?
PS: Product sent by brand for consideration but honest and unbiased opinion.