OxyGlow Aloe Vera & Citrus Deep Cleansing Milk Review
Cleanser/makeup remover is the most important part of my daily beauty regime. I have a dry skin so I prefer cleaning milk over an oil based makeup remover as i find them little more hydrating but for eyes I better stick to oil based as it hurts like hell when cream enters the eyes. I have been trying and testing various makeup removers/ cleansers, to pick which works best for me, so next on my list is OxyGlow Aloe Vera & Citrus Deep Cleansing Milk.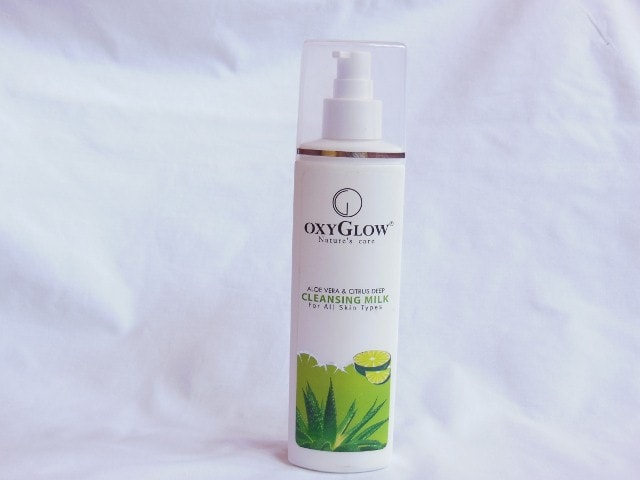 Product Description: OXYGLOW presents this Aloe Vera & Citrus Deep Cleansing Milk that is all you need to deeply cleanse and nourish your skin. Enriched with coconut oil, aloe vera, lemon peel and peach extract, it will effectively remove excess oil, dirt and grime, thus making your skin beautiful and glowing.
Ingredients: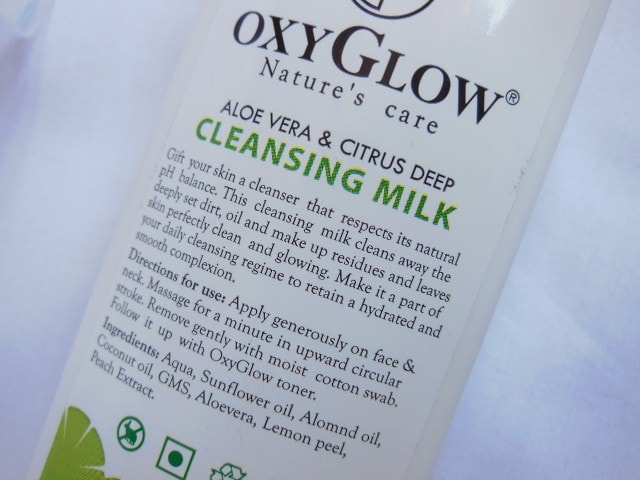 Price: Rs 260 for 210 ml
Packaging: The cleanser comes in a huge white colored plastic bottle with a pump dispenser. Though pump dispenser is my preferred packaging but it dispenses very little in a single pump and I need at least 6-7 pumps for one time application, which becomes tiresome. The bottle is sturdy and hygienic to use but doesn't come handy due to its huge size.
My Experience with OxyGlow Aloe Vera & Citrus Deep Cleansing Milk:
It is a white colored creamy cleanser with lotion like consistency i.e neither too thick nor runny which spreads nicely all over the face. It has light lemony fragrance which is pleasant and refreshing to the senses, not overwhelming at all. It does a good job at removing facial makeup but have to very careful for eye makeup removal as if it stings really bad if gets into the eyes. Also, it doesn't works best for removing water-proof makeup and takes multiple swipes for complete removal. The cleanser works well for my dry skin and the texture isn't extremely creamy or greasy so I think it will work for oily/combi skin too
I love the moisturized effect these cleansers leave over Oil based Makeup removers which kind of leave a slick oily layer on skin but for eye makeup removal I think My vote still goes to them for being efficient without causing any pain to the eyes.
Pros of OxyGlow Aloe Vera & Citrus Deep Cleansing Milk:
Light creamy consistency
Pleasant tangy aroma
Non-greasy texture
Removes light makeup easily
Deep Cleanses skin from all sort of impurities/dirt/Makeup
Leaves skin hydrated
Formulated with Aloe Vera extracts
Pocket friendly price
Cons of OxyGlow Aloe Vera & Citrus Deep Cleansing Milk:
Sting eyes, if comes in contact
Not good at water-proof makeup removal
Bulky packaging
Contains Parabens
Recommendation: OxyGlow Aloe Vera & Citrus Deep Cleansing Milk cleanses skin effectively dissolving all impurities, makeup and leaving it smooth and hydrated but one has to be cautious while using it close to the eyes as it can cause slight burning sensation. It is an affordable cleaning milk for daily use and light weight creamy texture will work for all skin types. The cleanser is infused with goodness of Aloe Vera and Lemon extracts but just the traces of it. Sometimes I wonder if there is actually any difference between a cleanser and a body lotion at all.
Rating: 3.5/5
Have you tried OxyGlow Aloe Vera & Citrus Deep Cleansing Milk Review? Do you prefer Cleansers or Makeup Removers?