Oshea Herbals Papayaclean Anti-Blemish Face Wash Review
 I have a feeling that I am obsessed with face washes lately. I have tried almost 10 different face washes over last few months but thankfully most of them worked for me! So, now you know the obsession with face washes. Today, I am sharing another face wash which is Oshea Herbals Papayaclean Anti-Blemish Face Wash.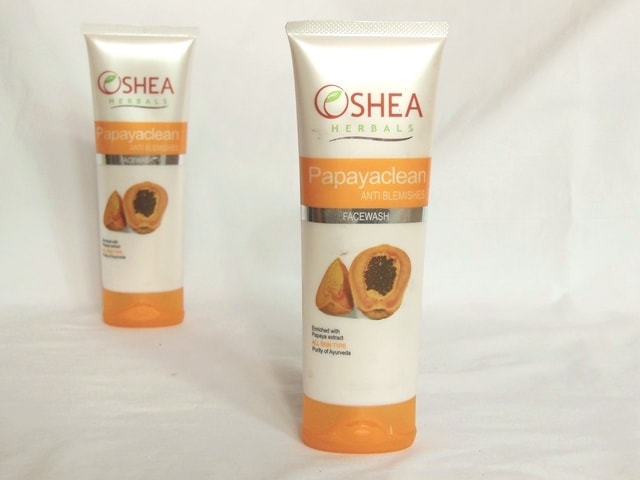 Product Claims: An unique face wash developed scientifically using papaya extract with natural vitamin E which deep cleanses the skin, lighten the blemishes marks and removes impurities from the skin leaving it refreshed. Use regularly for clean, fresh and glowing skin. Suitable for all skin types
Active Ingredients :
Aloe Vera Gel – Excellent Moisturizing & skin healing properties.
Papaya Enzyme – known for reducing Blemishes & pigmentation spots.
Licorice Extracts – Suppresses production of melanin which causes skin darkening.
Directions for Use: Apply to wet skin, massage well and rinse off well with fresh water. Use regularly, every morning & evening.
Size Available: 80gm, 120gm,
Price: Rs 115 for 80gms
Packaging: Oshea Papaya Clean Anti Blemish Face Wash comes in a sleek, long squeeze tube packaging with a sealed cap. I absolutely loved the idea of sealed packaging which will keep the product safe and guarantee the quality. The seal breaks easily though.
My Experience with Oshea Herbals Papayaclean Anti-Blemish Face Wash:
Oshea Herbals Papayaclean Anti-Blemish Face Wash has a pale yellow colored face wash with a pearly finish. The texture of the face wash is medium-thick which spreads easily and gives rich foam. I was actually surprised to see the amount of foam it makes with a little quantity.
Just a small pea-sized is required full face and it deep cleanses the skin. It is almost like a foaming face wash and reminds me of the Benton Foaming Face wash with its texture and results.
It gets washed off completely leaving behind squeaky clean skin. But as I have dry skin it starts getting uncomfortable and a little stretchy if not followed with a moisturizer. However, if you have oily skin it will keep your face oil free for hours. Especially during summers, when skin is always soaked in oil.
Oshea Papayaclean Face Wash is amalgamated with the goodness of Papaya, Aloe Vera and Vitamin E which removes the dead skin cells and reduces blemishes while revealing fresh and clear skin. Also, Licorice and Mulberry extract in the face wash helps lightening the skin tone while reducing the signs of aging.
Recommendation: Oshea Herbals Papayaclean Anti-Blemish Face Wash is a creamy face wash which gives super rich lather when rubbed on face with water. It deep cleanses the skin leaving behind no residue. The skin feels firm and clear for hours but it gets slightly uncomfortable for my dry skin. So, I have to follow with a moisturizer. I like that it conatins natural ingredients like Papaya, Aloe vera and Licorice Extracts which help in reducing blemishes but I miss the complete ingredients list, as only active ingredients are mentioned on the packaging. Overall, a good face wash for oily skin!
Don't Miss to Checkout:
Have you tried Oshea Herbals Papayaclean Anti-Blemish Face Wash? Which is your favorite face wash?
 PS: Product sent by brand for consideration but honest and unbiased review!