Oshea Herbals Hairfall Control Serum Review
I have been suffering from hair fall since months now and have been trying and testing everything possible to reduce the hair fall. I have changed my diet to include more proteins, added new oils in my hair care regime that help in addressing hairfall and everything alike. Latest one in my hair care regime is this, Oshea Herbals Hairfall Control Serum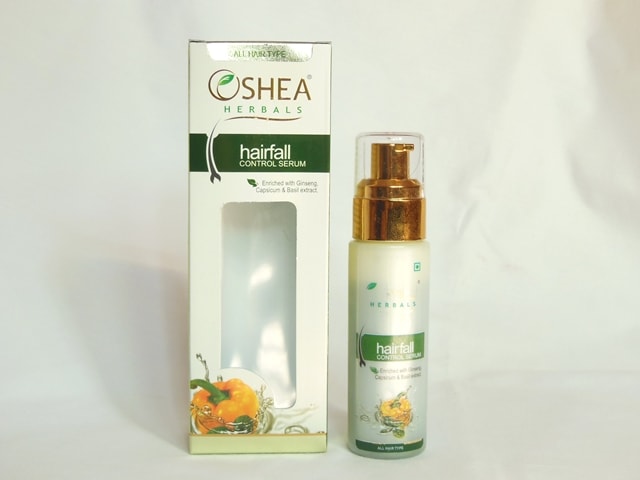 Product Claims: Oshea Herbals Hairfall Control Serum is exclusive hair fall control serum contains herbals extracts which helps to revive and strengthen every hair strand right to the roots. Reduces hair fall . This formulation does not contain any harmful chemicals and is suitable for all kind of hair.
Active Ingredients :
Citric Acid-Astringent, Ginseng ext-Promotes new cell regeneration, Basil ext-Anti fungal, Ashwagandha ext.-Promotes new cells growth.
Directions for Use: Take 4-5 drops of Hair Fall Control Serum on the palm of your hand and apply on the hair roots, massage gently in to the scalp for 30 seconds. Leave and let hair dry normally. Use twice daily.
Price: Rs 395 for 50ml
Packaging: Oshea Herbals Hairfall Control Serum comes in a small pump dispenser packaging with clear cap. The pump packaging makes it easy to use and carry along.
My experience with Oshea Herbals Hairfall Control Serum:
Oshea Herbals Hairfall Control Serum is a dark green colored gel with a thin slimy texture. It spread on easily and gives an instant cooling sensation.
The serum feels really light in scalp and gets absorbed quickly without leaving any residue. I use it twice a day and it doesn't make my hair feel sticky or greasy at all. It doesn't weigh down hair at all.
It has a mild herbal fragrance which isn't overwhelming and fades away quickly.
The formula is enriched with ginseng, capsicum, basil extracts, ashwagandha, amla and neem extracts which helps in promoting cell regeneration and reduces hair fall.
Results:
I have been using this serum for 3 weeks now and I can tell you that I really enjoyed applying it on my scalp. Though, as I have thicker hair I have to use a bit more than recommended covering all of my scalp area. The scalp irritation has reduced to a great extent but I am still waiting to see a considerable difference in Hair fall. Also, sometimes I forget to apply it so I hope if I will be regular the results would be faster. I will keep using it until I finish it up. And if it is able to significantly reduce my hair fall during that, you will be updated!
Recommendation: Oshea Herbals Hairfall Control Serum is a natural blend of herbs which stimulates hair growth while combating hair fall. The texture is very thin and light which gets absorbed quickly into the skin without leaving any oily residue. It can be used daily and even on washed hair as it does make hair greasy. The formula is enriched with natural ingredients like Ginseng, Citric Acid and Basil extracts etc. which promotes hair growth and keep scalp issues at bay. It has helped in reducing hair fall and scalp irritation but I guess I have to keep using to it to see a major difference. Overall, good option to include in your hair care routine and address the regular hair fall issue proactively.
Rating: 3.5/5
Don't Miss to Checkout:
Have you tried Oshea Herbals Hairfall Control Serum? Which is your favorite Anti-hair fall Serum?
 PS: Product sent by brand for consideration but honest and unbiased opinion!