Orly Nail Enamel – Green with Envy Review, NOTD
Today I am going to review the first most expensive nail enamel in my collection the Orly Nail Enamel in Green with Envy shade. I have fallen for this beautiful shade after looking at its online swatches and had to get it no matter what the price tag is.
Though, I bought it long back because but didn't use it much or can I say used it only once in all those months just to try the shade and then it got lost somewhere and I completely forgot about it. One good day while organizing the nail enamel bottles I saw this tiny little bottle lying unconsciously on the card box floor. I immediately rescued the bottle and promised not to overlook it anymore.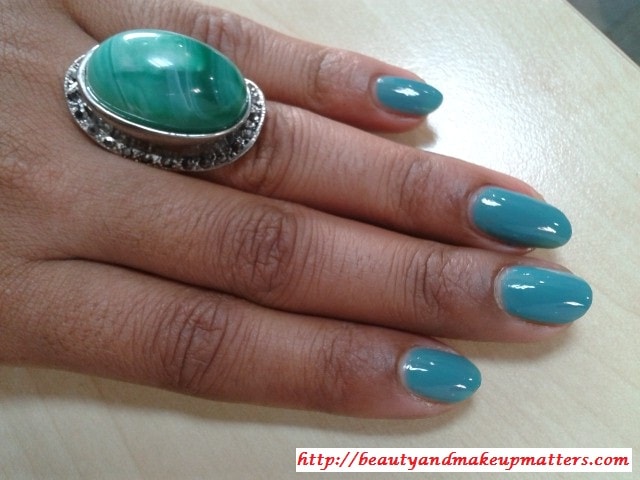 Product Claims: As one of the nail care industry's renowned color houses, ORLY seasonally introduces new collections and updates its array of over 150 permanent lacquers. By diligently analyzing fashion trends and precisely custom-blending hues, ORLY has established a dynamic palette composed of subtle sheers, vivid crèmes, dazzling shimmers, smooth glitters and hot neons. Plus, each ORLY lacquer is free of DBP, Toluene, Formaldehyde and features our award-winning Gripper Cap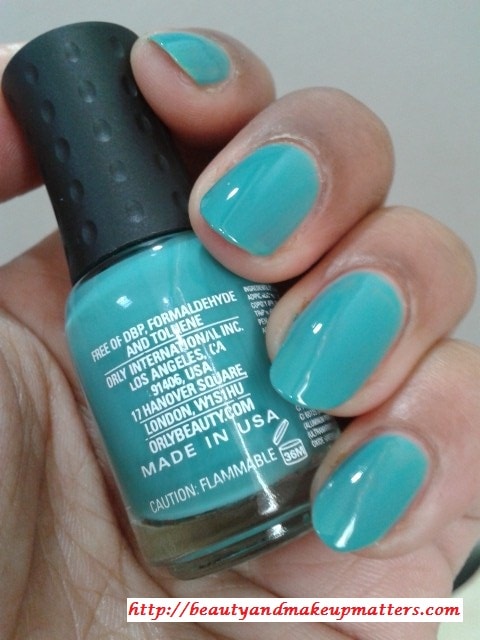 Available in 4 finishes:-
Ingredients:- Complete ingredients list is mentioned at the back of the bottle. I really didn't want to punish my eyes by such miniscule details so tried capturing it with camera.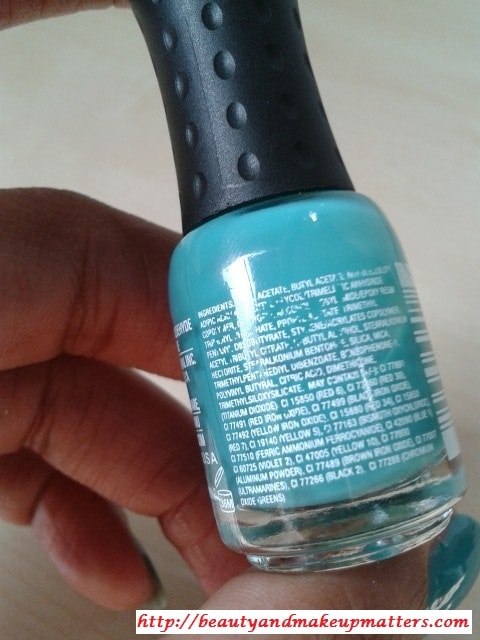 Price:- Rs.299 for 5.3ml
Packaging:- The nail enamel comes in a cute cylindrical bottle with a sturdy base. It has a small plastic made applicator handle with brand motif embossed on the top. The handle has dotted pattern engraved over it which provide a firm grip and prevent it from slipping. The length of the applicator is small considering the small size of the bottle but was pretty satisfied to see the long bristles.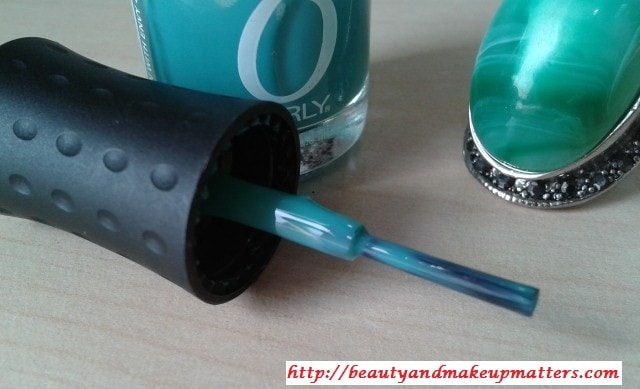 My experience with Orly Nail Enamel – Green with Envy:-
Green with Envy is a light green shade and has hint of sky blue color. The green isn't loud or bright nail color but very sober yet attractive. The color is very soothing to the eyes which make it perfect summer green nail enamel.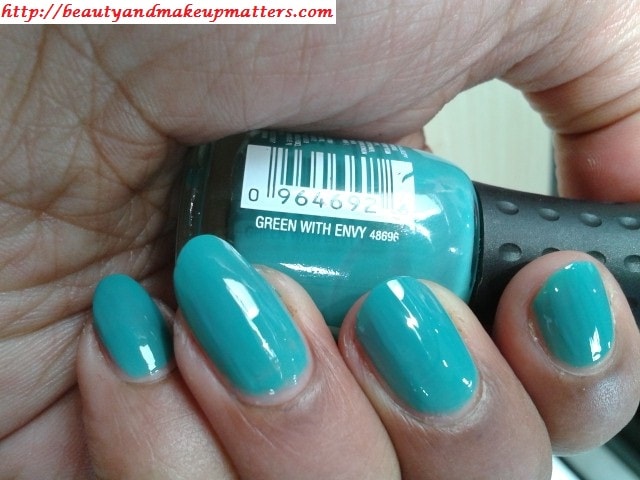 The formula of the nail enamel is extremely runny but thankfully the slim and long bristles of the brush handle the liquid quite easily and apply it nicely over the nails.
The nail enamel goes on very sheer in first coat and need at least 4-5 coats to give a nice opaque finish. It goes a bit streaky and uneven in first few coats but as the color starts building up the coverage also gets smoother and goes absolutely non-streaky with the last (4th) coat.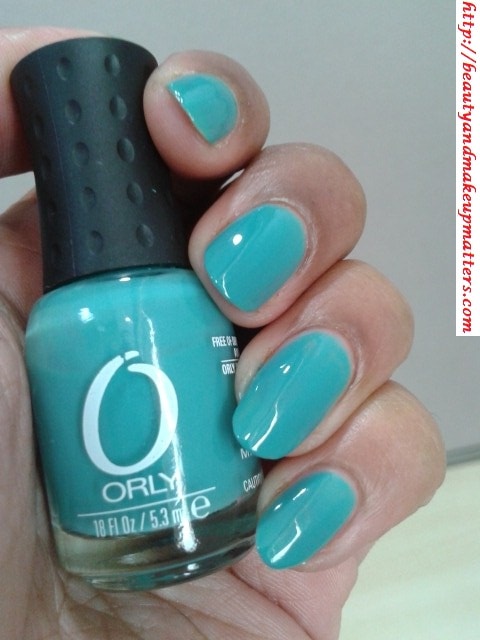 Usually the nail enamel goes thick with multiple coats which would take ages to dry and set completely. So I preferably go for thinner coats, with thin coats the nail enamels dries pretty quickly which helps in fast application. Little bit of tolerance will do the trick and give a lovely finish.
It dries to a creamy glossy finish which I like. The nail enamel a commendable job with its long staying power. It retains its gloss and stays good for almost 4-5 days with minimal chipping.
** In pic it is appearing more blue than what it actually is. I tried hard but my cam wasnt just picking up the green tones in it.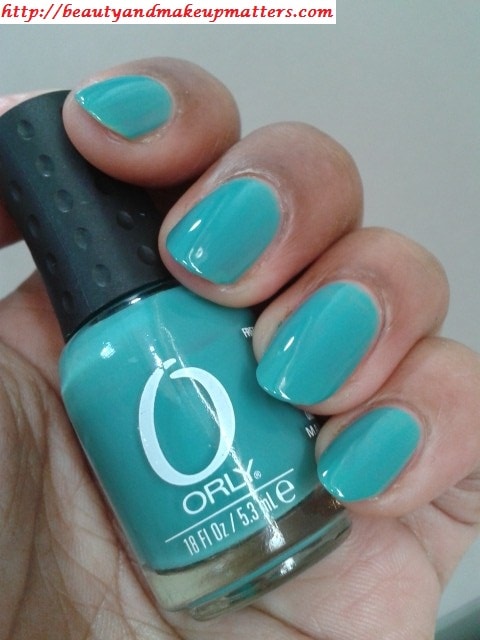 Pros of Orly Nail Enamel – Green with Envy:-
Gorgeous light green shade
Free from harmful chemicals like DBP, Toluene, Formaldehyde
The nice grip pattern on handle for non-slippery applicator
Dries fast
Creamy and highly glossy finish
Lasts forever on my nails without fading
Narrow and long brush for smooth application
Goes streaky at first but with 4-5 coats gives a smooth and even application
Available in various finishes and endless colors.
Cons of Orly Nail Enamel – Green with Envy:-
Extremely runny consistency
Color pay off isn't great and need multiple coats to go opaque
Expensive
Not easily available in India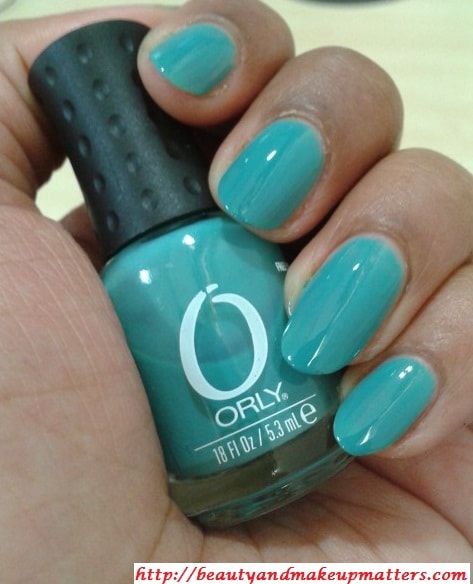 Recommendation:- Orly Nail Enamel – Green with Envy is an attractive summerish green shade. It is one of the smartest green shades which don't make my hands appear dull. The firm grip on applicator and nicely packed bristles applies the nail enamel gracefully. The formula is runny and sheer but the color is buildable which goes opaque in 4-5 coats. It dries really quickly to a creamy glossy finish which lasts long.

Green with Envy is a wonderful creamy green shade which looks superb on my nails. I would totally recommend this shade for its color, dry time and finish.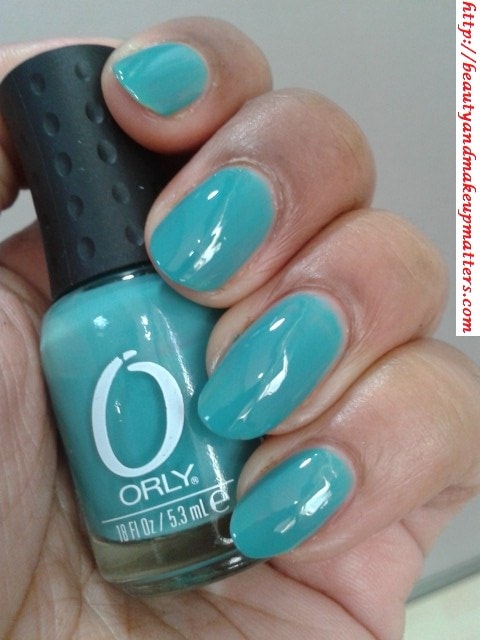 Rating:- 3.8/5
Have you tried Orly Nail Enamel – Green with Envy? Do you prefer such light green shades?