Oriflame Very me Metallic Nail Polish – Review & NOTDs
Today, I am going to review 3 nails paints together that I for review so be rest assured that ts post is going to be picture heavy. So, let see how I liked these new entrants on the block, Oriflame Very Me Metallic Nail Polish in Shades – Pink Pearl, Sweet Candy and Gold Rush.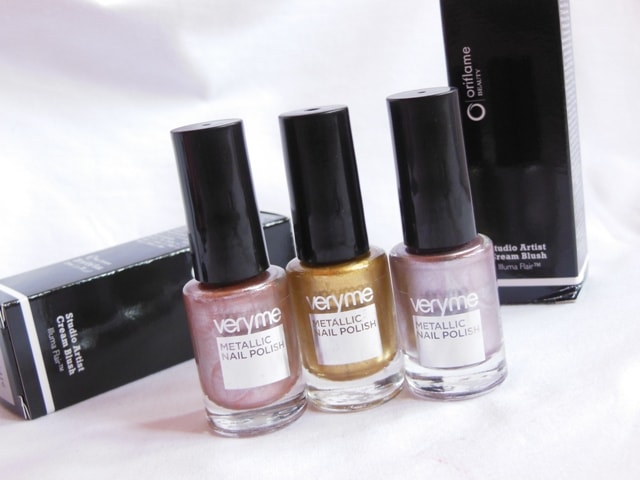 Price:- Rs.149 for 6ml
Shelf Life:-  30 months from the Mfg date.
Packaging:- The nails paints come in a sleek cylindrical bottle with a basic round black cap. The packaging isn't bad but quite basic and plain. The brush is slimmer and longer than the usual which gives hassle-free application but after L'Oreal Nail Paints I prefer curved brushes more.
My experience with Oriflame Very Me Metallic Nail Polish:-
Gold Rush: It is yellow based golden shade with high metallic sheen. It has golden pearls milled in the formula with chunks of silver shimmers that adds a little more shine to it. The formula is slightly runny but it gets applied smoothly giving an even coverage. Due to its runny texture, I need at least 3 coats to build it to full opacity.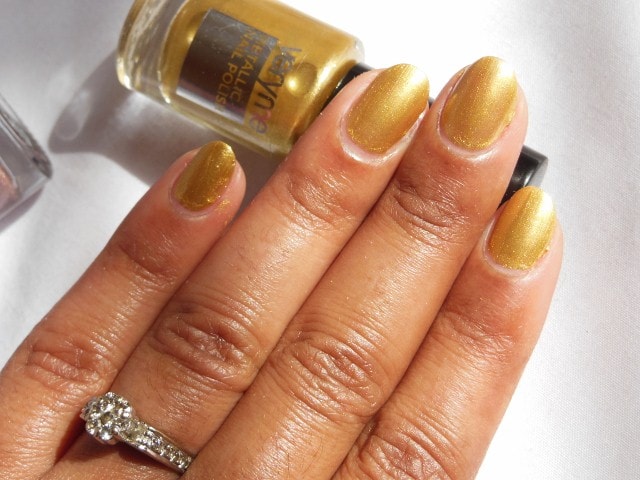 Sweet Candy: It is peachy nude shade which leans towards bronze with a beautiful pearly finish. This is the most pigmented of the lot, just one coat and it completely covers my nails. The formula is on the thicker side but that doesn't come in it way and it still gives a smoother and effortless application. n It makes a great neutral shade that I usually love more on my feet than hands.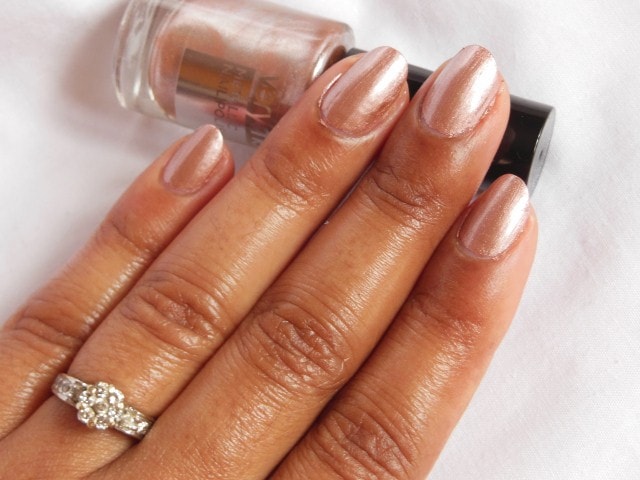 Pink Pearl: It's a taupe pink shade with slight lavender undertones in pearly-metallic finish. The color pay off is good and it glides smoothly over the nails but the formula isn't as good as others and I could see visible brush strokes of application. The color has duo chrome effect which makes it look better under white light than natural light. Frankly speaking, I didn't quite liked this shade and is my least favorite of all three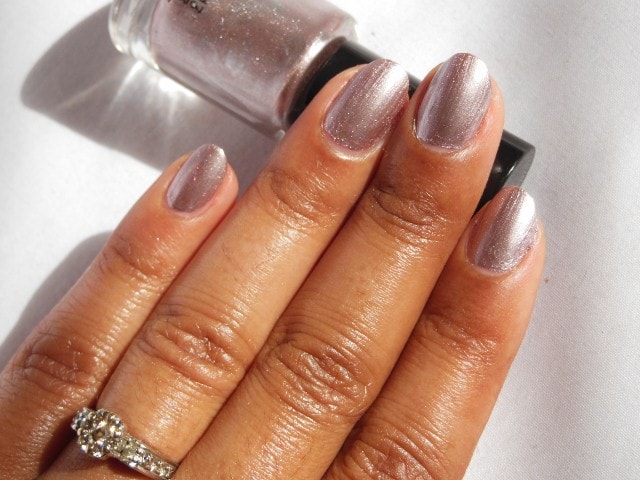 The nail paints applied smoothly and their medium-thin consistency aided faster application. The colors come saturated in single coat itself but go for another one for intense color coverage. Their formula dries really fast and with in seconds of application it settles completely and becomes impression-proof. They stayed for 4-5 days on me without any top/base coats with slight tip-wear.
Don't Miss to Checkout:
Pros of Oriflame Very Me Metallic Nail Polish:-
Beautiful metallic-pearly finish
Smooth, workable consistency
Glides easily
1-2 coats for absolutely opaque coverage
Settles quickly
No bubbling or pooling around the edges
Stays well on me
Affordably priced
Cons of  Oriflame Very Me Metallic Nail Polish:-
Gold Rush applied slightly sheer and required 2-3 coats for opaque coverage
Availability is an issue as these are available through Oriflame consultants only
Recommendation:- Oriflame Very Me Metallic Nail Polish in Gold Rush, Sweet Candy and Pink pearl are all high on pearly metallic finish. The range includes basic shades like peaches and pink which are quite wearable but I would have really liked some solid shades like pink, coral hand blue in range. Otherwise, these are decent nail paints in pocket-friendly prices and pigmented formula which dries up quickly leaving no room for impressions.
Have you tried Oriflame Very Me Metallic Nail Polish? Do you like such light colors or solid shades on hands?
PS: I have received these as PR samples for honest review.