Oriflame Tender Care Protecting Balm Review
Today I am reviewing another product from my first haul from Oriflame the "Oriflame Tender Care Protecting Balm". I bought it along with "Oriflame Multi benefits Under eye cream".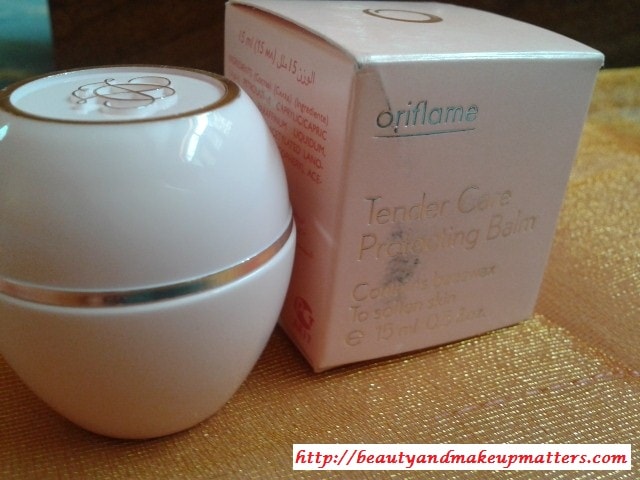 Product Claims: A totally versatile pot of magic based on bees wax and vegetable oils. Use on sides of eyes, lips, face, cuticles or any area which is dry, sore or roughened to instantly restore softness
Contains beeswax to soften skin
Direction for Use:- An all-round cream to be gently applied to any area of the skin that is dry, rough or sore.
As a lip balm
As a moisturizer on dry and roughened skin areas.
As a cuticle cream
As a moisturizer on problem areas such as elbows, heels and knees
Ingredients:- PETROLATUM, CAPRYLIC/CAPRIC TRIGLYCERIDE, PARAFFINUM LIQUIDUM, CERA ALBA, PARAFFIN, ACETYLATED LANOLIN, CETYL ALCOHOL, TOCOPHERYL ACETATE, PROPYLPARABEN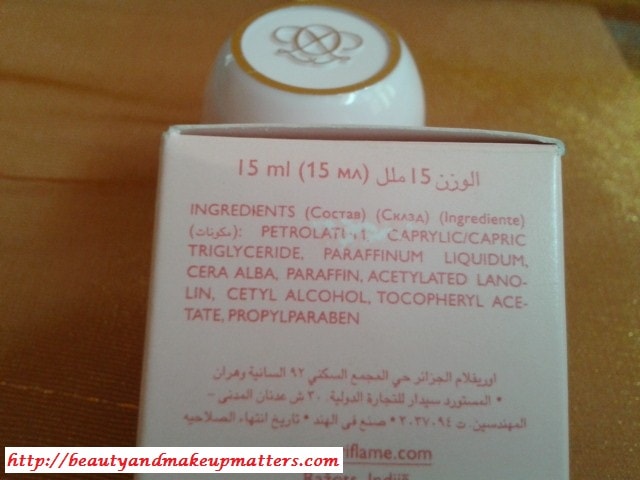 Price:- Rs.199 for 15 ml but bought it for Rs99 under an offer.
Shelf Life:- 3 years from the Mfg date.
Packaging:- The balm is packaged in a tiny baby pink colored cardboard box. The box holds similar colored container which contains the actual balm. The small container looks cute and resembles the shape of an egg with blunt ends (so it stays in its place without rolling over). The tiny container has a wide mouth with a large screw cap. The cap has slight silver lining with a small symbol on the top which adds on to its looks.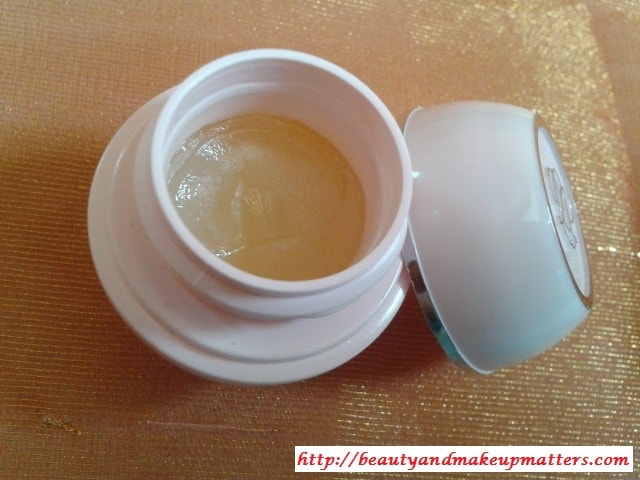 I really find the packaging cute but practically I find it difficult to use. The actual product (the wax or the balm) lies deep down the pot and the balm gets into the nails while trying to get the product out of the pot.
My experience with Oriflame Tender Care Protecting Balm:-
I picked up Oriflame Tender Care Protecting  Balm instead of the "Oriflame Tender care Lip balm" because of the versatility of the product. Ohhkk Ohhkkk, I bought just because I liked the egg-shell kinds packaging over the tube. 😛
It looks like a light honey colored wax in the tiny jar. The texture appears somewhat similar to the Vaseline but it is lighter than that. I started using it as a lip balm only. I just swipe my finger over the balm and put that small amount on the lips which kept them moisturized for long. It has restored their softness and made them appear smoother.
The balm doesn't have greasy or oily texture like Vaseline. It spreads smoothly over the lips and gets absorbed pretty fast. It doesn't leave any whitish layer on the lips.
The balm is almost fragrance free and claims to contain Bees wax which can help in treating and softening extremely dry and rough areas like elbows, cuticles. I hated applying Vaseline because of its greasy, waxy feel but Oriflame Tender care balm moisturizes well without leaving any uneasy heavy feeling.
Don't Miss to Checkout:
Swatches:-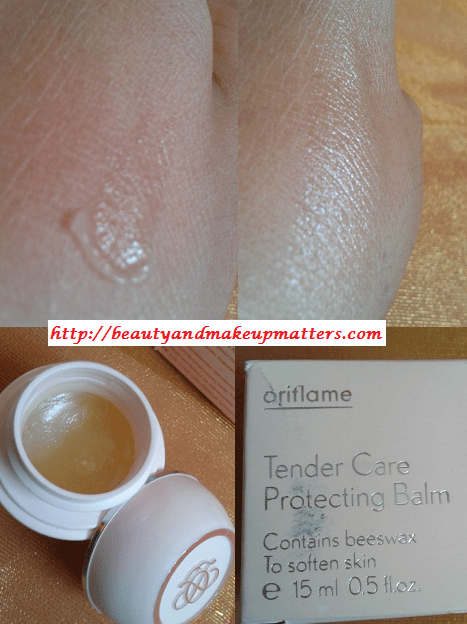 Pros of Oriflame Tender Care Protecting Balm:-
Multipurpose balm which is suitable for use over lips, elbows, cuticles, hands or any area where dry skin needs help
Cute Packaging
Fragrance Free
Has light, non-greasy texture and doesn't leave any oily layer on the skin
Absorbs quickly into the skin.
Moisturizes my skin well and leave it soft and smooth.
Cons of Oriflame Tender Care Protecting Balm:-
Though I liked the tiny little pack but the quantity is too less for the price I paid.
I don't like to dig into the jar to get the balm out of it.  I wish if the balm would have been out of the container rather inside just like EOS Lip-balm. So, it can be easily rubbed/applied on skin. Or in a tube to just squeeze out the required amount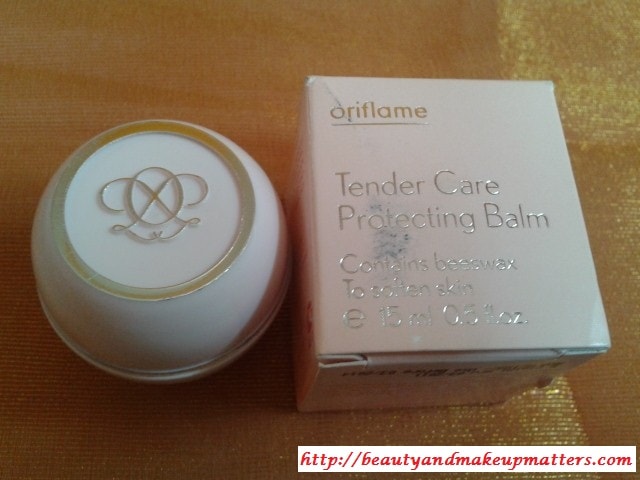 Recommendation:- Oriflame Tender Care Protecting Balm is a non-greasy, moisturizing balm which can be used to heal and smoothen dry and rough skin areas. It has smooth, light –texture which gets absorbed quickly leaving behind soft and smoother skin. It is a perfect balm for harsh winters which works not only on lips but also on dry skin of elbow, cuticles and knees.

The balm is packaged in a cute tiny jar which will fit even in the smallest size purse. It is a versatile product which becomes a must have in winters.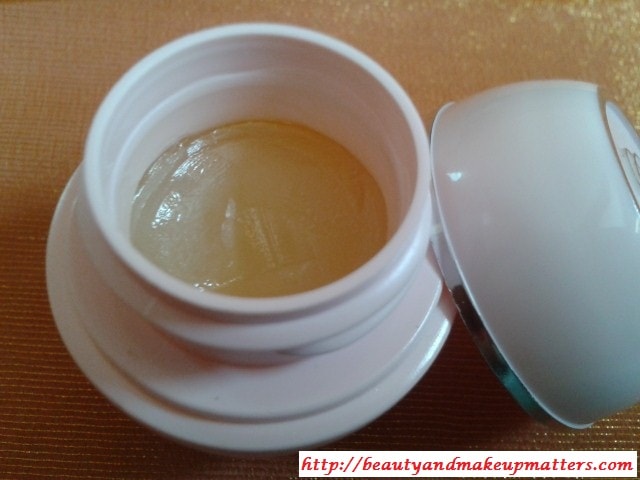 Rating:- 3.5/5
Have you tried Oriflame Tender Care Protecting Balm? Do you like the Balm in jar or Lip balm in tube better?