Oriflame Seeing is Believing Multi Benefits Under Eye Cream Review
I started Eye care with AromaMagic Almond Under Eye Cream but didn't like the greasy layer it leaves on my skin, which makes it impossible to use it during day time. So, I started looking for another under eye cream and stumbled upon Oriflame Seeing is Believing under eye cream.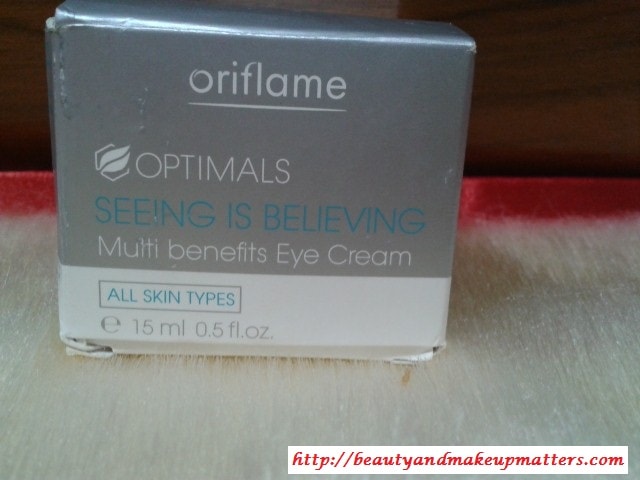 Product Claims:- Oriflame Seeing is Believing Multi Benefits eye cream is a lightweight eye cream that visibly reduces puffiness, brightens dark circles and helps smoothen out fine lines. Its D-circle Complex helps reduce eye puffs and brighten dark circles. Eyebright extract helps soften shadows.
Ingredients:- AQUA, GLYCERIN, ISOPROPYL MYRISTATE, SESAMUM INDICUM OIL, CETYL ALCOHOL, BUTYLENE GLYCOL, BUTYROSPERMUM PARKII BUTTER, DIMETHICONE, PETROLATUM, SORBITAN STEARATE, TETRAHYDROXYPROPYL ETHYLENEDIAMINE, TOCOPHERYL ACETATE, CARBOMER, CAFFEINE, GLYCERYL STEARATE, PEG-100 STEARATE, EUPHRASIA OFFICINALIS, PROPYLENE GLYCOL, SAXIFRAGA SARMENTOSA EXTRACT, VITIS VINIFERA, IMIDAZOLIDINYL UREA, METHYLPARABEN, HYDROLYZED WHEAT PROTEIN, PROPYLPARABEN, DISODIUM EDTA, ALLANTOIN, SODIUM METABISULFITE, SODIUM SULFITE, XANTHAN GUM, MORUS BOMBYCIS EXTRACT, SCUTELLARIA BAICALENSIS EXTRACT, SODIUM CHLORIDE, PHENOXYETHANOL, SODIUM BENZOATE, EDTA, CHONDRUS CRISPUS EXTRACT, GLUCOSE, SORBIC ACID, CI 42090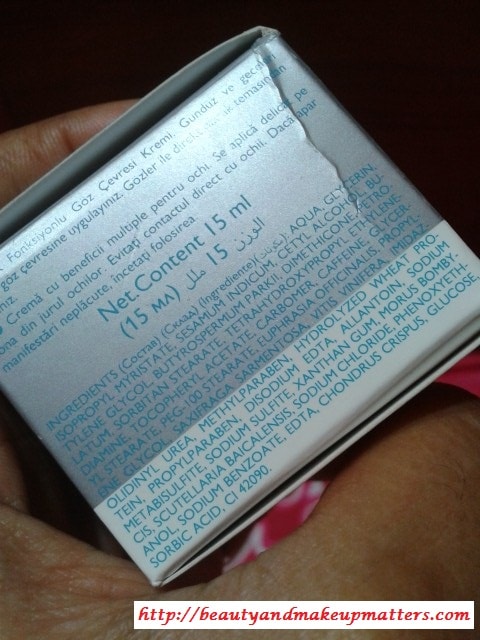 Price:- Rs. 498 for 15ml
Shelf Life:-  3 years from the Mfg date.
Packaging:- The cream is nicely packed in a light blue colored cartoon box. I was quite disappointed to look at the size of the box as I was expecting a bigger size for the amount I paid but never mind. The cream is contained in a tiny glass jar with grey plastic lid. The jar is sealed with a silver foil paper which I liked as the foil restricts the cream to the jar and won't mess with the lid.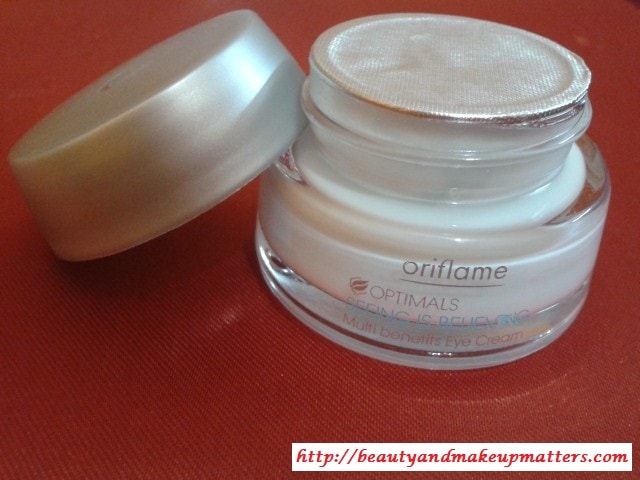 I was happy to see that the cute little jar was filled up to the brim.
What I liked in Oriflame Seeing is Believing Multi Benefits Under Eye Cream:-
The cream is light in texture neither runny nor thick.
It gets absorbed super quickly into the skin with a little massage with finger tips without giving and sticky or oily feel to my under eye area
Can be safely used during time without worrying about the under eye area getting oily.
It has very mild fragrance typical oriflame kinds which can be easily ignored.
Makes under eye area look healthier and brighter and also reduces the puffy eyes within a week of regular usage both during day and night
Works on reducing under eye pigmentation (dark circles) and visible difference can be seen within a month of regular usage.
The cream gives a cooling sensation immediate after application which makes me feel that the cream has started working.
It doesn't sting my eyes at all. No redness or tears even if it gets into the eyes.
The cute little pot is sealed with a silver foil paper. So, the lid doesn't get spoiled with the cream
The cream is going to last me long as only small amount is required for a single application. I have been using it for a month and I am still left with more than 2/3 of the amount.
Dont Miss to Checkout: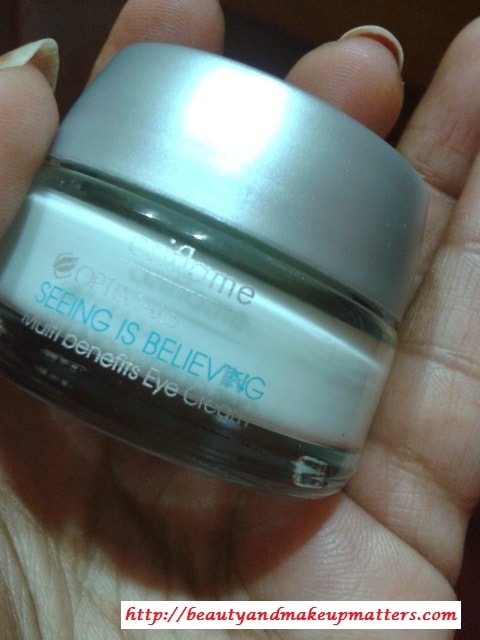 What I disliked in Oriflame Seeing is Believing  Multi Benefits Under Eye Cream:-
Expensive but can be bought when on scheme/discount and also the quantity you get will last you long
Unhygienic and not so travel friendly packaging. You have to dip fingers to get the cream out of the jar.
Only available through Oriflame consultants
Contains Parabens
Recommendation:-  I would recommend Oriflame Seeing is Believing Multi Benefits Under Eye Cream to those who suffer from puffy eyes and  have mild dark circles. The cream is really effective in reducing the dark circles but it takes time to show visible results. With regular usage of this cream both during day and night my under eye area looks healthy and bright. I have mild dark circles and the cream is working fine for me but not sure if this will be helpful for severe dark circles too.

To have a healthy under eye area, along with eye care creams we must take proper nutrition and give ample rest to our eyes.
Rating:- 4/5
Have you tried Oriflame Optimals Seeing is Believing Multi benefits Eye Cream? Which is your favorite eye care cream?
Happy Eyes 🙂