Oriflame Optimals Oxygen Boost Cream Review
Product Claims: Oxygenating cream boosts cellular respiration and reduces environmental stress to make your skin glow with youthful vitality. 24-hour moisturising formula. For day and night application.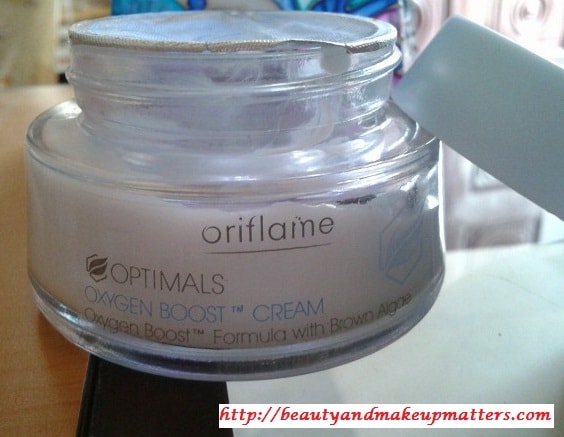 Ingredients:- AQUA, GLYCERIN, ISONONYL ISONONANOATE, CYCLOPENTASILOXANE, BUTYLENE GLYCOL,CAPRYLIC/CAPRIC TRIGLYCERIDE, DIMETHICONE, CYCLOHEXASILOXANE, GLYCERYL STEARATE, PEG-100 STEARATE, STEARYL ALCOHOL, HYDROGENATED COCO-GLYCERIDES, STEARIC ACID, CAPRYLYL GLYCOL,CETYL ALCOHOL, STEARYL DIMETHICONE, TOCOPHERYL ACETATE, METHYLPARABEN, IMIDAZOLIDINYL UREA, PROPYLPARABEN, ACRYLATES/C10-30 ALKYL ACRYLATE CROSSPOLYMER, PARFUM, DISODIUM EDTA, SODIUM HYDROXIDE, DIMETHICONOL, LAMINARIA DIGITATA, SODIUM PCA, UREA,PHENOXYETHANOL, TREHALOSE, POLYQUATERNIUM-51, SODIUM HYALURONATE, CHLORPHENESIN, CI 42090, CI 17200
Price:-Rs 590 (but got it for Rs 500 after discount) for 50ml
Shelf Life: Not mentioned on the pot (was there on the box which I have thrown out(oops). If I remember correctly it was somewhere near 2-3 years from the date of manufacture.
Packaging:- The cream comes packaged in a light blue cardboard box but I have thrown the box so could not show you the picture. It is a see-through glass pot with light blue colored plastic lid. There is also a silver foil sealing the mouth of the pot to prevent the cream from smearing over the lid. I really liked the cute and delicate pot type packaging but the glass might break if dropped from a height so handle with care.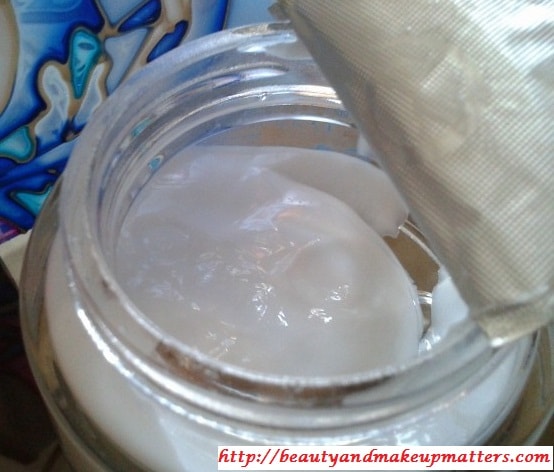 My experience with Oriflame Optimals Oxygen Boost Cream:-
Oriflame Optimals Oxygen Boost Cream is a white colour cream with a water-based cream like texture. I love dipping my fingers into the cream for its super smooth silk like texture. It has a mild flowery fragrance which I like. The fragrance does not linger long but I enjoy it till the time it's there.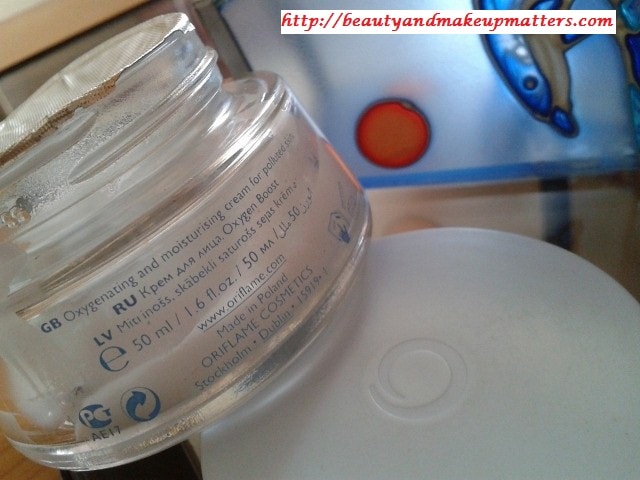 It is light-weight cream which spreads easily and only a small amount of the cream is required for every usage. At first, I used a whole lot of cream for single use and it took me few days to judge the right amount. You need to be cautious while applying the cream and takes care to apply only small amount of the cream (2 small dots)  as just a tad bit more (3rd dot) of it and it will leave an oily layer on the skin. Though, it worked fine and moisturised my dry skin well but I didn't enjoy the shiny/oily layer it leaves on my skin.
It gets absorbed into the skin without much effort and hydrates it well. It made my skin soft and added a subtle radiance to it.
Swatch:-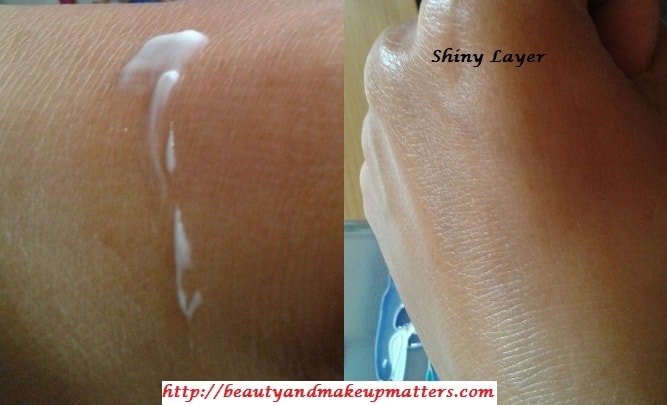 I don't like to use this as a day cream for its oily feel but it works better as a night cream and keeps my dry skin moisturised for long. I am not so pleased with this cream but thankfully it didn't do any harm to my skin.
Don't Miss to Checkout:
Pros of Oriflame Optimals Oxygen Boost Cream:
Light-weight cream
Silky smooth texture which spreads easily
Just a little amount is sufficient for single application.
Moisturises well and leaves skin soft and supple and adds subtle glow to my facial skin
Never broke me out
I am going to use the Lovely Glass pot which doesn't take much space  to store and carry my TBS body butter once I finish its actual owner.
Cons of Oriflame Optimals Oxygen Boost Cream:
It leaves an oily layer on the skin if a little more than required amount is applied.
Not suitable as a day cream
Definitely not for oily skinned beauties as it may cause break outs
Contains Parabens.
Availability only through Oriflame representatives.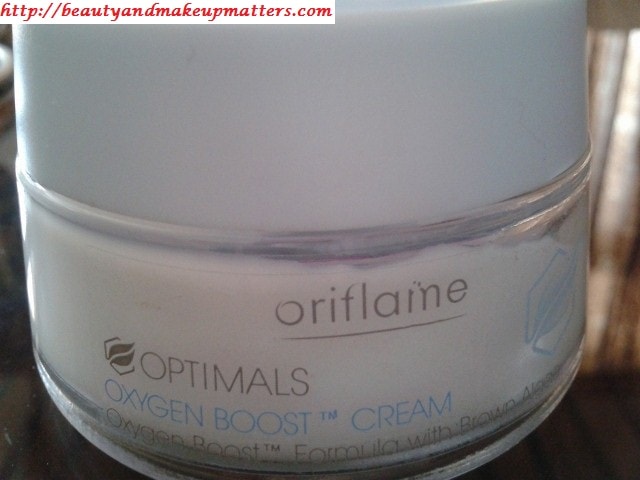 Recommendation: Oriflame Optimals Oxygen Boost Cream is decently moisturising and I also like putting it to on my face for its light texture. I have a dry skin and I really don't mind the slightly oily layer which isn't sticky if doesn't do any damage to my face but not during the day time so, I am using this as a night cream.

I would have recommended it if hasn't left that slippery feel on my skin. Dry skin beauties can give this a try but oily and combination skin people should stay away from this.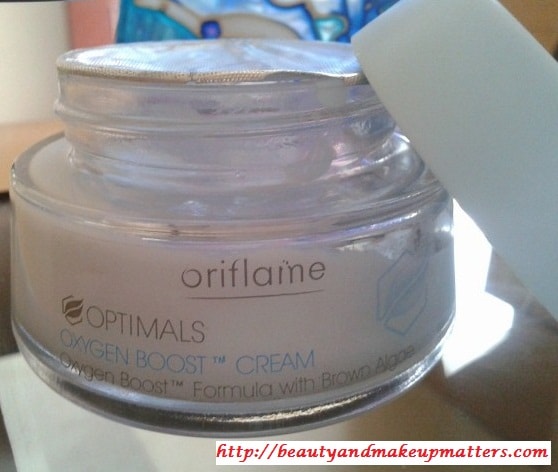 Rating:- 3.1/5
Have you tried Oriflame Optimals Oxygen Boost Cream? Which is your favorite day cream for summers/winters?