Oriflame Love Potion Eau Da Perfume Review
Today I am going to review the last item from my first purchase from Oriflame. You can read my review on
I had smelled the fragrance from the Oriflame booklet and fell in love with it. This is the first time that I have ordered any perfume for me. Let read on how I liked Oriflame Love Potion Eau Da Parfum.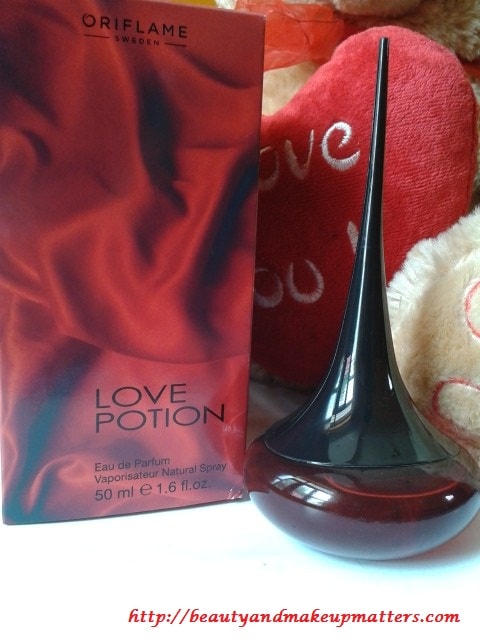 Product Claims: Pure passion is yours with Love Potion Eau de Parfum. Set the mood for a night of passion with this seductive oriental scent and succumb to an irresistible awakening to the pleasures of the body.
Fragrance:-
Top Notes :- Ginger, Indian spices
Middle Notes :- Cocoa flowers, Tangerine, Lily, Vanilla
Base Notes :- Tonka bean, Sandalwood
Ingredients:- ALCOHOL DENAT., AQUA, PARFUM, BUTYLPHENYL METHYLPROPIONAL, BENZYL SALICYLATE, BUTYL METHOXYDIBENZOYLMETHANE, HYDROXYCITRONELLAL, LINALOOL, LIMONENE, COUMARIN, ZINGIBER OFFICINALE OIL, GERANIOL, GLYCERIN, PROPYLENE GLYCOL, THEOBROMA CACAO EXTRACT, ZINGIBER OFFICINALE EXTRACT, SORBITOL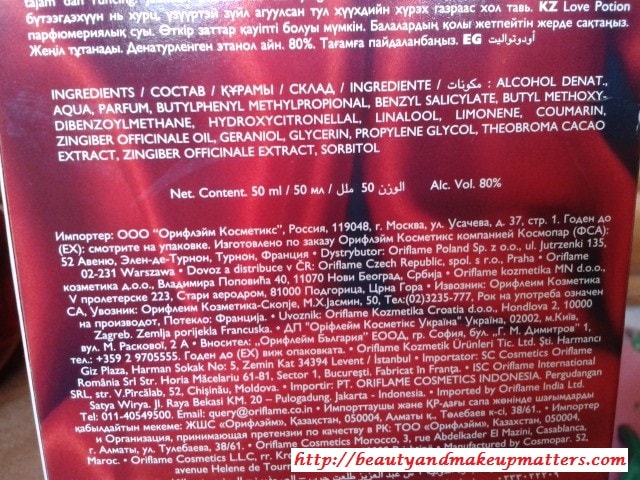 Price:- Rs.1790 for 50ml (Got it at almost 50% discount)
Packaging:- The shape of the bottle contributed almost 50% on convincing me to buy this perfume. I liked the pretty round pot like base which is covered with an elongated plastic cap. The seductive maroon-red glass base with a black plastic cap is a treat for eyes to look at. Now, coming to the not so good part of the packaging-the classy looking cap doesn't lock with the base and just sits on the top of it. So, I have to be careful while handling delicate pot and make sure to pick it up by the base only and not the cap.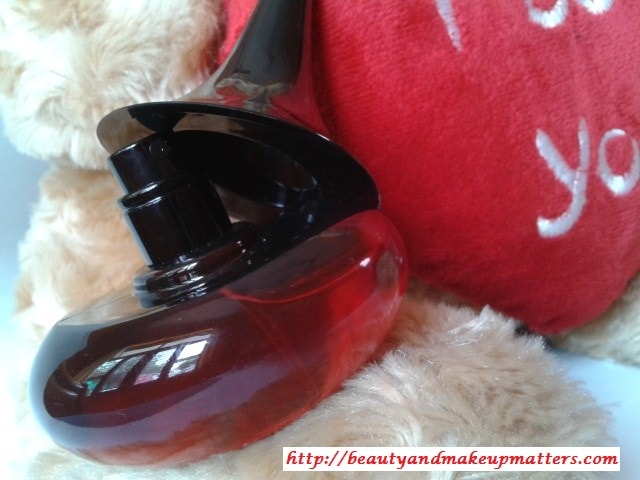 My experience with Oriflame Love Potion Eau Da Parfum:-
Love Potion has a perfect mix of scents that are not overtly spicy which makes it truly an amazing fragrance. The fragrance quickly settles down to the pleasing spicy woody notes with a hint of sweetness. I would love to get lost in its mesmerizing fragrance.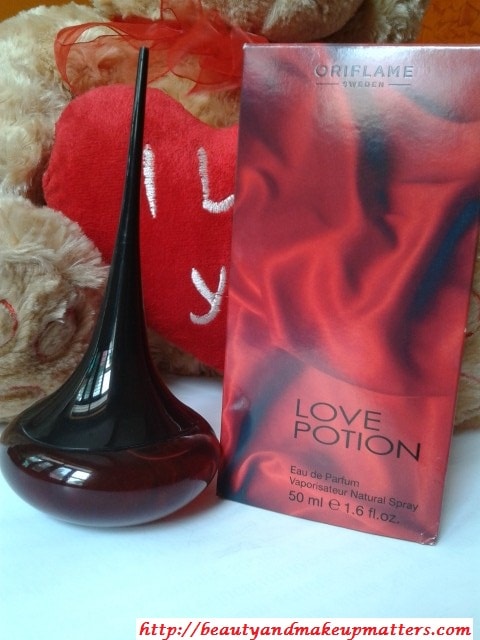 It may be get a little nauseating if over-sprayed but I really enjoy its well-balanced sweet, spicy, woody notes. The fragrance feel is very romantic and its chocolaty base notes add that sensual feminine touch which lifts up my mood instantly.
The life of the perfume let me down as its staying power is really poor and doesn't last more than 3 hours on me. For the price paid I expected it to have a better staying power. The fragrance fades off just when I start enjoying its rich base notes which left me craving for more.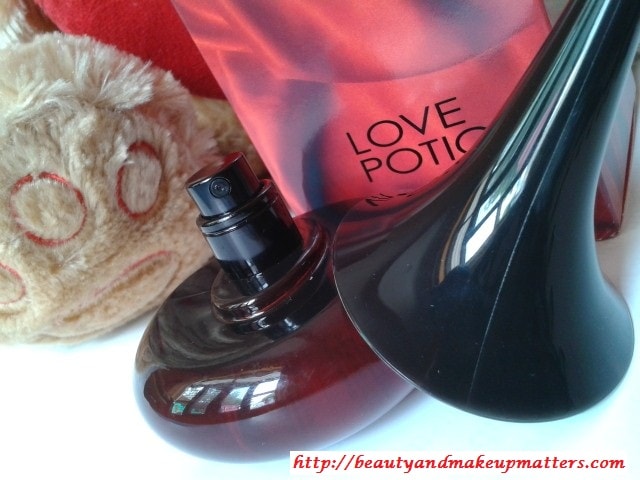 Pros of Oriflame Love Potion Eau Da Parfum:-
An exotic spicy-woody smells
Warm fragrance perfect for autumn-winters season
Not an everyday fragrance but makes a good evening fragrance
Attractive bottle
Cons of Oriflame Love Potion Eau Da Parfum:-
Poor staying power
Over-priced
Delicate packaging with a flimsy cap
Only available through Oriflame consultants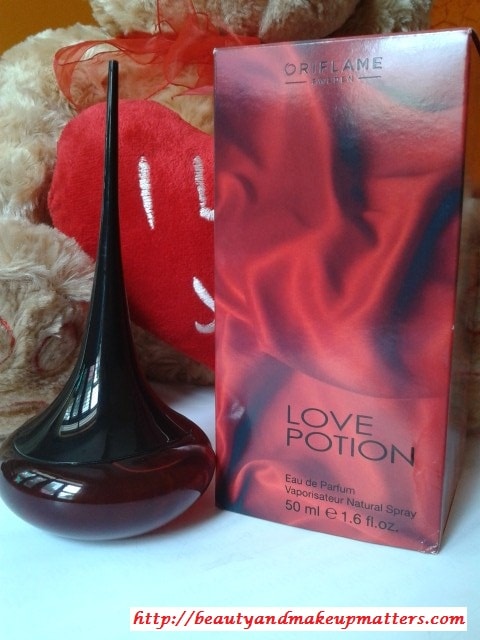 Recommendation:- Oriflame Love Potion is a wonderful fragrance. I am repulsive to too sweet or spicy scents but feel comfortable with its delicious yet exotic sweet-spicy fragrance which quickly sets down to a spicy-woody one. The cute little bottle totally complements the fragrance but the flimsy cap plays a spoil-sport. The lasting power of the fragrance is also a disappointment as it doesn't stay more than 2-3 hours on me.

I don't regret buying this perfume due to its yummilicious fragrance and really wanted to recommend this but its weak staying power hold me back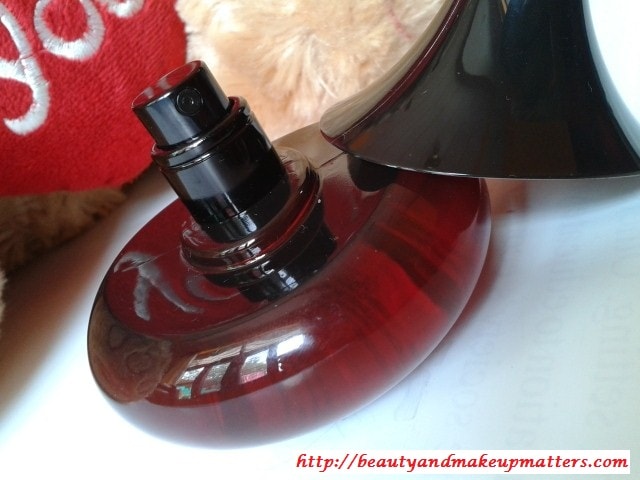 Rating:- 3.2/5
Have you tried Oriflame Love Potion Eau Da Parfum? Do you prefer spicy or woody scents?