Oriflame Studio Artist Cream Blush Soft Peach and Pink Glow Review
Hello Blushing beauties.. <3
While most of you must have started with powder blushes I have a weakness for cream blushes and that's why NYX GLOW made it first to my vanity. I have a dry skin and totally enjoy the satiny glow these cream formulations add to my cheeks but Indian makeup brands especially drugstores haven't explored this area much. So either I have to shell out money on MAC or wait for somebody from "foreign ka country" .. coming back to India bringing me some stuff (That I don't see happening in the near future.. 🙁 ). However I was quite surprised when Oriflame came up with cream blushes leaving behind our favorite drugstores like Maybelline, Lakme and Colorbar. So, Today I am going to review the recently launched ( .. okay it has been months but i can still say Recently.. :P), oriflame cream blushes which bought from Preetha from "IndianBeautyJournal", Oriflame Beauty Studio Artist Cream Blush in Soft Peach and Pink Glow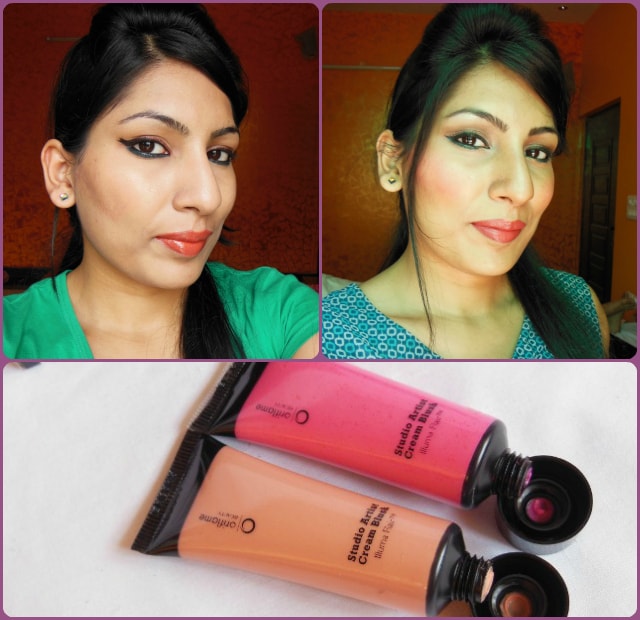 Product Claims: Famed for its long lasting properties and easy application, the cream blush is a must have makeup item in your beauty kit. The weightless formula of the blush blends easily into skin while the creamy texture sculpts and highlights the cheeks to give a healthy glow. Comprising light reflecting Illuma Flair Complex, the cream blush provides a buildable colour while creating soft- focus effect in any light.
Price: Rs 549 for 20ml.. Each tube ( Can be grabbed under offer!!)
Shelf Life:- 3 years from the Mfg date.
Available in three shades :
Soft peach
Pink glow
Sheer berry
Packaging:- The blushes comes in see through tiny plastic tubes with a black screw cap. There is a small hole on the top which dispenses the product but I feel it could have been even smaller for better control over the amount dispensed as the blush liquid rushes out of the tube which may result in wastage or the pain to push the excess back in the tube. The tube packaging is hygienic to use compared to round pans which is usually used for blushes. Also, transparency of the tube makes it easy to identify the shade but I think pump dispensers would have been better!
My experience with Oriflame Beauty Studio Artist Cream Blush: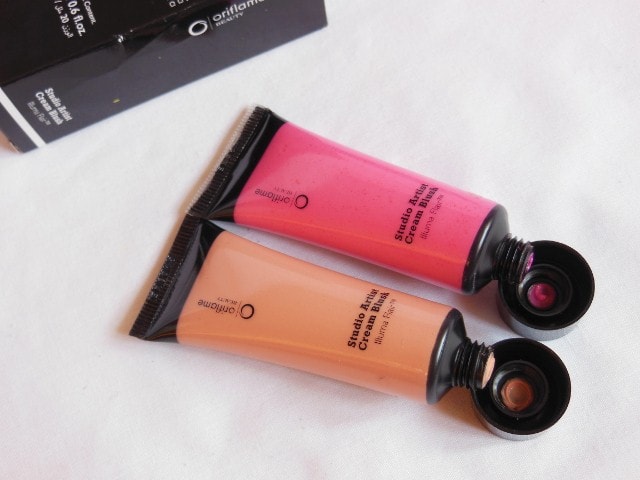 The blushes have thin creamy formula somewhat similar to a body lotion..this is the first time I am trying liquid blushes! You ought to be careful while dispensing the product as just a tiny pea sized amount is enough for both the cheeks. The texture is runny but extremely light -weight and doesn't feel greasy at all.
Lets see how both of these colors fared on me:
Soft Peach is a light earthy warm beige shade which goes almost colorless on my medium skin tone. I don't see any color at all on my cheeks and it seems to get blended completely into my face. Not sure if it can be used as tinted moisturizer… will try it that ways and update you.. ;). It may give appear a little peachy on extremely fair skin tones which are quite rare in India. I think it can act as a warm highlighter for dusky skin tones.. if that makes some sense. Wish it had a little more pigmentation.. but It can be worn as base for powder blushes to make them last longer.
Pink glow – It is cool toned bright blue based pink.. reminds me Hooked on Pink Lipstick from Maybelline. The blush sans any shimmers and gives a nice satiny smooth pinkish glow to cheeks. The formula is extremely pigmented and looks super intense initially but lightens to a wearable pink on blending. The color can be build up the desired intensity's and due to its light texture it doesn't look cakey. The blush lasts 7-6 hours on me and even more when worn over a base with slightest fading due to staining pigments. But with that being said, the blush is prone to patchy application, if not blended carefully. I tried it with fingers and gave me the dreaded uneven coverage but worked well with a blush brush.
Just like cream blushes these liquid blushed are good for dry skin as they add some a satiny glow to the skin and works great on oily skin as well providing base to powder blushes and in turn enhancing their staying span. The color payoff is sheer for Soft Peach but Pink Glow is much pigmented and has buildable intensity. The formula just melts into the skin and set for a long lasting finish which comes off easily with regular makeup removers. Thinking of the possibility to use it as a lip creams… wat say will they work.. mmmm!!??
The only thing to keep in mind is you need to blend them really well and its staining pigmented might look patchy and bring out a colored contrast on your face. Take the blush liquid at the back of your hand and apply using a blush brush for an even and well blended finish.
Pros of Oriflame Studio Artist Cream Blushes:-
Light-weight non-greasy texture
Color pay off is good ( for Pink Glow)
Has staining pigments which makes the blush last longer
Lasts for 7-8 hours on me
Doesn't melt on skin
Imparts a subtle glossy shine to cheeks
Will suit all skin types
Decently priced
Hygienic Tube packaging
Available in 3 shades
Cons of Oriflame Studio Artist Cream Blushes:-
Soft Peach isn't detectable on me
The formula is a little runny, so be careful during application
Gives uneven color if not blended well
Doesn't work well with fingers so go for a brush
Pump dispenser would have been better
Recommendation:- Oriflame Studio Artist Cream Blushes in Soft Peach and Pink Glow have light, lotion kinds texture which feels weightless on skin. Soft Peach is not visible on my skin may be added a little almost undetectable but Pink Glow adds a fabulous pinky glow to cheeks and its buildable coverage is an added advantage. The formula feels comfortable on skin and adds a little hydration to dry cheeks. They also work as a base for powder blushes and enhance their longevity. The quality is good but these liquid blushes are not for beginners because of all the blending fuss. I believe one needs to master the art of blush application to get the best of these unlike the cream blushes which I find easy to work with.
(PS: Excuse me for the green tint in the second pic.. tried hard but the green shade to save my room from scorching heat, played havoc with the pictures.. sob .. sob.. 🙁 )
Rating:- 3.5/5, Peach Glow (3/5)
PS: Take the amount at the back of your hands, spread it and use a angled blush applicator to blend on your cheeks and a smooth finish. I have received a similar set from the brand but with a surprise..will share it soon!
Have you tried Oriflame Studio Artist Cream Blushes? Do you prefer cream or powder blushes?